In this era, where going digital for your business is becoming necessary and the pandemic that hit us in 2020 made it clear how important it is for a business to have an online presence.
And in this digital era where online shopping is becoming the new norm, the biggest struggle for startups and small businesses is which will be the correct platform for them. As the market is being flooded with different eCommerce solutions, it is becoming difficult for many to choose the correct platform for their business.
Selecting the right platform from the start ensures that business owners can focus on scaling their business with ease and also can apply different eCommerce marketing strategies to see which strategy works best for them.
So now back to the main question which is what platform to choose? In this post, we have compared the most popular platforms which are Magento, WooCommerce, Shopify, and Opencart.
Magento vs WooCommerce vs Shopify vs Opencart
Shopify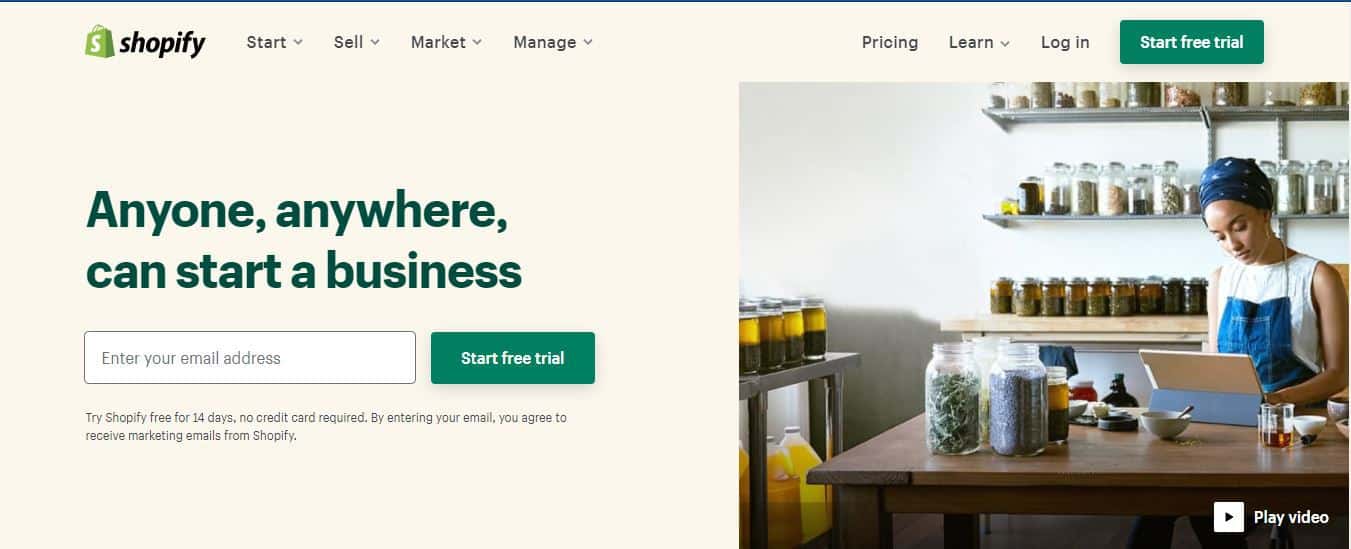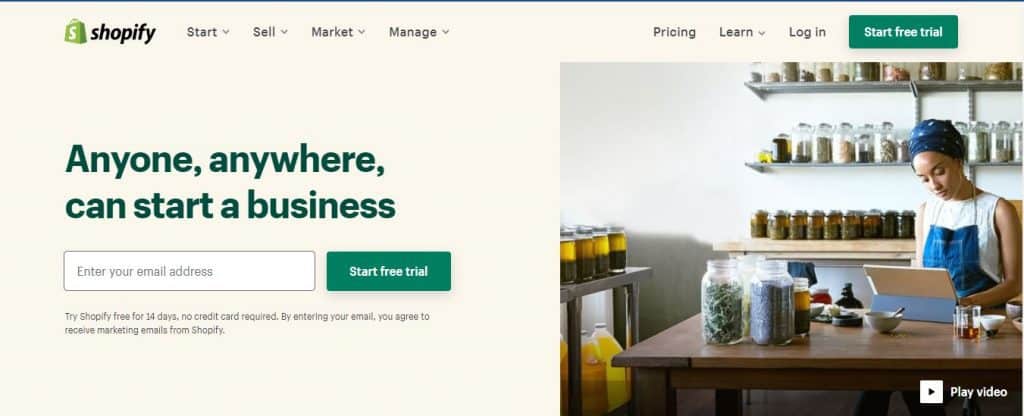 Shopify was started in 2004 by two snowboarding enthusiasts who were attempting to open an online store for snowboarding equipment. Shopify has become one of the best eCommerce platforms and also is perhaps one of the easiest tools to build an online store.
Shopify is also acknowledged by many as the best platform to run an eCommerce business. Currently, the services provided by Shopify is utilized by more than 1 million eCommerce business owners worldwide and the numbers are increasing as we talk.
It is a one stop hosted solution that is designed to help you with everything you require to start selling online. Shopify also provides users the full control of all the websites HTML and CSS coding. And recently, Shopify has integrated with Amazon which allows business owners to sell on Amazon right through the Shopify admin panel.
How Does Shopify Work?
Whether you are a fashion designer and want to sell your designs online, or a drawing artist who wants to sell their art work online, or a well established business like myaarp medicare who wants to grow, Shopify has you covered.  It is a cloud based software that works on a monthly subscription basis. This gives your business the access to the admin panel from where you can display your products, and process orders for your business.
Further, you can choose from various free or for-purchase design templates for creating your store, and also Shopify provides various tools for editing where you can make your chosen theme perfect for your brand.
Wait there's more, Shopify also provides secure, reliable web hosting for your website where you won't have to worry about your site crashing during peak hours or from hackers who are trying to hack your website. With free SSL certificate, and a 24×7 comprehensive support, Shopify has you covered.
Main Features Of Shopify
Fully customizable website, blog, and online store
Unlimited bandwidth, customer data, and product inventory
Can sell on Amazon directly from Shopify admin panel
Supports all popular payment gateways
Can integrate with social media platforms like Facebook
Auto-calculates shipping prices
24×7 customer support
Shopify SEO Features
A basic set of SEO features is offered by Shopify for the users where they can optimize the store level content to get higher SERP positions so you can create an SEO campaign around it. For example, you can edit the meta titles, description, add alt text to the images, can create 301 redirects, generate auto XML sitemap, and many more. So you can do Shopify SEO with ease.
The platform also provides a free SSL certificate and is also known for its fast loading speed that improves the user experience, and having a fast page loading speed Google takes notice of it and helps your store to rank as well and you can create a profitable shopify store.
Read More: Shopify SEO Tips
Advantages And Disadvantages Of Shopify
Advantages
Provides in-built hosting service
Themes and plugins can increase the functionality of your store
More than 100 mobile-friendly themes, each easy to navigate
Offers 14 day free trial service
Offers 24×7 support via email, call, or live chat, depending on your location
Most SEO friendly eCommerce platform
Disadvantages
Quite expensive compared to other platforms
Only 10 free themes of 100
Some of the themes and plugins are quite costly
Shopify charges transaction fees per sale
Magento


Magneto is owned by Adobe and is a self-hosted eCommerce content management system, and is also one of the best as well as one of the most demanded platforms by merchants out there.
Magneto is one of the platforms that provides scalability and is providing reliable performance for the biggest companies worldwide. Magneto is a home to many industry giants like Land Rover, Ford, Wrangler Europe, and many more and is serving millions successfully.
Every year merchants on the Magento platform sell goods and services worth more than $155 billion. Magento offers 2 editions as per the needs of the merchants which is Magento open-source, and Magento commerce edition. The best part of this platform is on a timely basis it releases new versions that fixes the loopholes in the security and also upgrades the functionality of it.
How Does Magento Work?
Magento offers SMEs and organizations the ultimate eCommerce solutions and support network and is also a PHP based open-source eCommerce platform. The flexible modular architecture has helped many organizations and is also scalable with many control options which are helpful to users.
Magento offers a free open source edition and open source eCommerce platform.
Main Features Of Magento
Offers multi-tier pricing for quantity discounts
Can create landing pages for categories
Promotional tool for new items
Generate, manage, and monitor all the different coupons and will also generate a detailed report of it
Magento is 100% SEO friendly too
Auto-generate sitemaps
Can customize the whole design template
Applies tax rates per location, product type, or customer group
Also provides CAPTCHA functionality to block automated fake logins
Magento SEO Features
As a matter of fact, Magento is often known as a platform providing the best eCommerce solutions for SEO. It is because the platform offers a lot of functionalities and extensions that guarantee that your Magento SEO efforts to gain higher SERPs ranking positions won't go to waste.
Being an open-source platform, it allows users to fully customize the store design and the SEO functionality. For example, you can optimize the meta tags, permalinks, image alt-tags, add or optimize product descriptions, or can even restrict search engines from indexing a particular page.
The additional features by Mangeto like no-follow links, redirects, Google Sitemap, and canonical tags making it easier for the search engines to understand your website structure and makes it easy to crawl your store too.
Read More: Magento SEO Tips
Advantages And Disadvantages Of Magento
Advantages
Open-source CMS with lower cost
Plenty of built-in features like multicurrency, languages, coupons, customize shipments, and many more.
You can manage multiple stores
It can suit your eCommerce business requirements too
Has a strong global community worldwide to support store owners who are new to this platform if they run into any problems
Disadvantages
Needed strong technical knowledge to operate the platform
Limited customer support in the community edition
Steep learning curve
WooCommerce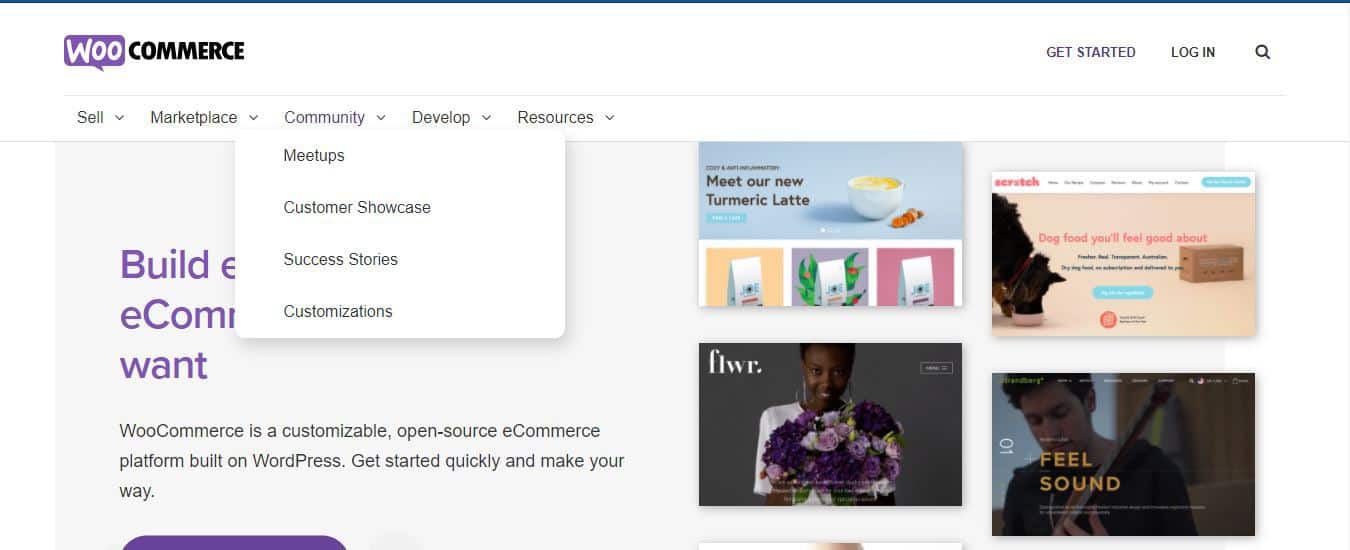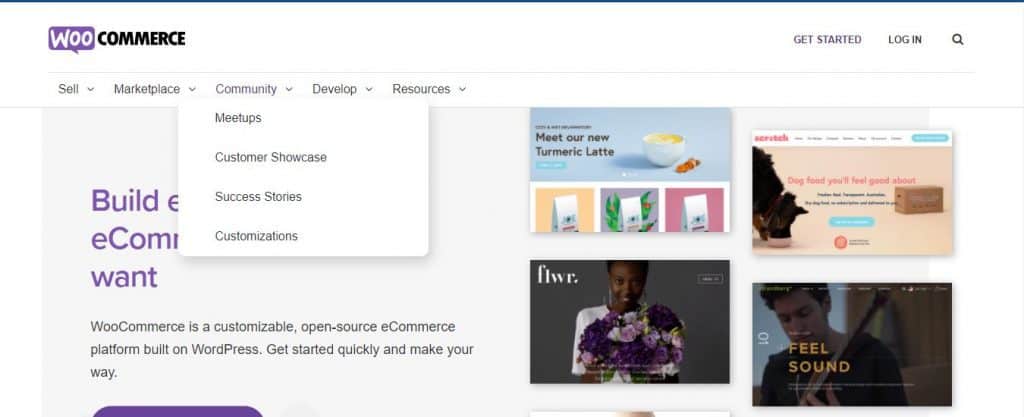 Apparently, WooCommerce is the most used and most effective eCommerce stage on the planet. Very few people realize that WooCommerce is neither a total substance of the executives' framework nor a total system. In fact, it is a module fueled and created by WordPress and allowed to utilize.
WooCommerce is an advantageous, reasonable, and a calm choice for those traders who would prefer not to spend a fortune in building up an undeniable internet business stage. One of the key reasons why WooCommerce is enormously famous among dealers across the world is its absolute effortlessness. Any layman can assemble a site on WooCommerce without any preparation and build up a charming ecommerce store.
As indicated by the 2018 review directed by the main counseling organization, WooCommerce covers 30% of the general eCommerce market share of the overall industry which is a stunning number.
How Does WooCommerce Work?
Like Magento, WooCommerce is an open-source platform that has the benefit of an enormous client base and the local area. WooCommerce clients can look for help or specialized help effectively from a tremendous local area where friends, designers, and WooExperts are anxious to help them.
This is a significant perspective for little shippers, as they probably won't have the spending plan to enlist a specific designer.
Likewise, WooCommerce gives online documentation, reference materials, and instructional exercises for your WooCommerce items. These online aides will take you through basic issues on the off chance that you adhere to the guidelines cautiously.
Be that as it may, as Magento Community release, WooCommerce clients won't get the monstrous help from the WooCommerce group, including telephone and email support. In the event that any issue emerges, they normally resort to online resources to discover help, or need to record a structure, which will be addressed by means of live talk inside 24 hours.
Main Features Of WooCommerce
Easy WordPress integration
Open source development platform
In-Built payment process
Can manage orders easily
Smooth integration with marketing tools
WooCommerce SEO Features
As a module dependent on WordPress, a CMS considered by specialists as quite possibly the most solid choice for SEO features, WooCommerce acquires all WordPress' accessible SEO ability. It permits you to handily alter and add content and metadata to guarantee your items' watchwords can have high positioning situations on SERPs.
WordPress additionally gives you a more extensive cluster of cutting edge SEO modules, and the most well known one that you may know is Yoast SEO. You can exceptionally improve your store by utilizing this present module's extraordinary SEO functionalities, for example, adding various center keyphrases per page, ongoing recommendations for inner connections, URL diverts and so on
In any case, it ought to be noticed that your site stacking time generally relies upon the facilitating supplier you go with, which may influence your store's WooCommerce SEO execution.
Advantages And Disadvantages Of WooCommerce
Advantages
A high versatility and low shop costs contrasted with other shop frameworks
Speedy arrangement through the WooCommerce-Wizard, information in HTML and CSS generally redundant
With WordPress the utilization of an undeniable CMS)
A practically perpetual assortment of free and paid Plugins and Themes
There is an enormous worldwide WooCommerce people group that you can communicate with
Disadvantages
Some WooCommerce extensions are not free
The website owner has to take care of store maintenance or else need to pay the developer for that
Difficult to fulfill ecommerce conversion funnel
You have to update WordPress as well along with plugins
Opencart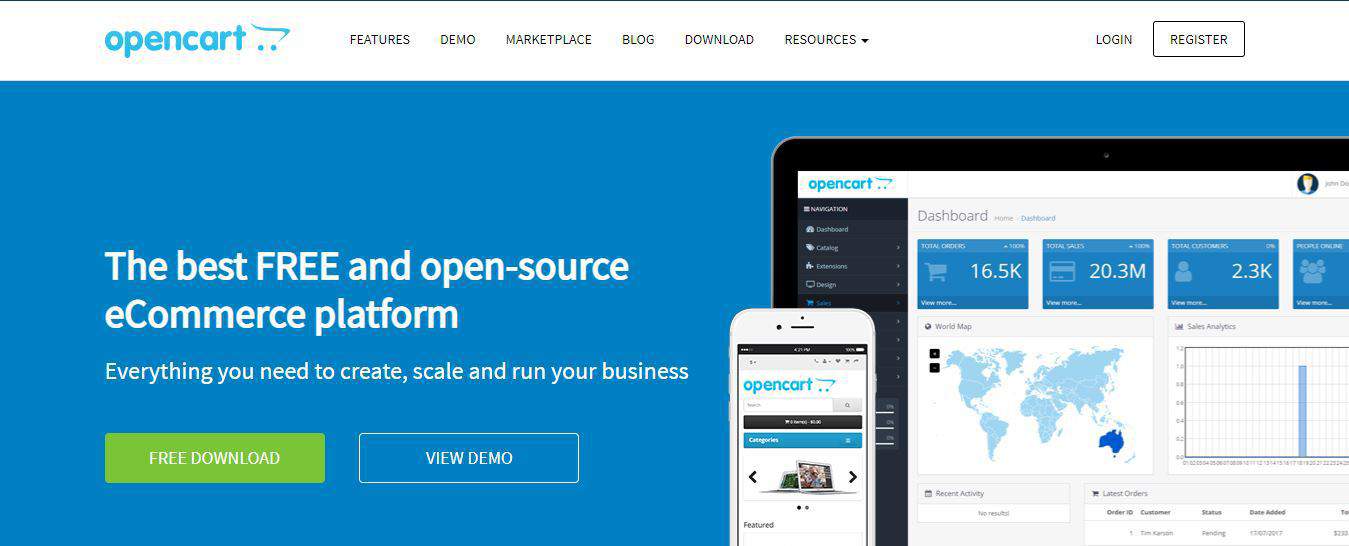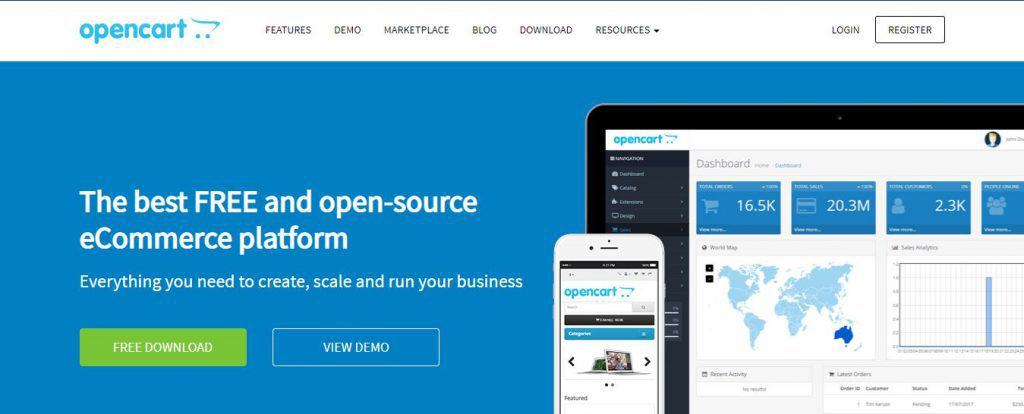 In the event that you need to run a limited scale or medium-size business, none of the stages can oblige your online business needs as much as Opencart. It is a free and open-source internet business stage based on a PHP system that gives shippers an additional favorable position. Opencart offers the most noteworthy number of customization alternatives when contrasted with other internet business stages to scale up your business.
The installation of the Opencart store doesn't include any additional items. Notwithstanding, to enhance your business development, you need to buy the paid variant of Opencart that encases various additional items and characteristics.
Very few vendors realize that Opencart 2.0 permits traders to get to the administrator board through administrator. Roughly, 1 million sites are utilizing Opencart web based business functionalities to maintain their online business in an undeniable way.
How Does Opencart Work?
Installing a plugin is simple once you have your store arrangement by means of the OpenCart commercial center API. Everything you do is select the plugin you need and download it. You will discover your picked plugin in the augmentation tab of your OpenCart administrator store. Pick the plugin you need and introduce it. OpenCart makes it simple for you to introduce and utilize any plugin you need. Continue to check routinely on new augmentations as designers are continually concocting new plugins to improve your store.
Main Features Of Opencart
Has unlimited categories
Unlimited products and manufacturers
Can sell digital products
Multiple currency supported
Product reviews and product ratings
Has more than 20 payment gateways
Opencart SEO Features
OpenCart offers a fundamental arrangement of SEO features, nonetheless, it actually has a long way to go. As a matter of course, the stage doesn't adequately improve its site as it very well may be. This implies OpenCart will not perform naturally on web indexes in the most amicable manner like other eCommerce arrangements may.
Moreover, OpenCart limits its clients to make certain significant SEO adjustments. For instance, metadata change just as performing 301 sidetracks and sanctioned labels can end up being convoluted as they require PHP coding abilities. Singular URLs aren't upheld by OpenCart by the same token.
On the splendid side, there are plenty of augmentations accessible on its commercial center that you can use to improve your store's SEO execution.
Advantages And Disadvantages Of Opencart
Advantages
Highly customizable and all thanks to the open source it provides
Has numerous integrations
Platform is free
No large ongoing development costs
Disadvantages
It is not always easy to customise
Built-in marketing features are limited
Self-hosted nature means you'll be in charge of hosting, development, maintenance, etc
Wrap Up
There are tons of eCommerce platforms available out there like Squarespace, Big Commerce, Presta, and many more, and there is no one-size-fits-all solution. The key point is finding a platform that suits your business type and your future objectives.
Moreover, this article compares Shopify vs Magento vs WooCommerce vs OpenCart in a few aspects. There are also many other factors that have to be taken into consideration like scalability, sales features, security, and ease of use.