Having heard of a tool like Squarespace before doesn't mean that you need to be a professional website designer. Everyone from influencers to eCommerce store owners is always looking to build a bigger online presence, and many of them have discussed and been discussing the pros and cons of a solution like Squarespace in the past.
While building a website on our own we usually land on a website building CMS (content management systems) like Wix or WordPress, but there are CMSs available like Squarespace.
In this guide, we'll help you get an idea of what Squarespace is and also how Squarespace SEO works along with some Squarespace SEO tips.
What is Squarespace?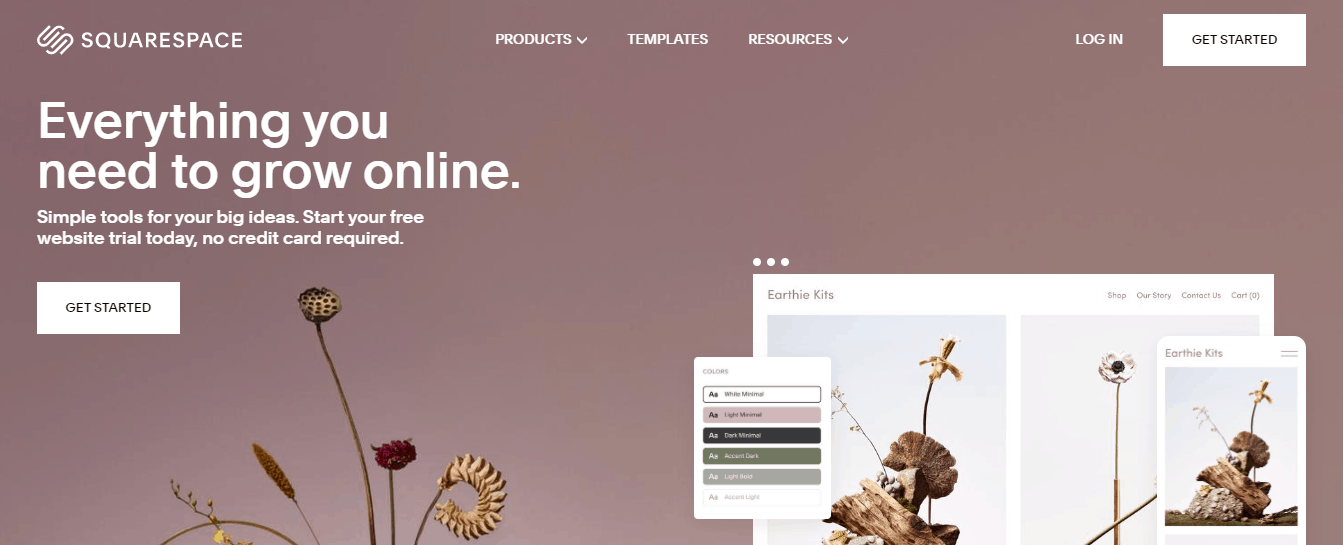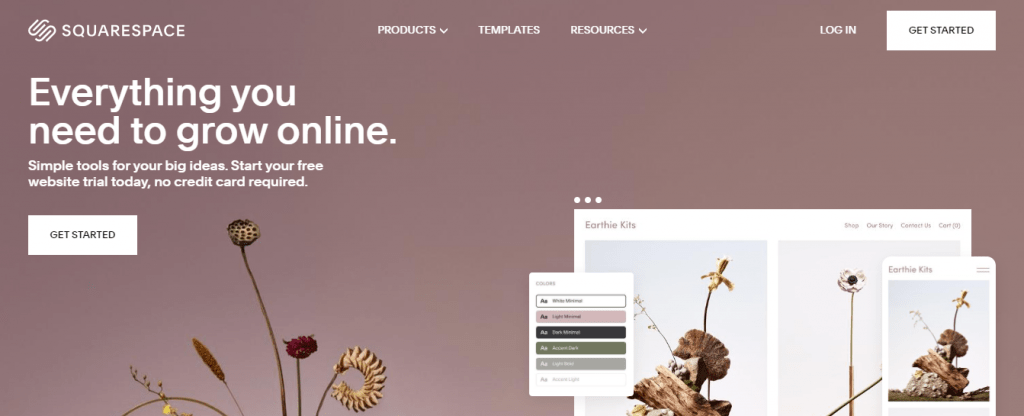 In layman terms, Squarespace is a website builder which is designed to help creative minds and from beginner to pro website builders build an incredible website.
The main advantage of building a website on Squarespace is that you don't need to have any coding knowledge. All you need is a little time, and you'll have a beautiful website. It also provides things like built-in SSL certificate protection, eCommerce checkout tools, and even a custom domain name.
Create an account, and choose a template is all you need to do to get started. After selecting a template start editing that suits your requirements. The design options available in Squarespace is what has made this website builder as one of the most popular CMS in the eCommerce industry.
Squarespace not only focuses on offering a website builder that's just good for SEO but also helps your small business to look unique and stand out from the crowd.
Some of the features included in Squarespace are:
Award-winning customizable website templates
Website analytics and reports
Custom CSS
Ecommerce templates
Custom Redirects
Built-in Mobile Websites
Search engine (Google) and SEO solutions
Drag-and-drop website editing and design, and many more
The other question that pops to our mind while choosing any CMS is that "Is CMS SEO Friendly?". Let's dig deep and look at the answer to the question you are looking for.
Is Squarespace SEO Friendly?
As we are aware that SEO, or search engine optimization, helps us in optimizing our website's ranking on search results and we build an SEO campaign accordingly.
Squarespace platform covers all the SEO best practices into every site of theirs. So Yes! Squarespace is SEO friendly.
Here are some SEO-friendly features of Squarespace that are built into their every site:
Squarespace SEO Friendly Features
Sitemap
Squarespace provides an automatic sitemap.xml file. It includes every URLs and image metadata of your website with a proper priority that helps in perfect indexing.
SSL Certificates
Squarespace gives free SSL certificates to all of their domains and third-party domains. It helps your website visitors get a secure connection on every page. And it is also an SEO practice because if the websites are not secured they are bound to get penalized in search engine rankings.
Clean HTML Markup
To make your website easily indexable you need to have a clean HTML markup. Squarespace provides you with that. You don't need to add H1 and H2 tags in HTML, just select the heading style and it's added in the HTML markup.
Automatic Tagging
Images contain <alt> and <title> tags, which improves search engine indexing. The meta tags for all pages, and <link> tags for RSS are automatically generated in Squarespace.
Clean URLs
The pages and the collection items on your website will have a static URL so that it can be easily indexed by search engines.
Automatic Redirects
Squarespace comes with a feature of automatic redirects so that if you have multiple domains or are changing an existing domain you don't have to worry about redirecting it manually.
Search Engine Page Description
Squarespace includes fields that help you edit your website's pages or blogs meta description which appears below your site title in search results.
AMP
The use of AMP is to make a lightweight version of the pages of your website so that it loads faster in mobile devices.
Google Rich Image Search For Products
Squarespace provides structures for product information so that Google can display additional information about your product. This information can include, product name, price range, product image, availability, description, and product page URL.
Built-in Mobile Optimization
Google's new algorithm update tells that it prioritizes websites that are mobile-friendly. And all the websites built in Squarespace are mobile and search engine friendly. Only if you disable the mobile style or overload your website you will find it difficult to be found on mobile searches.
Built-in Meta Tags
<meta> tags in a site's code help the search engines to identify what is the title and the page description of the website. The meta titles and descriptions appear in search results on what the users are searching for in search engines.
Squarespace automatically adds the meta tags from these SEO settings:
SEO titles – meta titles for individual pages and items.
SEO descriptions – meta description for individual pages and items.
Site title – the title tag for your whole site
SEO site description – the meta description for your homepage
Search Keywords Analytics
Squarespace provides you with the function where you can check the search keywords panel from what focused keywords your website is driving traffic from Google, Yahoo, and Bing. Understanding what keywords are driving traffic to your website can help you focus on your content and improve your organic traffic.
Structured Data
Structured Data helps Google to understand the pages and the content in it. Squarespace automatically generates structured data using the following schema markups:
Events
Local Business
Organization
Blog Post
Product
Website
Squarespace SEO
As we have already mentioned above, Squarespace offers a lot of great SEO features to help you with your backend process. And one thing it does quite well is SEO.
Nowadays, business owners have started to focus on getting their websites rank higher than their competitors on SERPs, Squarespace makes sure that good SEO strategies are there from the start right into the back-end.
Additionally, the pages that you create will follow all the best SEO practices. You can also add keywords to alt-text, can manage blogging titles, and many more.
Websites that are built with Squarespace keeps Google happy with things like mobile-friendly design, responsive web pages, and clean HTML markup. And keeping Google happy means Google keeps us happy by not deranking our website.
Also, make sure that your website's load faster because this is important as Google is giving more preference to fast loading websites.
Having an SSL certificate on your website is an add-on for SEO. Since Squarespace provides the option for free to enable SSL, you're also giving your customers an assurity that they can feel comfortable browsing your site.
The biggest problem from an SEO perspective that Squarespace has is that the website builds' around how they allow users to manage alt tags. And search engines use alt tags as part of the indexing process, and that is the reason it makes them very important.
But if you want to add alt-tags to Squarespace, the process is very outdated. You first need to add an image to your blog or page, then give a caption, and lastly select the option of not displaying the caption.
Additionally, Squarespace doesn't come with any plugins or tools to help you check your blogging and back-end problems automatically.
You can integrate PayPal and Stripe in Squarespace, but there's no Yoast-style solutions similar to WordPress. However, there's always an option to use a third-party SEO checking tool if you want.
Squarespace SEO Checklist
As you have gone through how Squarespace supports SEO, now let's check the things you should do before launching a website.
Domain Is Linked
Squarespace gives you a default automated domain whenever you create your website. But if you have a custom domain make sure it is updated before you launch your website.
You can change the domain by going to Settings > Domains.
Business Information Is Added Properly
Add all your business information like name, address, email, and phone number so that they are consistent throughout the whole website. Also, make sure you have set your business hours and location for Google to add for your search results.
You can add this information by simply going to Settings > Business Information.
Also if you are a local business, you might like the new feature "Mobile Information Bar" that makes it easier to contact you.
For this first add your business information, and go to Design > Mobile Information Bar.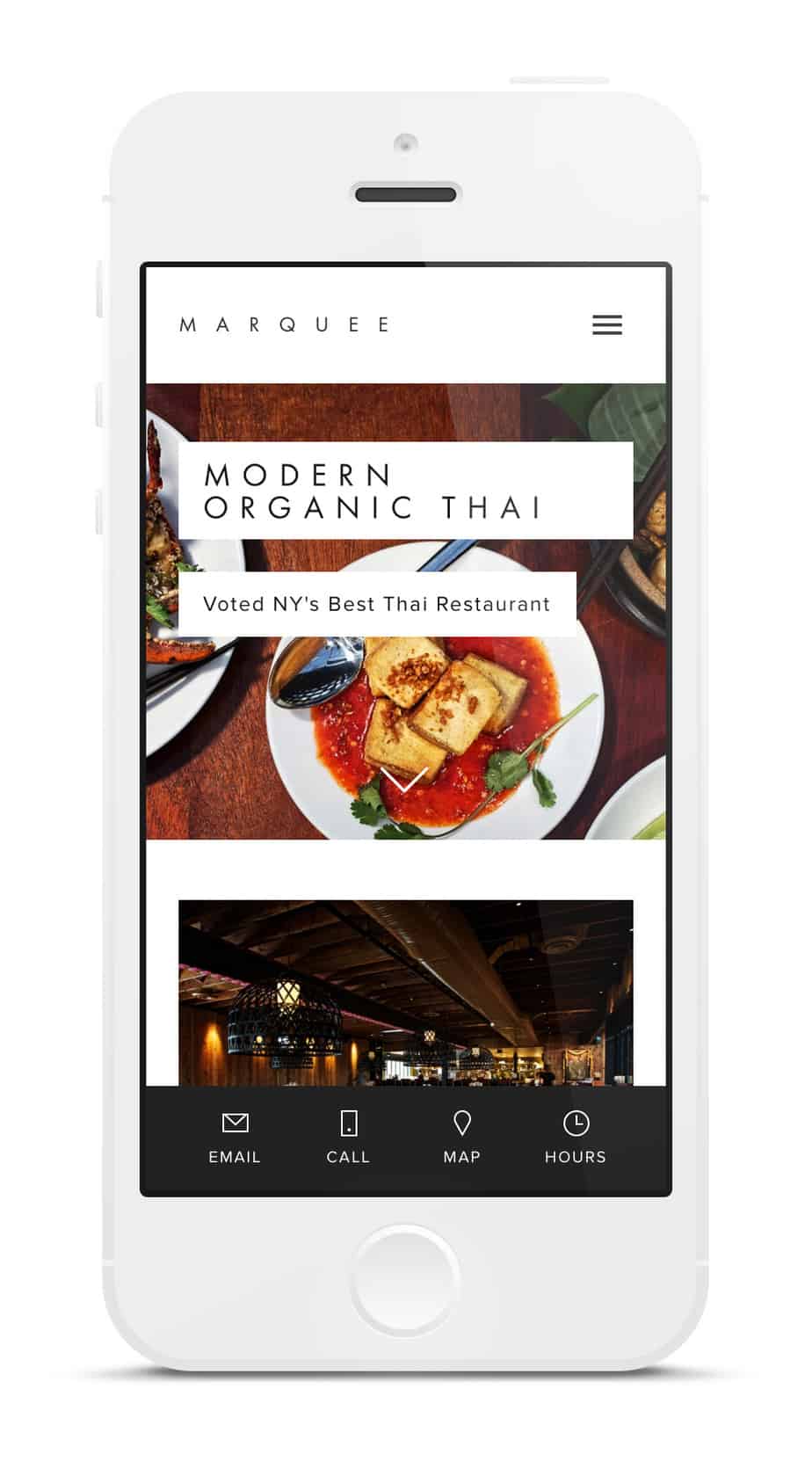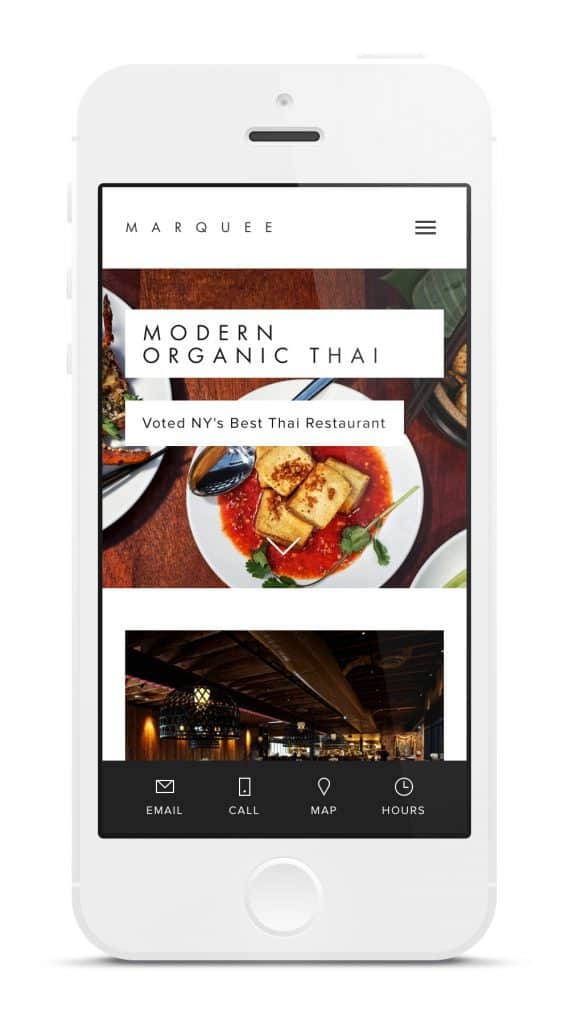 Activated SSL Certificate
As mentioned before, SSL certificates are necessary for your Squarespace sites as the certificates give authentication and protection to users' personal information. Having no SSL certificate can make your visitors feel insecure, and lead them to not visit your website ever again.
It also shows us the warning that makes people go away. Below is an example of it.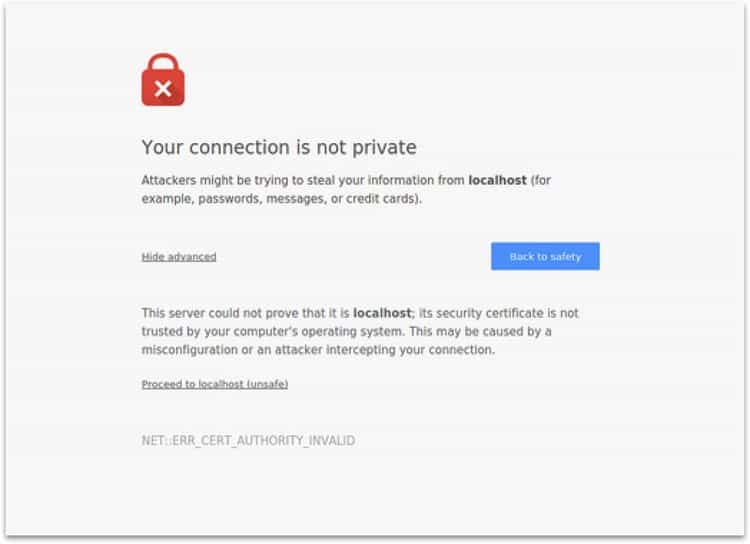 To activate your SSL certificate in Squarespace goto Settings > Advanced > SSL.
All Forms Have Correct Emails
When you create a new contact form in Squarespace, it automatically adds the default email that was used when creating the Squarespace account.
Before launching the website make sure that you have added the right email address of the person to whom that inquiry should go.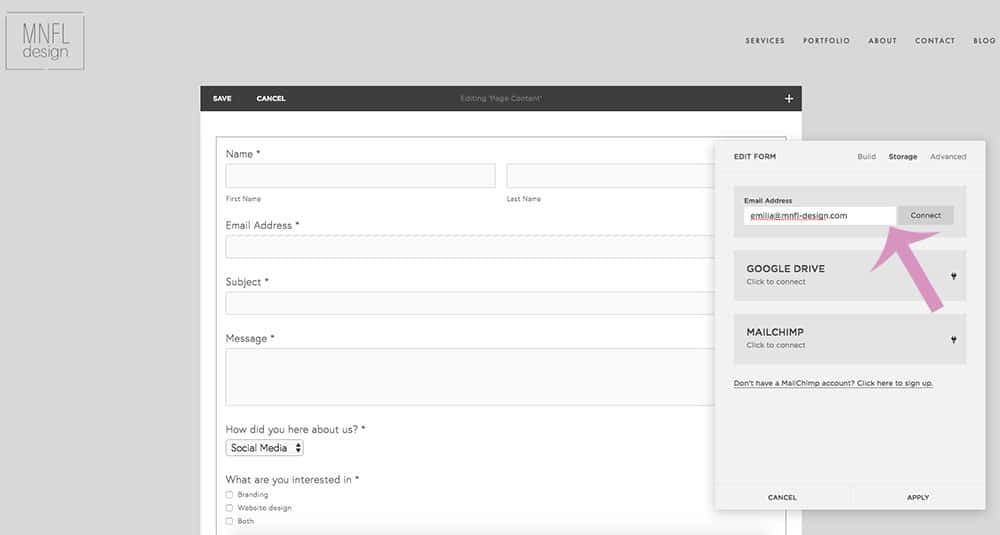 (Source: Emilias Journey)
Favicon Is Added
Favicon is the little icon that appears at the top of the browser tab as follows:

But by default, it is a black cube that makes it look generic and a bit incomplete. All you need to do is to add the logo in the browser icon (favicon) and you are good to go.

To add your logo in there just goto Design > Logo & Title > Favicon and you are done.
Set Up Google Tag Manager
It's not strictly an SEO tool, but adding a Google Tag Manager will make your life easier.
With GTM, you easily deploy code on your site. Otherwise, you'll need to set up other tools on this checklist and for that, you'll need to contact a developer or learn how to code.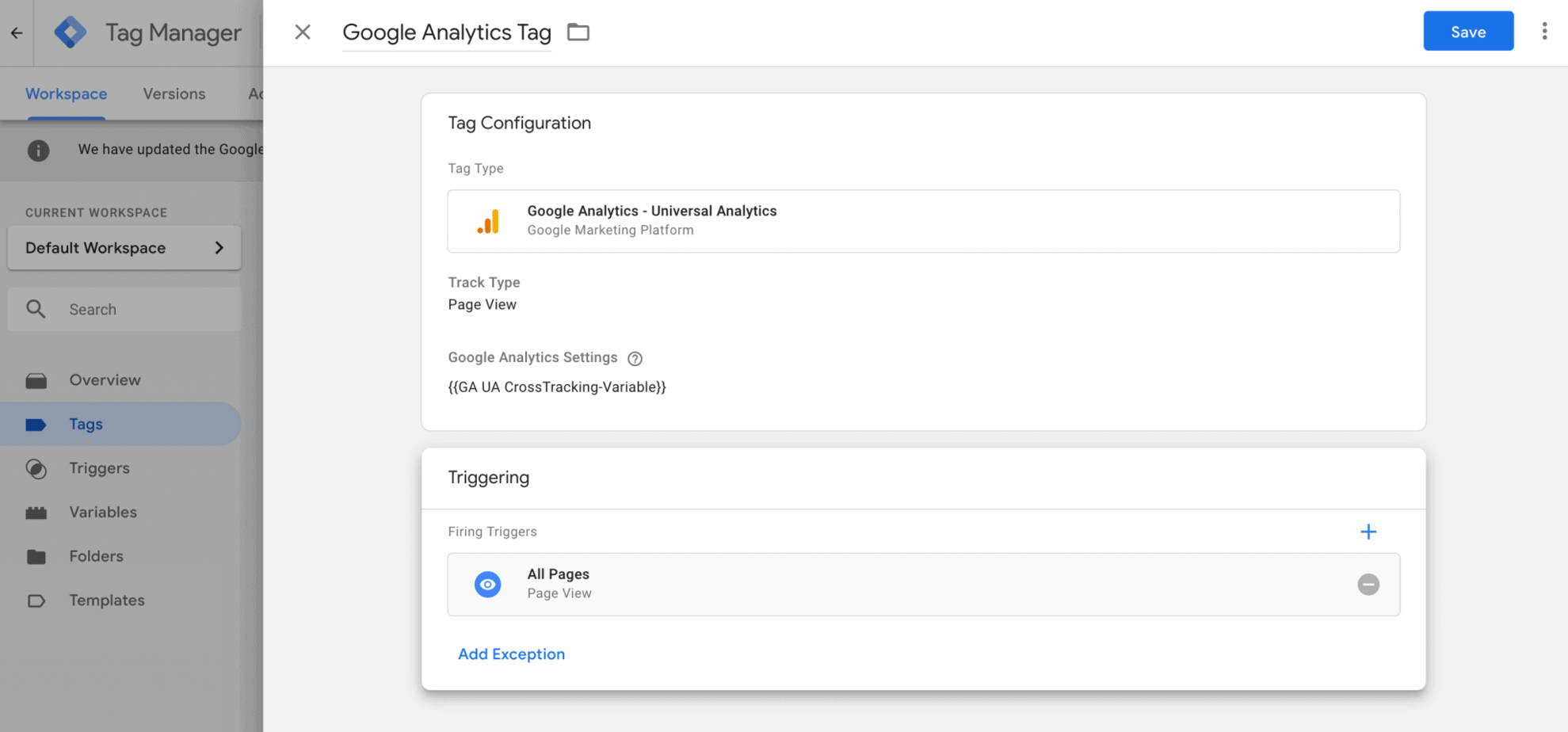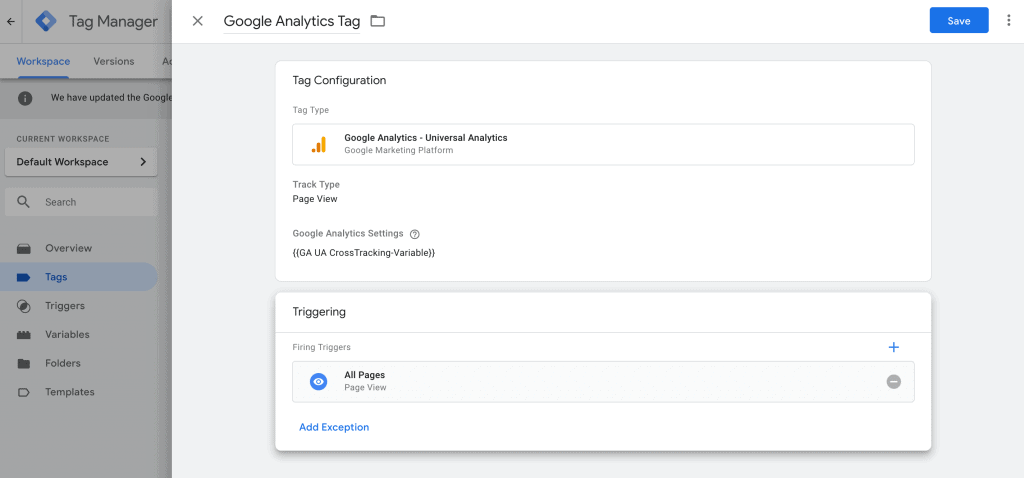 Google tag manager is actually really simple:
Sign Up for GTM and set up your account. You'll get the code right away.
And if you have one log into your account, click admin, and then click on Install Google Tag Manager
After doing that you'll receive two codes, copy both and implement as instructed
To add the Tag Manager to your website just simply click on Settings > Advanced > Code Injection.
Set Up Google Search Console
Search Console is a free tool for website owners created by Google. It provides useful information about how your website is performing on Google's search results.
For example, which keywords are getting most clicks, CTR of your content in search results, and many more.


Plus it also helps in performing technical SEO tasks like:
Request crawling of your web pages
Submit your sitemap to Google
Check robots.txt file for error
To connect the search console to your website just simply click on Analytics > Search Keywords > Connect.
Install Google Analytics
After creating a website if you haven't installed Google Analytics yet, do that instead of doing anything else. With Google Analytics you can see how your SEO efforts are impacting the performance of your website.


From Google Analytics you can determine:
How much revenue or conversions you are getting from SEO
Blog posts attracting the most traffic
From what demographics you are getting most users, and many more
The process to add Google Analytics is same as Google Tag Manager (add Google Analytics only if you are not planning to add Google Tag Manager)
Make Sure Canonical Tags Are Used
The Canonical tag tells search engines that the specific URL is the master copy of a page. Using the tags prevents problems caused like "duplicate" or identical content that appears on multiple URLs.
To add canonical tags go to the pages that you want to add a tag too, after that click on the settings sign. Select the Advanced Tab and enter the following code in the Page Header Code Injection section.
<link rel="canonical" href="https://pageurl.com" />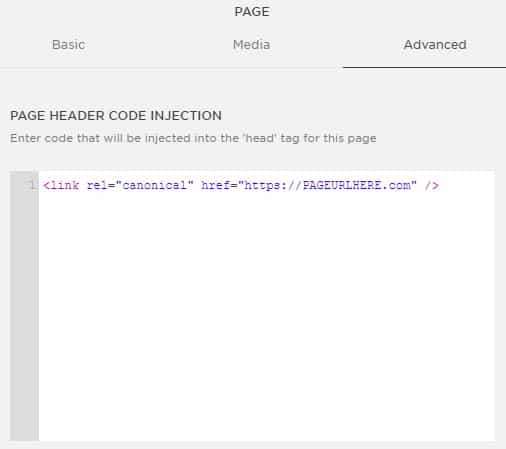 Submit XML Sitemap
A sitemap helps Google, Bing, or any other search engine to read your website content correctly.
To submit your sitemap, go to Google Search Console, click on sitemap, and submit the following URL:
https://www.domainame.com/sitemap.xml.
But in some cases, you just have to submit the sitemap slug that appears after the domain name.
URL Slugs Are Updated
Squarespace automatically builds a URL slug for a page or a blog post as per its title. But you can change it manually by clicking on the Gear icon. While changing make sure the slug is short and straight to the point.
Also, avoid numbers or irrelevant words. Below are some of the examples of bad URLs:
www.domainame.com/services-page-3
www.domainame.com/category-12
www.domainame.com/blog/12-best-seo-checklist-for-2020
Blog URLs Are Correctly Formatted
By default, Squarespace displays the date in your blog article URLs, meaning you end up getting really long URLs that don't look good and are also bad for SEO.
To fix this problem you just have to go to Settings > Blogging > Post URL Format and delete the dates and leave % for the title.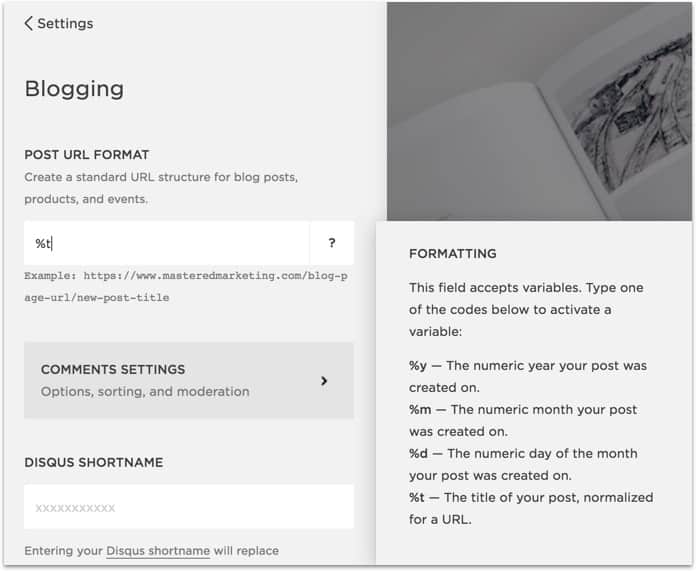 Page Redirects Are Setup
One of the worst things that affect your SEO is broken links. This also annoys the visitors and makes them leave your website.
For example, you have deleted a page, moved it, or changed the URL. but you still have got links to it. So to fix this, you need to set up 301 redirects. This signals the search engines that a page is moved and sends the users to the new URL.
To do the 301 redirects, you need to go to Settings > Advanced > URL Mappings and redirect one URL to another using the format: /old-url -> /new-url 301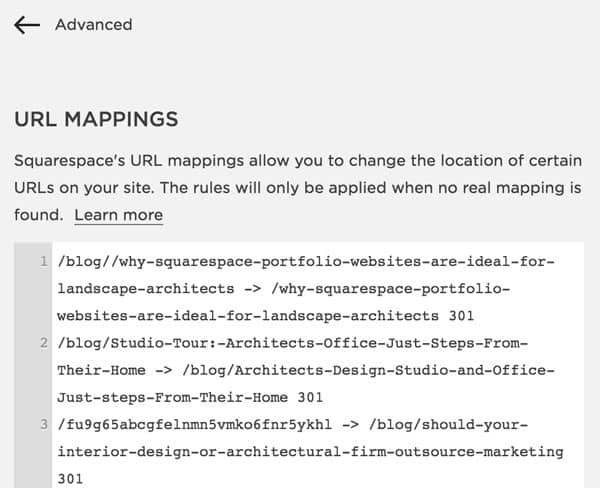 Unused Pages Are Deleted Or Deactivated
Unused pages with very little or irrelevant content will hurt your site because Google thinks that it has low-quality content. A lot of people leave these pages in the 'Not Linked' section because they think that pages can't be found by visitors. Actually this is true, but Google finds them and gets them indexed!
There is an easy fix; just go through the pages and delete it if you're not using those pages.
If you want to keep a page but want to turn off for now, then go to the page settings and disable the page, and also don't forget to add a password. This will stop Google from indexing that particular page.
Use Heading Tags Appropriately
Heading tags are crucial for SEO, and luckily Squarespace makes it easy for you so that you don't need to know any tricky HTML codes.
Think of adding heading tags as a hierarchy; Google first reads the H1 tags, and then the others. Heading tags also makes the content easier to read.
Every Page Can Be Reachable From The Home Page
This is a common mistake people make. It seems obvious, but don't try to hide important pages or make it difficult to find them!
Use simple navigation and try to go through your website as a total stranger. A better option is, get one of your friends and ask them to test it out. Ask for the reviews from them that were there any difficulty to find certain pages or where they stuck anywhere in your website.
All Buttons & Links Are Working
As mentioned before, broken links hurt your SEO and your website, so make sure if all the buttons and links are working.
If you are unable to find, use a tool like deadlinkchecker to find broken and fix them.
AMP Is Selected
AMP, or, Accelerated Mobile Pages, helps your website to load faster on mobile devices, which is crucially important for both the end user and Google.
You can turn this on by going to Settings > Blogging > Accelerated Mobile Pages and check the box.
Squarespace SEO Tips
As we went through some Squarespace SEO checklists that you should follow before launching your website. Now let us go through Squarespace SEO tips that will help you with the ranking of your website.
Make sure you follow this practice regularly to obtain good results.
1. Start With Keyword Research
Keyword research is the most important step in SEO for your Squarespace website or any website. For the pages on your website that you want to be indexed by search engines you have to make sure that the search engines identify the primary or "focus" keyword that you are planning to rank for.
This may seem overwhelming when you have a ton of content on your website but haven't done keyword research for it, don't worry you can always start with the page or blogs that are of top priority or have a direct impact on your goals.
To ease this process use a spreadsheet to make a list of every page of your website, with columns like:
URLs
Focus Keyword
Secondary Keywords
Page Title
Meta Description
You can add other columns too as per your need but this will get you started applying those keywords to your pages or blogs.
2. Optimize Your Title Tags
Every page on any website has a title tag that sends signals about what this page includes to search engines and your target audience. So make sure you have included the focus keyword on the title tag.

The process of editing the title tags in Squarespace is a bit different depending on what you are editing like a homepage, blog post, other page titles, or a product page.
Editing Homepage Title
If you want to edit the title of the homepage of your website go to Marketing > SEO. and select the Home tab.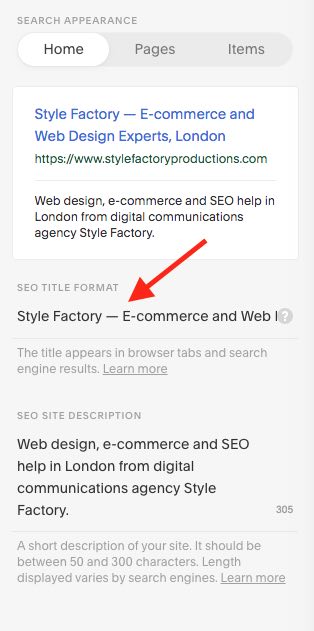 Enter the title that you want to add, and you'll see the preview of it in the search result as the above image.
Editing Page Title
To add or rename the SEO title of other pages you need to go to the "pages" section, and click on the settings icon of the page you want to edit. A pop-up window will appear, in that select SEO and enter the page title you had planned for that page.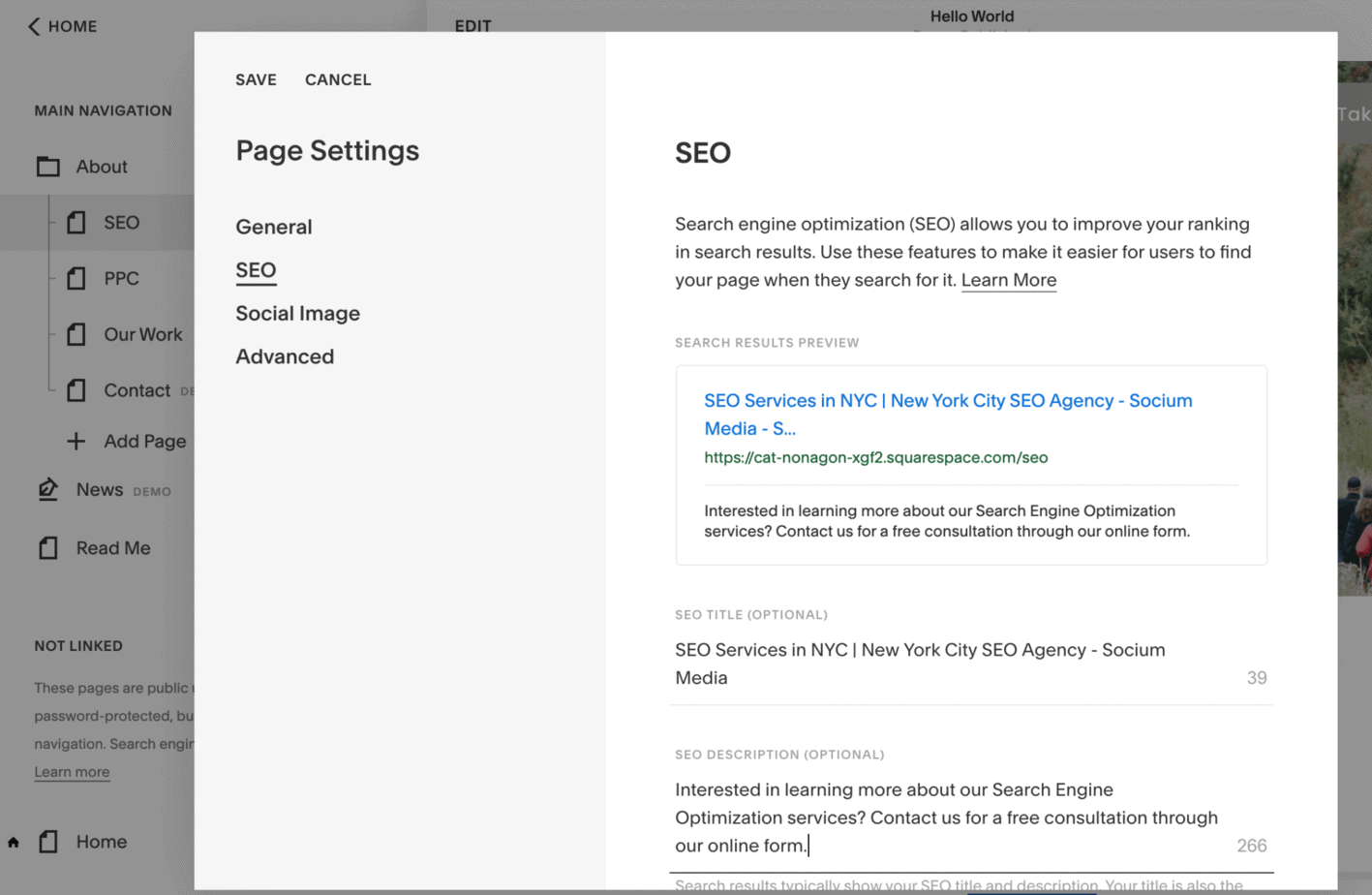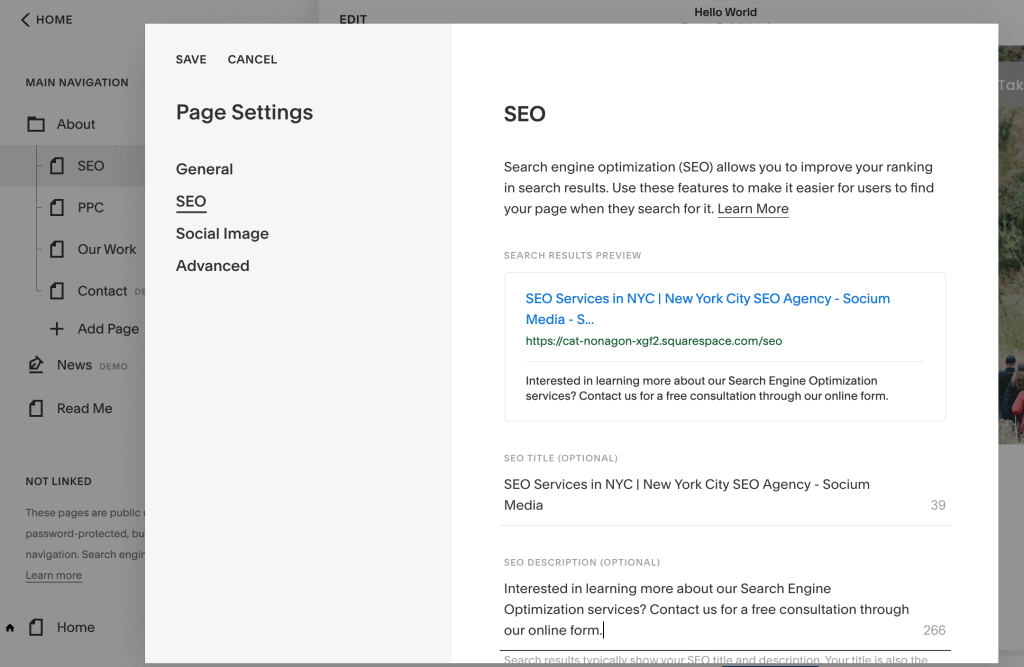 Editing Blog Post Titles
Optimizing blog post titles are important too, because search engines like content that is regularly updated. To add or edit the title, open the "Pages" section from the main menu. Here the steps to edit a title varies between 7.1 or 7.0 Squarespace versions.
For Squarespace 7.1, go to the relevant blog post and click the three.dot icon. After that click on "settings" and choose "SEO". You'll see a box as below and update your title: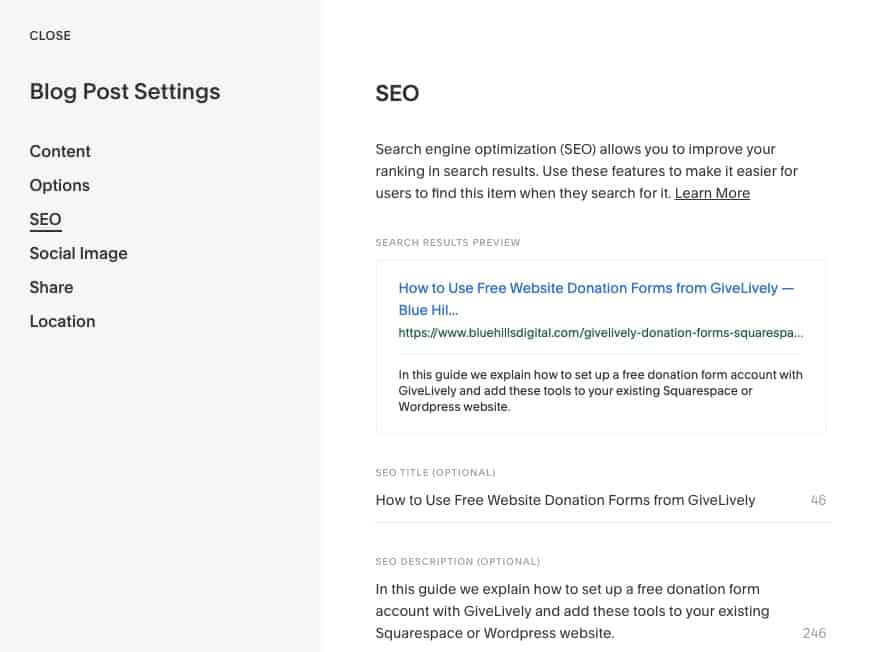 On Squarespace 7.0, go to the relevant blog post and click on the "edit" button, and choose "SEO". You'll see a window as below image and change the title as per your need: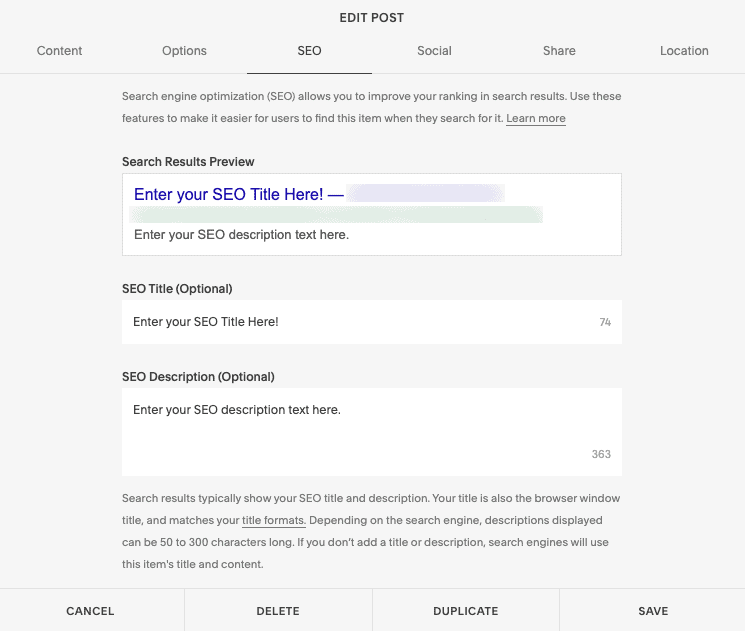 Editing Product Titles
Setting the SEO title for product listing, open the product settings from the relevant collection. Go to the settings panel until you find the "SEO and URL" tab, click on the "Edit" button, and in that you'll see "SEO Title" similar to those above. (Please Note: In the 2020 interface these settings are located under a tab labeled "SEO" instead).
3. Optimize Your Meta Description Tags
As your pages need a strong meta title, it is important to make sure your pages or blogs have strong meta descriptions too. Meta descriptions are the short text that gets displayed on the search engines below the Title tag and URL on SERPs.

Search engines like Google and Bing will create this description automatically from the first paragraph on the page. So it's worth the time to write the descriptions because it significantly determines whether a user will click your link or not from search results. And also make sure you don't forget to add your focus keyword in the meta description too.
4. Optimize URLs
Another place where you should include your focus keyword is URL. It makes it easier for the search engines to know what the page is about but also gives you another chance to get the focus keyword in front of the user on the SERP.
While creating a custom URL, keep these tips in mind:
Keep URLs short
Make sure you separate words with hyphens, and not with spaces or underscores
The URL doesn't have to match the exact page title
To create an optimized URL in Squarespace, you need to click the gear icon to open the setting menu. In that go to "General" and in that enter the URL in the "URL Slug" field. Enter only the last part of the URL means 'url-slug-goes-here'.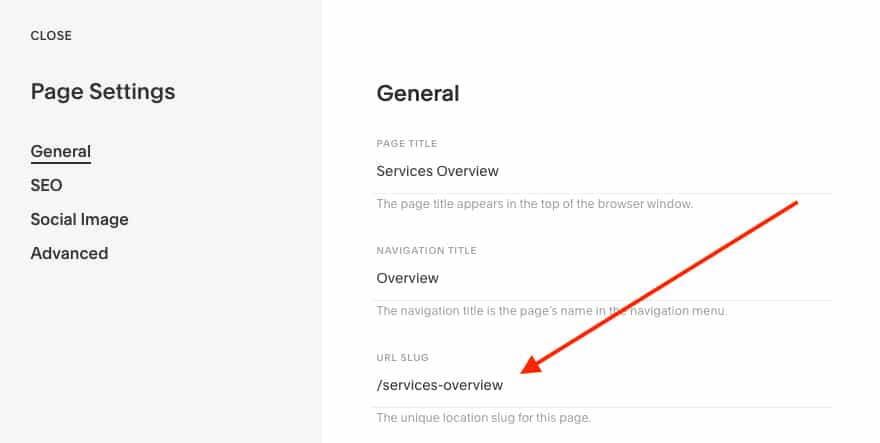 To create a custom URL in a blog post or product, open the settings of it and use the "options" tab to change the post URL or product URL.
5. Use Heading Tags To Structure Content
Now as we came to know about the title, description, and URLs, let's head to the content on the pages of your website. Within each page, you need to follow the hierarchy of heading levels so that it helps the search engines and your visitors make sense of your content and your content structure.
Every page should have one H1 heading tag that includes your focus keyword (let's say the title at the top of the page). After that, start using H2 headings to divide up content by sections, and use H3, H4 to H6 headings within sections if necessary.
6. Set Alt Text For Images
When adding the images to your website, keep a habit of setting "alt text" to the images when uploaded because it is time consuming when we have to come back and edit later. Actually, there are some good reasons why you need to add alt text to images:
It allows the crawlers to understand what value the image adds to the page
If the image fails to load, the alt text is displayed instead
If you are confused on what to set image file names, here is a suggestion; choose user-readable file names before uploading them. For example, use the filename as grand-canyon.jpg instead of IMG5624.jpg.
7. Check Your Site Speed
Users and search engines prefer fast-loading websites over slow ones, and page speed is also used as a ranking factor that helps your website rank higher if it loads quickly. As per some page speed statistics, it is said that 37% of visitors bounce if your site takes five seconds or more to load
The benefit of Squarespace is it saves your time to make decisions about web hosting and servers, and many things of the server-side optimization of page load time are already taken care of.
Still, there are important steps that you need to take like the content that you create on the website doesn't result in slowing down the page speed for the users:
Make sure you keep your images properly sized (ideally not more than 2000 pixels), and if possible keep using compressed JPGs instead of PNGs.
Try to use fewer custom code snippets or external scripts.
Limit the number of web fonts.
8. Custom 404 Pages
Creating a customized 404 error page means creating a new, regular page from the Pages section of the Squarespace dashboard that has the type of broken link content you want to display. Once you have added the content and the page is saved, go to Design > 404 Page, and select the page you created from the dropdown menu and click save.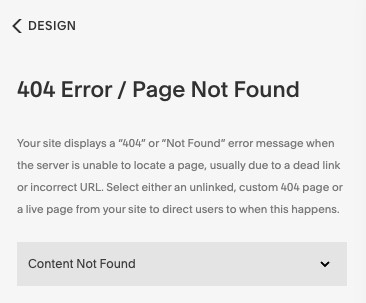 Custom 404 page examples: Best 404 Pages
9. Make Use Of Internal Links
Internal links are an important part of performing SEO. As it showcases other relevant content on your site from each page and helps users to get extra information around that content. Using internal links within your website has two benefits:
When your website is being indexed, it helps the search engines understand what pages are related to one another.
By linking to relevant content, you encourage and help the visitors to navigate around your website after reading the page they visited, and by doing this you are increasing the time they spend on your website.
10. Avoid Broken Links, And Use 301 Redirects
As we have mentioned above, broken links are also an important part of your Squarespace SEO. Means if you decide to change the URL of a page, you need to add a "301 redirect" that connects the previous URL of that page.
Doing 301 redirects have some benefits to it:
It redirects the visitors that click on the links pointing to the old version to the right place
It also helps search engines know where that content is now located
It also helps search engines in learning that the content is valuable, and passes the "value" or "link equity" of the previous version of the URL to the updated URL
11. Start Building Backlinks To Your Website From Other Websites
The final step of this is to start creating backlinks! The number of backlinks pointing to the content of your website from other relevant websites still remains as one of the top-ranking factors used to determine rankings by search engines.
We recommend not to the scammy services out there which tell you to pay for backlinks. Because there are chances that the links are likely to come from domains that have a low authority which makes it less valuable, and won't get high-quality traffic to your website.
Instead, why not create on your own and follow the following steps:
Create quality content around to the answers that audience is looking for
Search about different blogs, podcasts, websites, or media platforms your audience usually visits for information about that topic
Build authentic relationships with those people that type of sites
Explore opportunities for guest blogging, or be a guest on a podcast
Best Squarespace Templates
The squarespace template store offers a variety for creating a site that best presents your style, vision, and brand to the world. So let's see some of the best squarespace templates.
1. Horizon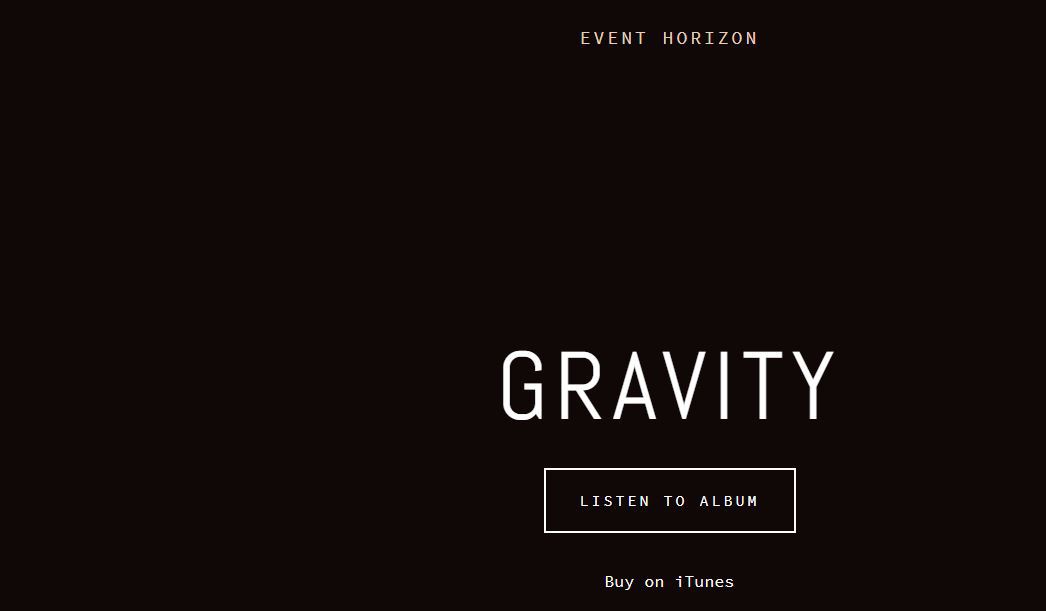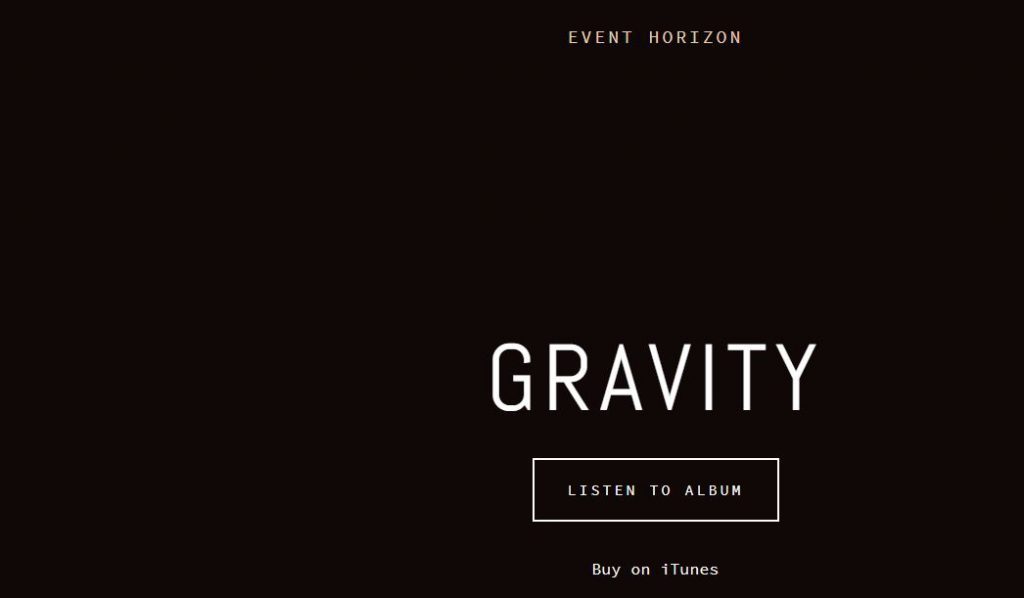 Horizon is a template that videographers will love to use. It is designed to let your content take the center stage. The biggest advantage of Horizon is the sleek scrolling index page that stacks the full banner images and videos consecutively.
Pros:
Striking index pages
Supports single-page sites
Cons:
The main navigation is not displayed on the index pages unless set as the homepage
2. Wexley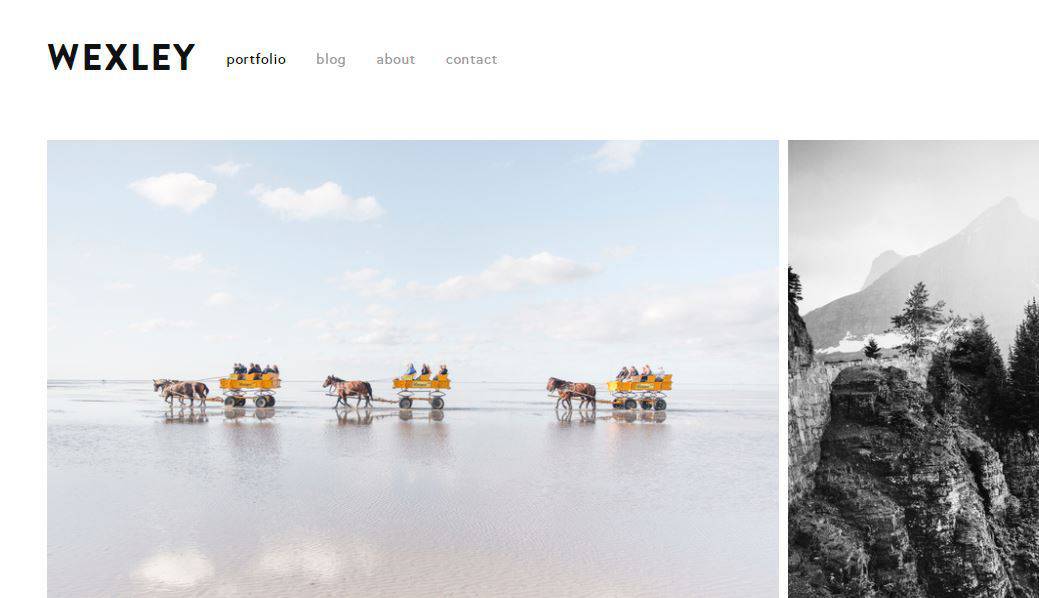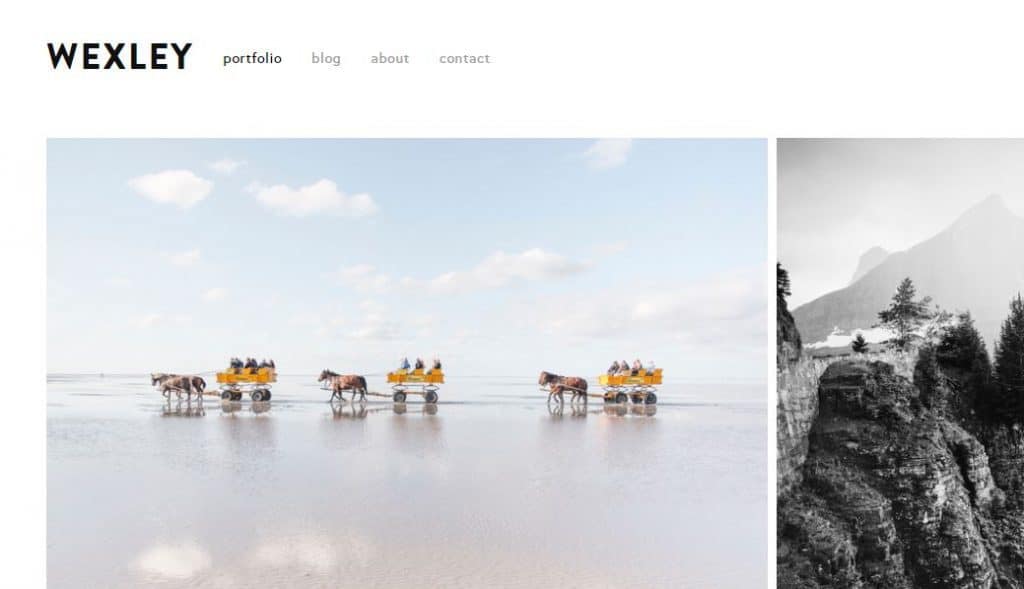 Wexley is an older template that's there for a reason; which is the "adaptive mosaic" layout they offer for visuals. Squarespace considers that as a fancy grid. This template has proven to be the best way anyone can showcase their artwork and photography.
Pros:
Adaptive grid layout
Tools to online shop
A Single sidebar can also be added to the blog
Cons:
Non-landing pages are unexciting
3. Five


Five is a goldie and an oldie for the bloggers who value versatility and a sidebar. It may be known as one of the older templates, but it's anything but successful. One of the main advantages is the support for sidebars, which plays an important role in blogging websites.
Pros:
Cons:
4. Galapagos


Galapagos has a simple and clean interface that ensures that your products attract all the attention when customers are browsing. Its simplicity makes it an ideal starting point for setting up a shop.
Pros:
Interactive shopping experience
Clean layout
Cons:
Only few opportunities for customization
5. Wav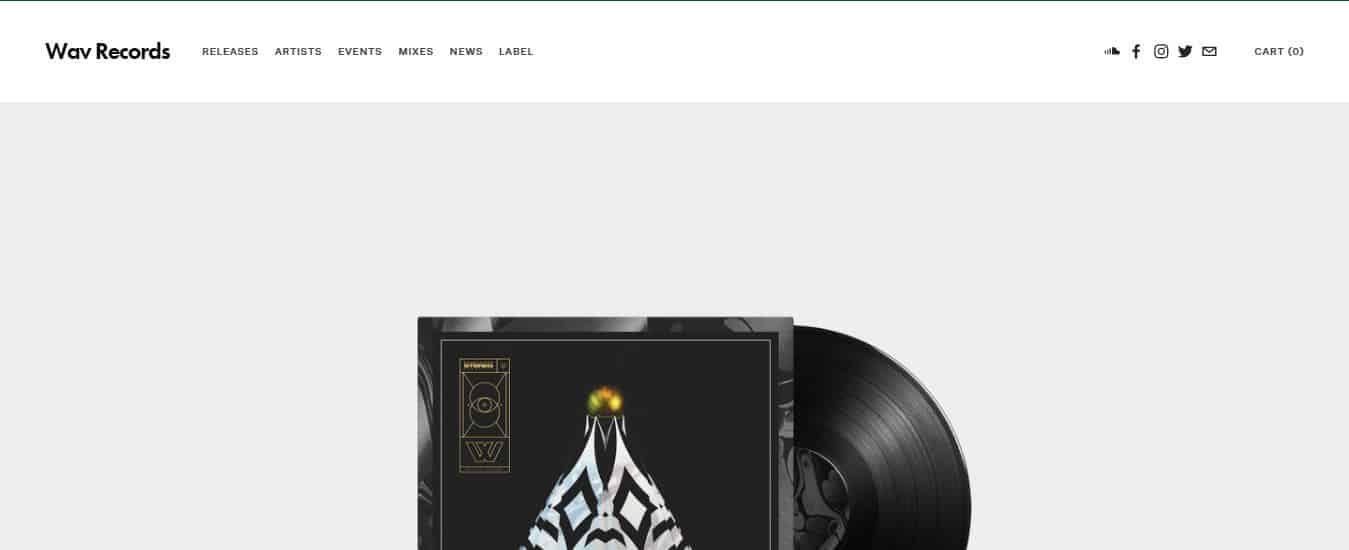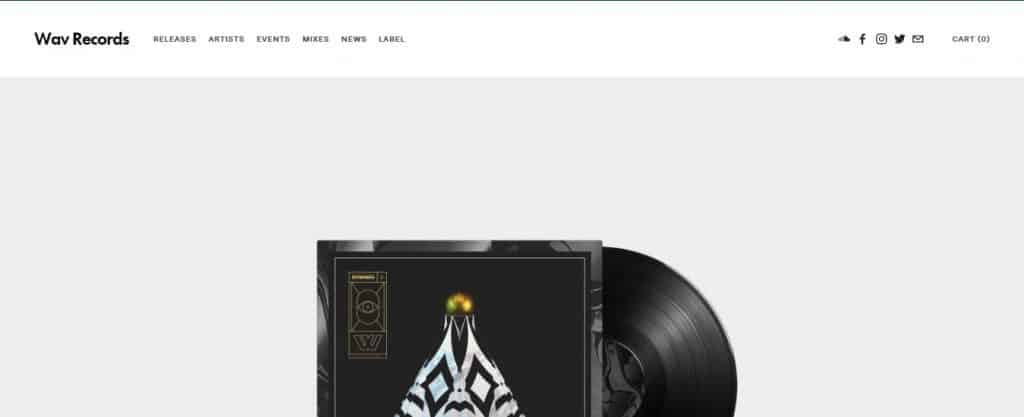 Wav, as the name, suggests it has been named after the audio format file which features a grid-style layout that's fresh and modern. It is also capable of interacting with Soundcloud and makes it easy to publish your latest episodes.
Pros:
Good Soundcloud integration
Parallax effect available
Cons:
Has a range of customizable features which can be a little overwhelming
6. Almar


Selling products is sometimes similar to selling your personality and lifestyle. Almar combines those two sensibilities into one and allows you to advertise your services or products while also giving you room to show your personality too.
Pros:
Attractive layout
Modern stylings
Cons:
Jack of all trades but master of none
7. Vance


As food services are going online for showcasing their menus and bookings. Vance is just a great way of doing this. The landing page provides the key information like photos of the food, your location, and also provides you with the option to subscribe to your user for a newsletter.
Pros:
Clear layout
Booking services
The landing page offers key info
Cons:
Mobile layout isn't appealing
8. Nueva


We know that Squarespace's templates are all mobile-optimized. But an experience that goes above and beyond, is Nueva.
Nueva features an uncluttered and highly scrollable layout with mosaic-style galleries and prominent headlines.
Pros:
Neat design
Headlines cleanly divide sections
Lots of opportunities for mobile
Cons:
Relies heavily on imagery
9. Lusaka


Lusaka goes back to an older style blog design but works well for a site that wants to display a lot of knowledge. For example, if you're planning on designing a website for a non-profit organization that wants to showcase the potential donors in an appealing fashion, then Lusaka is the right template for you.
Pros:
Attractive text layout
Intuitive design
Cons:
Conclusion
Now you are on the way to create an SEO-friendly Squarespace website!
If you follow the Squarespace SEO checklists and tips mentioned above, you are going to start to see some steady improvements in rankings, and will also help you in developing good habits for creating SEO-friendly blog posts and pages for your website.
Have further questions regarding this? Leave a comment and we'll make sure you get the answer to your question.