SEO still remains the key component of any digital marketing strategy. It is the art and science of boosting one's site search engine page rankings, getting more leads for the company or organization, and increasing its visibility. 
Aimed at search engines such as Bing, Google, and Yahoo, an effective SEO campaign is about creating compelling on-page content, attracting backlinks, improving the site's architecture and underlying code, and most importantly getting more organic traffic.
No SEO campaigns are alike, and this step-by-step guide will help you to get started by highlighting the importance of quality backlinks, high-quality content, and other vital ranking factors to get your site visible on the first page of search engines.
What Is an SEO Campaign?
Most of the people who enter the industry wonder how to create and run an effective SEO campaign. It's a long-term strategy with many moving parts, including SEO analysis content audit, keyword research, link building, on-page optimization, and many other considerations. Because the end goal is to improve search engine rankings.
Around 64% of marketers are actively creating SEO campaigns because they assist in hitting multiple KPIs (key performance indicators), including helping your site rank for relevant keywords, increasing traffic, improving conversion rate, and much more. The biggest appeal of an SEO campaign to the marketers is that it tends to be a cost-effective solution as it helps you reach more than one marketing goal.
An SEO campaign strategy can be effective if you include:
Gauging the health of your website 
By using site analysis tools, you can have all the information about the issues your domain currently faces, including images without alt attributes, broken links, and much more.
Competitor analysis
While creating your SEO strategy, a good place to start is by reviewing what is and isn't working for your competitor. Many tools help you to check site authority, organic search, backlinks, display advertising, paid search, and traffic engagement of your competitors. 
Keyword research
Identify both primary and secondary keywords with pages you want to target. 
High-quality content
After selecting the keywords, start creating compelling content that hooks interest and drives traffic of your targeted viewers. If the content and the keywords you've chosen doesn't align, visitors may leave your site disappointed, and won't be converted to sales.
Optimizing on-page SEO
On-Page SEO process optimizes internal elements of the webpages to be more easily read by users and crawled by search engines. Those internal elements include title tags, meta descriptions, keyword density, H1 tags, and much more.
Thoughtful link building
While having many backlinks from other sites can help you boost your web page rankings, the quality of the links from reputable sites is more important than the quantity of links. You don't want to incorporate links from sites spamming just so you can to spice up your page ranking.  
Social media engagement
Sharing content through different social media sites can help boost your site's traffic and increase page ranking. With our Social Media Tracker tool, you can track your social media platforms and measure how well your intended audience engages with your content. 
Keep reading to get more valuable information on some of the key steps you need to create the best SEO campaigns.
Keyword Research
Keyword research is about finding the most important search engine queries related to your site and customers. The keywords need to be sorted and prioritized in logical groups to better create new content against them and refine or dramatically change existing site content.
There are various free and paid tools that you should know about when you're starting your keyword research. Some of them are as follows:
Free Keyword Research Tools
1. Google Keyword Planner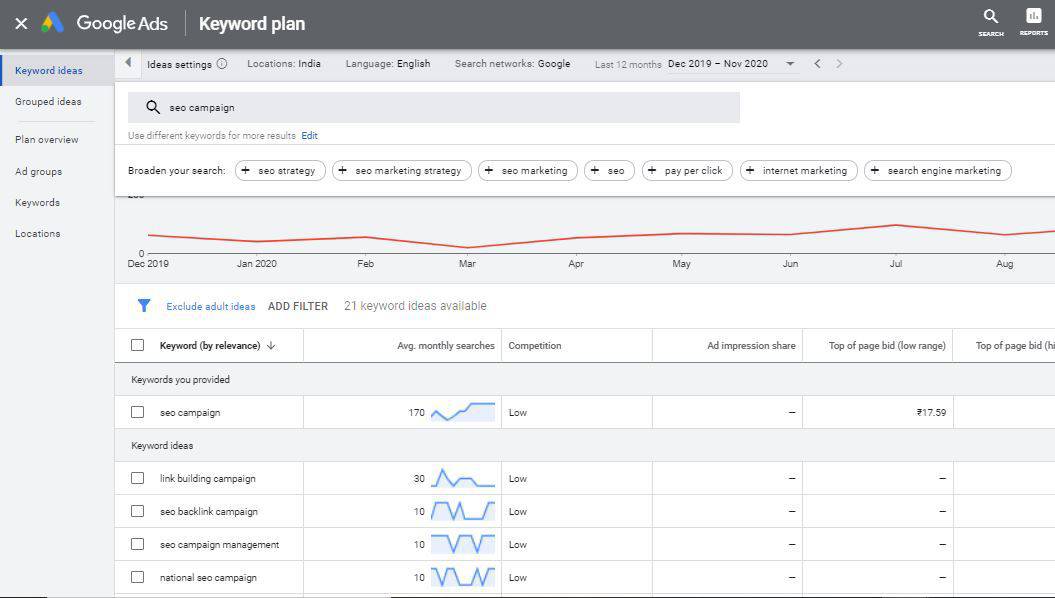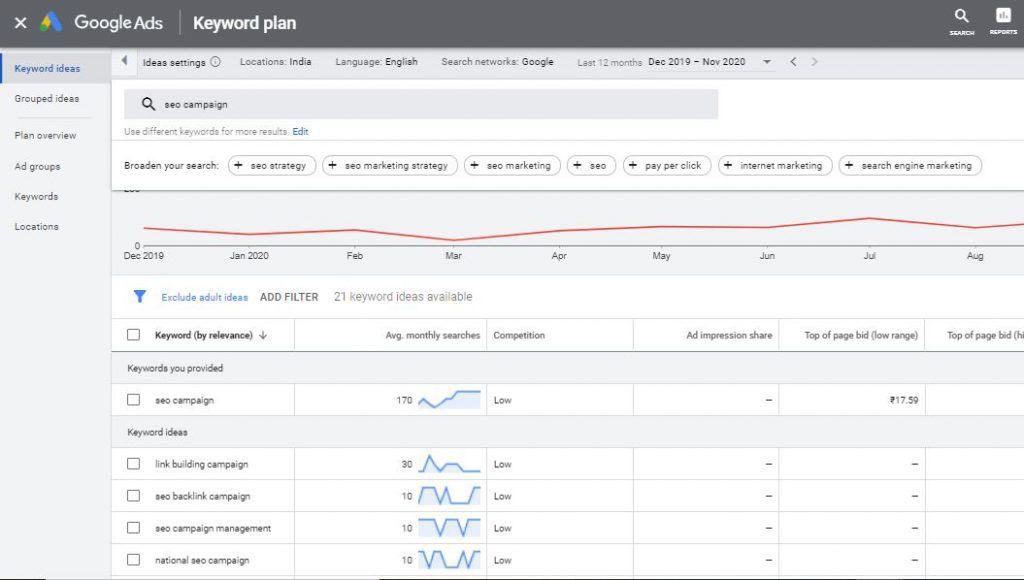 2. Keywords Everywhere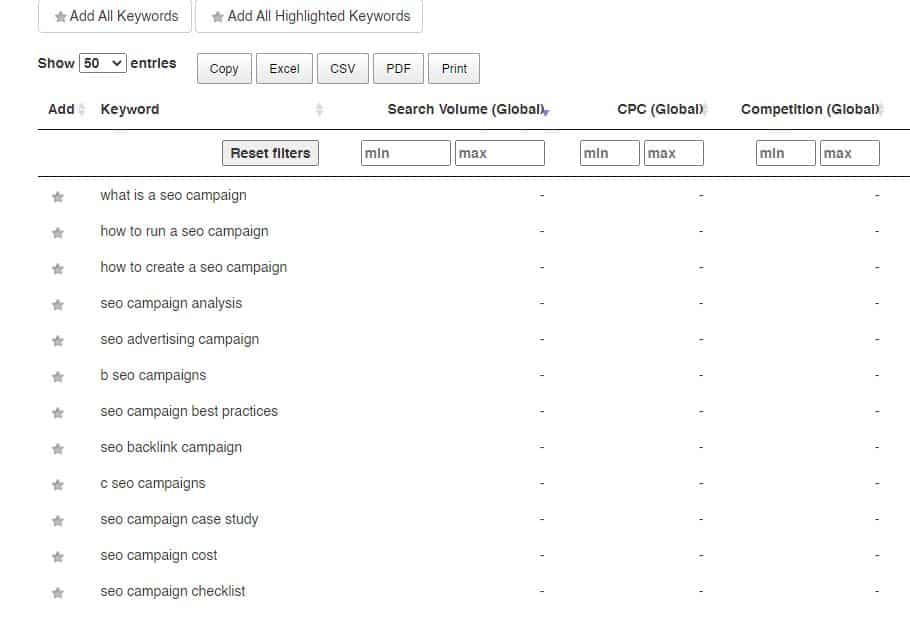 3. Keywordtool.io


4. SurferSEO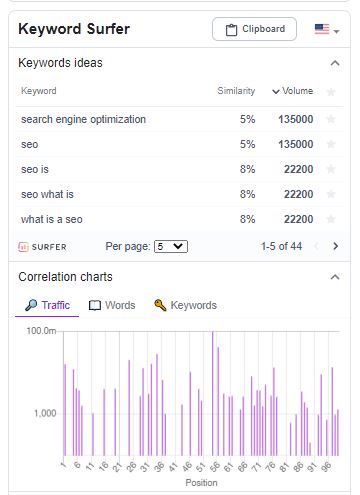 Paid Keyword Research Tools
1. Ahref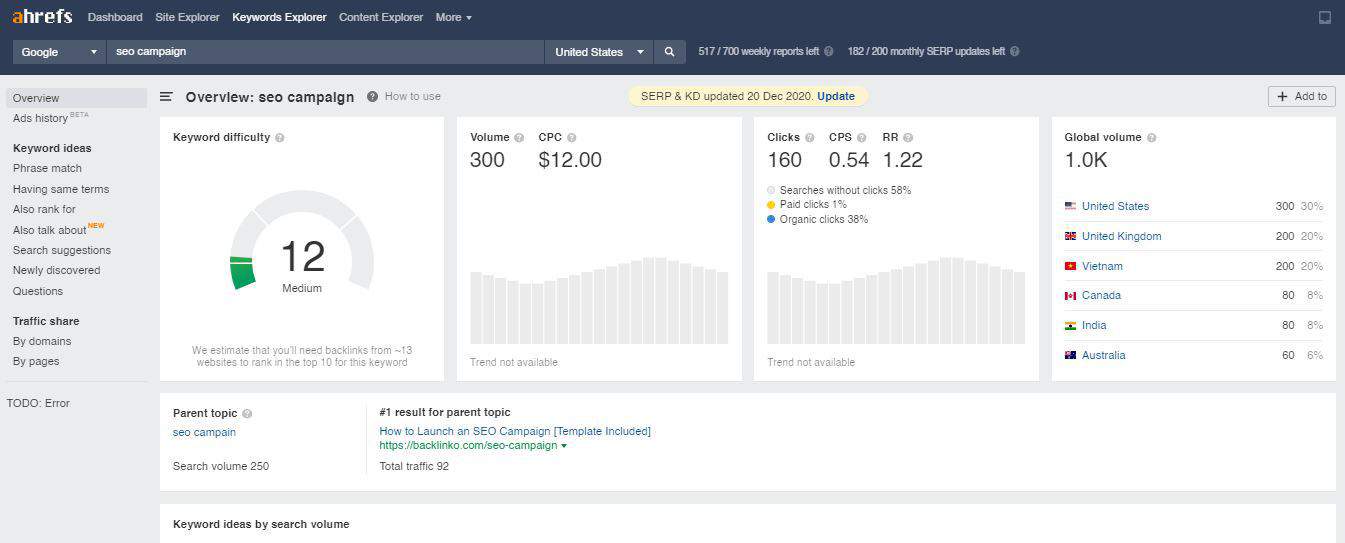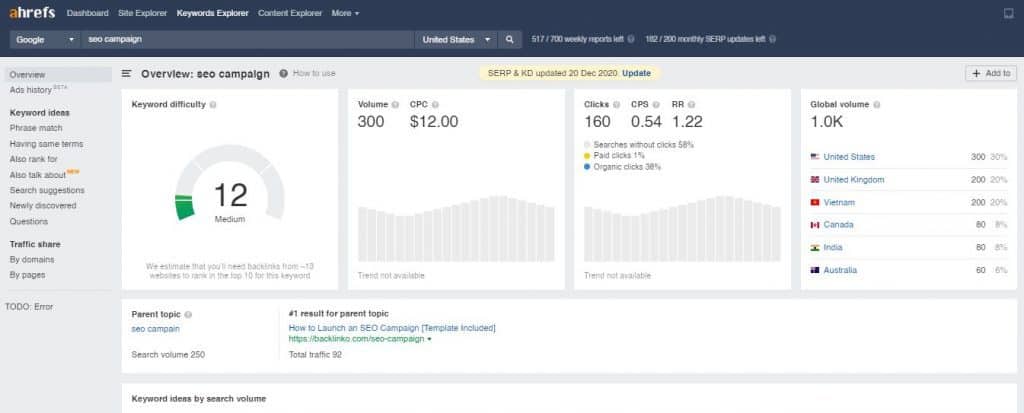 2. SEMRush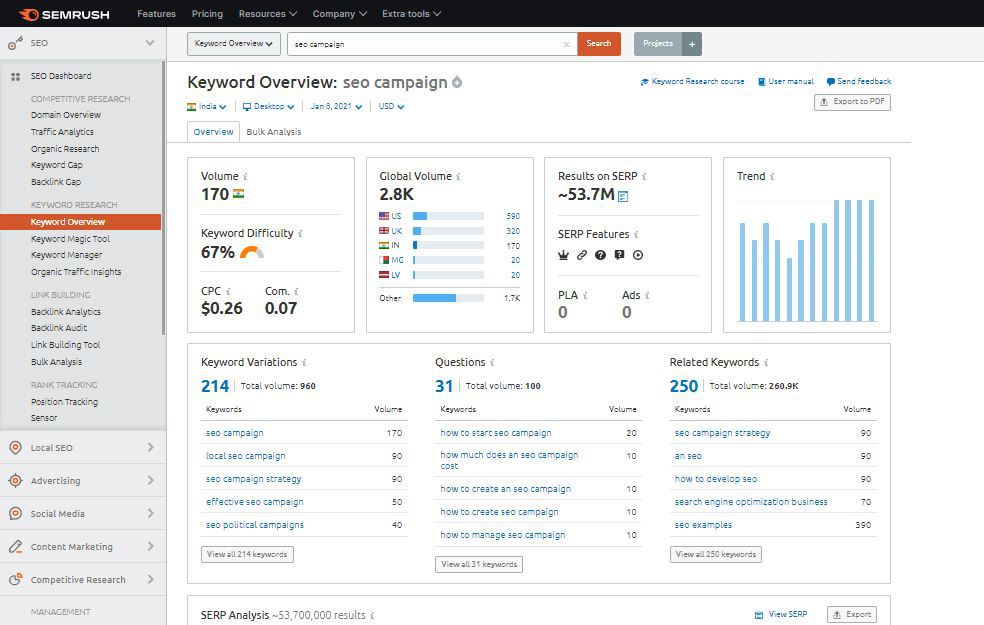 The free keyword research tools give you a brief overview of the focus keywords that you want to target like their volume and what is the competition for those keywords. 
And if you want to dive deeper and know where improvements can be made and also want to get a better understanding of the keywords you're ranking well on, we recommend to use Ahrefs or SEMrush (which are paid tools).
Publish Content
The next step is to write down the content for your post, taking into consideration the following:
Make it better – so as to possess any chances of ranking within the top positions of Google, your content has got to be better than what's already available. Carefully examine the prevailing content and consider ways you'll make your content better.
Always consider the user and what they could wish to see for a specific search query. For instance, if you're writing a post comparing different tools then a comparison table could be an honest fit. If you're writing a 'how-to' article then step-by-step instructions with images could also be more appropriate than simply plain text.
The content that's already ranking on Google is the best sort of content; don't take that for granted. Within the majority of cases, there are always things which will be improved if you approach the content creating process from a special angle.
Keep the following things in mind while creating content:
Write in-depth content
Be transparent
Make it easy for the users to find who is the author of the post, and how to find more details or contact details of the author if needed.
Make sure to back-up any claims made in the content with real data or studies.
Show your authority and expertise

For example, to rank on Google for health-related topics the content has to be written and verified by certified experts.

Be different – Try to come up with different things and topics than what is already on Google. By doing this you'll create an alternative resource for the users to learn more about a topic and Google likes that.
Optimize Content
When looking at the way to run an SEO campaign, content optimization plays a crucial role. To try and do this, you would like to know what users are checking out, why they're looking for it, and what they expect once they find it.
It's not just a matter of using the correct keywords, but using them the right way. They can't be thrown haphazardly into content but got to be incorporated with care, keeping the language's natural flow and meaning intact. you furthermore may want to form sure it's accurate and well researched while including thoughtful internal and external links.
Your content also has got to appeal to the stress of the program algorithms for the simplest chance of appearing within the top rankings. Some on-page ranking factors to page optimize include:
Meta descriptions
Page URL 
Title tag
Images and their respective alt tags
Fortunately, there are several tools to help with the creation of SEO-friendly content.
SEO Audit
The next step is to review your website's SEO healthiness by performing an SEO audit.
If you've recently performed an SEO audit then you don't have to do an audit whenever you begin a brand new SEO campaign, but if you haven't done an audit yet, then this is often a highly recommended step.
As a part of the audit process, you would like to review your technical SEO infrastructure and especially the subsequent items:
URL structure – make sure that you have SEO friendly URLs
Website structure
Check your canonical URLs
Optimize robots.txt SEO settings to make sure the website indexes properly
XML sitemap should be optimized
Build Backlinks
Link building, or creating backlinks, is the process of attracting inbound links to your website from authoritative sources. In building backlinks, you've got to think about how relevant the linking site's topic is to yours, how fresh the link is, how the anchor text is employed on the location, what percentage other links on the location link back to yours, and more.
Getting organic backlinks is often a challenge, so it's an honest idea to include this process into your content creation and social media strategies. Creating blog posts that folks read and cite and social media posts that get widely shared may be a good way to urge organic backlinks.
With our Backlink Gap tool, you'll compare up to 5 competitor sites directly, seeing who links to them and to not you, and searching for gaps in their link-building strategies that you simply could be ready to exploit.
Other ways of getting backlinks include:
Identify and repair broken backlinks
Guest blog posts
Creating infographics
Promoting content
Monitor Results
You just don't create an SEO campaign in isolation. The things you learned from one campaign helps you improve and strategize what to do in the next. So, monitoring the results of every campaign is vital to future success.
Some of the quantifiable measures, or important metrics, to include are: 
Organic traffic
Bounce rate
Clickthrough rate (CTR)
Keyword rankings
Site authority
Page loading speed
New referring domains and backlinks
If you want to keep a track of all the above metrics, there are tools to help you to check your webpage rankings over time and will also help you to compare them with competitors, and helping you find new ways to improve search engine results. 
Conclusion
Now that we've covered what should be included in an SEO campaign, it's up to you to launch and execute it.
Let us know in the comments what works best for you.