Platforms like Twitter, Facebook, LinkedIn, Instagram and others have become a major part of the day to day lives of billions of people.
Facebook users are growing up at the speed of light. And at the moment a quarter of the world's population uses Facebook- which means more than 2 billion active users.
With such a great impact and reachability, social media platforms become the most valued tool for businesses.
And if you're not leveraging the golden benefits of these networks, then you're actually living in very old times. However, we can help you with this.
Social Media Marketing is much more than just posting content and sharing pictures.
In effective social media marketing, understanding your audience perspective and optimizing your social platforms are delicate things.
Probably the strategies that work for a brand may not be beneficial and effective for other brands.
Types of Social Media Marketing
At Tej SolPro we focus more on building effective social media strategies that deliver long-term benefits to your brand.
Our marketing specialists have immense knowledge along with years of experience in all the major social channels such as Twitter, Facebook, LinkedIn, Pinterest, Instagram, Tumbler, Snapchat, and YouTube.
Our social media strategy contains the appropriate blend of paid and organic marketing.
Organic Social Media Marketing
An Organic Strategy is helpful in building a group of brand advocates, attract and engage your target audience and establish direct communication with them.
Our organic social strategy includes:
Optimization of social platforms
Creating Engaging  Content
Posting Regularly on social media
Hashtags outreach
Paid marketing provides you with the opportunity to reach out your target customers promptly. Moreover, it also helps you to grow your fanbase. You can magnify your customers by using the paid social Ads.
Our Paid Social Ads includes:
Complete Analysis  of your Audience
Interactive Graphic design for your Ad
A/B testing
Cost per result optimization
How Social Media Marketing helps your business?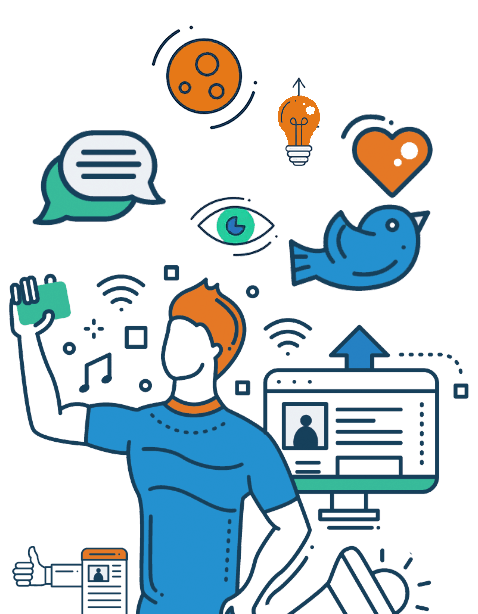 With the increasing usage of Social Media platforms, it becomes a prominent way for brands to reach out their target customers successfully.
Prospects now trust more on social channels to interact with brands. And if you're still not considering platforms such as Facebook, Twitter, Instagram, and Pinterest to establish direct communication with your audience then you're making a big mistake.
Effective social media marketing can provide great success to your brand and help you in creating loyal brand advocates and even help you in driving leads and augment sales.
However, prior to creating campaigns for social media marketing, you need to consider and understand your business goals first.
Without a proper strategy & goals in mind your social media campaigns are effortless and the waste of time and money. It's more like riding a bus without knowing destination—you probably enjoy riding it, but finally, you'll end up getting lost.
Here are a few points that you'll need to consider while defining social media marketing goals for your business:
What kind of achievements you're hoping from your marketing campaigns.
Who you're targeting and why?
The behavior of your target audience
What kind of message do you want to spread through your social campaigns?
Your social media marketing strategy should align with your business type.
For example, an e-commerce business should use great visuals in their social media campaigns, to create great value and build a strong presence on visual platforms like Instagram or Pinterest.
However, a B2B or marketing organizations probably find Twitter or LinkedIn more relevant for their brand.
Here is how Social media marketing can help you in achieving the desired goals for your business, such as:
Increasing website conversions
Creating brand awareness
Improving your brand identity and creating a positive brand image
Improving direct communication with target audiences
The higher the number of audiences you will engage through social media platforms, the easier it will be for your business to achieve your marketing goals.
Mediums used for Promoting Your Social Presence
Facebook has emerged as a powerful, and effective marketing tool for businesses, despite their size and types.
While searching for the services that your brand is offering, there are strong probabilities that the people will likely to visit your Facebook page. Trust it or not, but your page works as the second website of your brand. It gives the people a chance to go through the services or products you have to offer, learn about your business, and chat with you on a more personal level.
Being a Facebook advertising agency, we, at Tej Solpro, we understand the importance as well as the credibility that a page brings for a brand. It not only gives a brand an outrank platform to showcase their products and solutions but also helps in attracting more customers onboard.
We offer one of the best Facebook marketing strategies that will help your brand to reach new heights of success and get the best out of your page.
With more than 1.5 billion users, YouTube becomes the world's largest video sharing website. An almost ⅓ share of the internet population is using YouTube every year. It gives businesses an opportunity to promote their products through video marketing and gain business leads.
Research by Hubspot has shown that 59% of users choose video over reading the text about the product or service. Using YouTube marketing services gives your business a great chance to target the huge audience base to market product/services through video marketing.
At Tej SolPro, we create a buzz for your YouTube videos in an affordable and effective way. With our excellent YouTube marketing expert's guidance, we help you target a wider audience. We provide great opportunity to streamline your product or service videos with Tej SolPro's amazing YouTube marketing services.
Our YouTube marketing services include:
At Tej SolPro we implement video syndication strategy of video marketing. We optimized every YouTube video properly on all the social media platforms, websites, etc.
We are expert in YouTube promotions and hardly miss any step during the video promotion. Moreover, we prepare a detailed analysis report by linking the YouTube campaigns with Google Analytics.
At Tej SolPro, we help you in enhancing your brand visibility by creating strong and economical keywords & titles for your videos.
We understand the taste of the audience and consequently we craft and promote great YouTube video content which encourages users to make a view, like, share and comment on the video.
We bring Quality traffic to your video by embedding a custom YouTube button to the website which when clicked redirects the users to the original video.
Great content plays a significant role in the success of the business. And at Tej, we target the customers with efficient content relating to their interests, search patterns and demographics to drive traffic to the YouTube channel.
We implement latest video SEO tactics for your YouTube marketing campaign that helps you take a look at how your video currently grows in the industry.
We create a customized channel which provides you marketing experience along with entertainment feel for a wider reach of your product/service.
There is an old saying that "A picture says a thousand words". Over the last few years, Instagram made a huge impact in the social media marketing world. The platform has emerged as one of the powerful and effective visual marketing platforms for businesses.
It not only gives the brand a great platform to showcase their products but also helps in drawing more customers.
According to research by Statista, the daily active story users of Instagram had reached to 400 million users, and monthly active users had reached to 1 billion active users. And by promoting your business smartly, you can reach to millions of people in a short time and create a good conversion rate.
Being an Instagram advertising agency, we understand the importance of visual marketing and work smartly to bring trust and credibility to your account.
Our Instagram Marketing Services includes:
Instagram story ads are a hot pick these days, and to reach those new eyeballs there is nothing better than running an ad campaign.
We help you in reaching 400+ million daily active users in a blink. By doing the right research, we design the engaging and relevant paid ad campaigns for you that will end up earning you far more than the cost to place a campaign.
In simple terms, creating a word of mouth digitally is what influencer Marketing is all about. What better than a star talking about your business and promoting it? We will help you in reaching out to the correct influencers and create an engagement that lasts.
IGTV is a stand-alone app where you can create, and watch longer vertical videos about the products or services you want to demonstrate to your customers. Instead of keeping one-minute videos in your stories, you can shoot a video up to 10 minutes on IGTV. Tej SolPro will promote these IGTV videos and make it reach a larger audience.
Twitter is popular as the most preferred social media network for getting the latest news and information from across the globe.
With more than 328 million monthly active users the platform is evidently engaging users on levels besides being an information source. 63% of social media marketers are now considering Twitter as the best platform to yield the highest ROI.
But unlike other social media platforms, Twitter marketing is different. However, we can help you with this. We as a premium Twitter marketing agency can help you to optimize and design effective advertising campaigns.
We have proven results in social media marketing and our experts are devoted to providing data-driven solutions that yield real results for our clients.
With our experienced and knowledgeable team, we can help you in launching the most effective Twitter advertising campaign for your brand. We believe in a customer-focused approach and provide hard data and analytics to our customers so they can track success and growth rate.
You've seen several business owners succeeding on professional platform LinkedIn. And now you're thinking why you're business is not effective like them. Then our service can make a big difference for you. Our professional LinkedIn marketing and advertising services can change your game.
Whether you wanted to optimize your LinkedIn profile to get noticed or wanted to start an advertising campaign, we can confirm expected results that will lead to more and more sales. Our professionals at Tej SolPro can handle your issues by proving you the modest solutions to address your issues efficiently.
At Tej SolPro, we believe in the maintaining long-term business relationships. If you want to take your business to next level, get in touch with our team of experts. We provide you with everything that you will require to make a strong presence on LinkedIn. Just sit back and be ready to witness something magical.
Being a social media marketing company, we believe in providing transparency and satisfactory outcomes to our clients. We follow the latest social media trends to remain a step ahead of others.
We are the trendsetters and unique combination of creative thinkers and smart workers. Our experts are always ready to accept the challenging tasks and in return provide you with the best social media marketing outcomes.
Competitor Analysis
Analyzing what our competitors are already doing so that we don't follow the same trends, rather become the trendsetters.
Social Media Audit
Reviewing the past activities of the brand over all the social platforms and understanding the client's business in order to provide clear documentation.
Social Media Strategy
Once we understand the business, we create exclusive strategies for the company or the brand. We believe in doing things differently!
Content Creation
Social Media success comes to brands when they have a story to say in the most unique way. From images to videos to text, our in house team creates content that drives results.
Influencer Marketing
The most subtle and the fastest way to spread the word is working with influencers. We have cultivated a strong relationship with thousands of influencers and ensure to meet all the brand directions.
Ad Management
Working without paid social media marketing is like talking to a crowd where no one is listening. But how you boost or run a campaign is what is important so that your words reach the correct customers.
Interaction Management
Just posting does not work, we need to be social. Liking other posts, replying to customer queries on time is what your fans or customers expect to see. With detailed escalation paths, we protect and
represent your brand professionally
.
Insights & ROI
Social media is a set of data. We uncover the analytics of what works best for the brand by creating reports and rework on strategies accordingly every month.
We can't deny the importance of social media marketing in business. Today, we don't have the choice whether to do social media marketing or not, it's become mandatory to survive in the business world.
The only option we have is to decide how much to get social.
The social media activities of a brand depend on the kinds of products & services, a company is providing to its users. A successful strategy is designed and managed according to type, size and target audience of the brand. This is what Tej SolPro, a social media marketing agency, is good at!
Our consultants have an experienced eye that could foresee the brand's social life in a better and fruitful way.
Your Social Media Score?
Check your brand's Social Media score for free!
We are expert in creating fruitful social media strategies. We listen to our clients' requirements carefully to deliver the best possible solution.
Here's what you can expect from us:
Awareness
We together create a story or face values for your brand that can help the audience recognize you in a better and easy way.
Visibility
Giving you the maximum exposure your brand deserves across the platforms. We are determining to increase your Brand Visibility.
Leads
Watch as your business pulls in a lot of crowds every now and then. We help drive in a lot of traffic to you. Good traffic will surely give you good leads.
Engagement
Not only do the leads come in, but we also keep an eye that your brand is loved by all over the social platforms with strong content.