Nevertheless, how your restaurants' website performs in Google to date, there are always opportunities to increase your Google rankings and improve your search engine optimization (SEO).
Improving your search visibility in search engines will drive more hungry customers into your restaurant or place to-go orders online.
Investing in SEO is being a must for restaurants today. You can use customer sentiment, structured data, locality, and more to your advantage and can also boost the rankings for your single restaurant or multi-location restaurant chain.
Below are some of the quick restaurant SEO tips for where you can focus your time to boost your website's performance in the search results.
What Is Restaurant SEO?
SEO stands for search engine optimization, which is the process of optimizing your website to appear in a good position in search results on Google, Bing, and other search engines for terms that are related to your core business. The main goal of this process is to get more traffic to your website. More traffic means more potential customers.
For example, if you own a pizza parlor in your city, you might want to have your website optimized for certain keywords such as "pizza parlor in [your city name]" or "Best Pizza in [your city name]". If your site is optimized for the terms people are actually searching for, then it will show up on the first page of Google for those key terms or keywords, making them more likely to click on your site – and, in turn, more likely to visit your restaurant in person. Especially if you have online ordering or reservations on your site.
Restaurant SEO Tips To Grow Your Online Business
Local Search Domination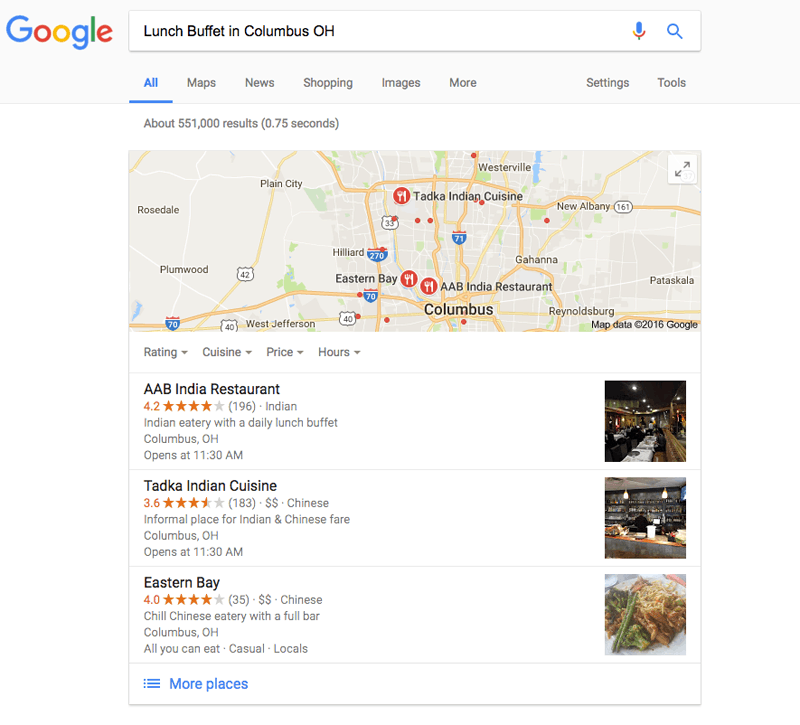 Start by standardizing data, claiming, and optimizing your restaurant's listings across all the major and relevant local search properties. This includes the directories in the search engine, industry-specific directory sites, and social media sites.
Yext and Moz Local are two of the best tools that can help you understand what external data sources and directories are out there and then you can ensure they are updated.
Accurate and consistent NAP (name, address, phone) data all data sources is a critical foundational element of local SEO.
Beyond that, you can optimize the fields of information such as the business categories and description to align with your targeted terms identified in your keyword research.
Focus only on the directories that matter. Start with GMB (Google My Business) then branch out to Yelp, Foursquare, CitySearch, TripAdvisor, various yellow pages, and other niche review websites.
All of these efforts work together and grow your online visibility.
Defining SEO & Content Strategies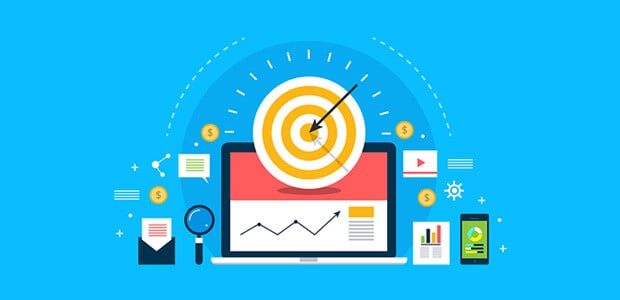 First define your SEO strategy before jumping into a horde of platforms, various SEO tools, and different engagement channels. This will help to narrow your competition and give you a clear road that will help you to drive quality traffic to your website.
Start by defining the geographical area from where you want to own (this is where most of your customers might visit because they either live or work nearby). This will help you in shaping your SEO and content strategies.
The next step is to research what keyword phrases your audience uses with the help of Google Keyword Planner or any other third-party keyword research tools.
High-level restaurant terms like "Manhattan restaurants" and "restaurants" are some of the common variations a customer might use. In the Google Keyword Planner or any other third-party keyword research tools you might be using, set your geographic focus to the area you identified and use both the generic term by itself ("restaurants") and with the geographic modifier ("Manhattan restaurants") as well as other general variations related to what your restaurant is about.
Niche-specific terms
The next level down of terms relates to the specific categories your restaurant would fall into that might be searched. Examples include "Mexican restaurants", "pizza", "romantic restaurants" and other unique features. If you're struggling with what specific categories or wording you should use, take a look at Google Maps, Yelp, and TripAdvisor and use their filtering criteria in your area to see the general categories they utilize.
Brand terms
Don't take it for granted and assume you'll automatically rise to the top on brand searches. Know how many people are searching for your restaurant by name and compare that to the high-level and niche-specific search volume. You'll want to ensure your site does enough to outrank the directory and social sites in your space for your restaurant as the value of people coming to your site is higher and trackable.
Once you're armed with search terms and volume data, you can narrow your focus to the specific terms that fit your restaurant at high, category-specific, and brand levels. Covering this spectrum helps you focus on what to measure and define your content.
Reviews & Testimonials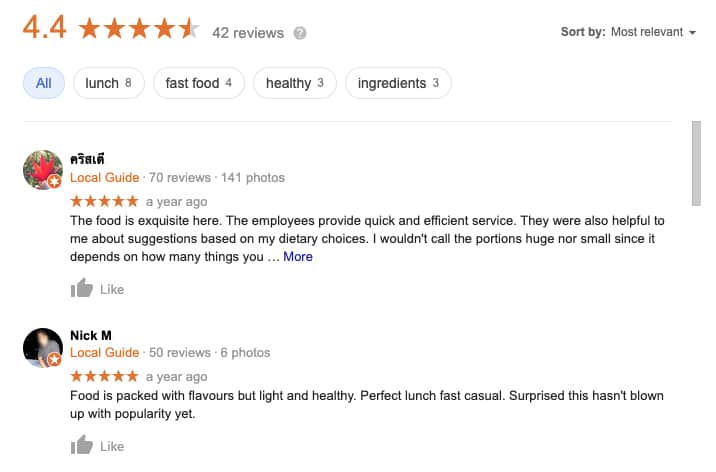 It's nearly impossible to do a search for a restaurant and not see review and rating scores in the search results. That's because people click on higher star ratings.
Reviews are often considered as part of a social media strategy and are an engagement tactic, but have a broader impact on traffic to your site through search results pages as well.
Through the use of structured data markup, you can have your star ratings appear in search results and provide another compelling reason for a user to click on your site versus your competitor's site.
If you have online ratings that don't reflect the quality of your restaurant, come up with a review strategy now to get as many reviews as possible to help bring up your score prior to implementing the code that will pull the ratings into the SERPs.
A higher star rating likely means a higher click-through rate to your site – and more foot traffic.
Customers Interaction on Social Media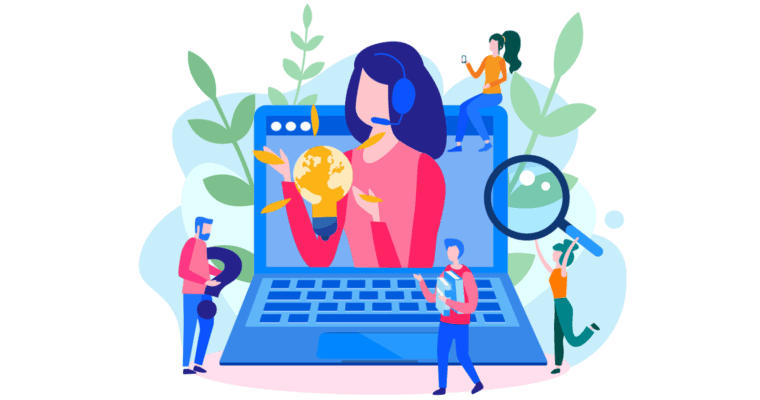 Even though social media's direct impact on SEO has long been debated, we know that social media engagement can drive users to your site.
Social media can be a powerful touchpoint of the customer journey, showcasing what customers can expect to experience at your restaurant. A strong social presence often correlates with a strong organic search presence as content, engagement, and popularity align with the important SEO pillars of relevance and authority.
Develop a social media strategy and follow through with implementation. Make sure to engage with followers and reply to inquiries promptly. How you communicate online sets a perception of your overall customer service and approach.
Find your audience, engage them, and get them to influence others on your behalf.
Ultimately, through engagement with fans and promoting content on social media that funnels visitors to your main website, you will see an increase in visits from social networks. This will then correlate with the benefits from the rest of your SEO efforts.
Create Unique & Quality Content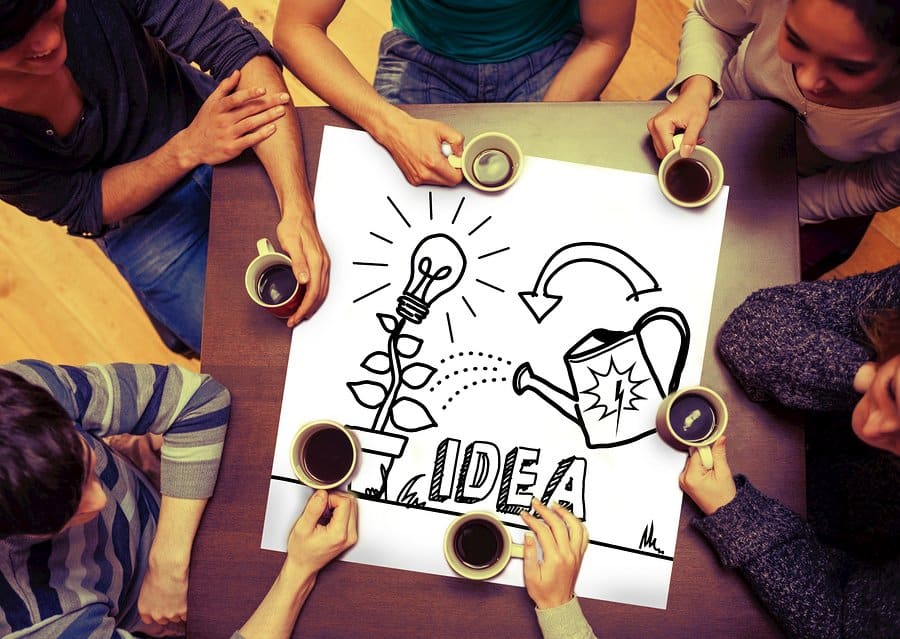 If you have a single location, your job is a lot easier than the multi-location local or national chain. However, you have to stand out from the competition by ensuring you have enough unique content on your website.
Having a wealth of engaging and helpful content on your site will serve you well if it is valuable to your prospects and customers. Building a strong brand will translate to better rankings, higher brand recall, and greater brand affinity.
Keep in mind that content doesn't all have to be copied and you have an opportunity to feature unique content through the ways you present your menus, through video, photography, and graphics. The search engines are focused on context and not just wording on your site. By identifying and regularly generating new content, you also can keep the pipeline full of engaging material and ways to stand out from your competition.
For example, if you have a niche restaurant, embrace that and set yourself apart from the generic chain down the street.
Share information about the founders, the culture, and most importantly – the product. Give details about your menu including sourcing of ingredients, how you developed recipes, and the compelling reason your chicken marsala is the best in town.
Consider Content Localization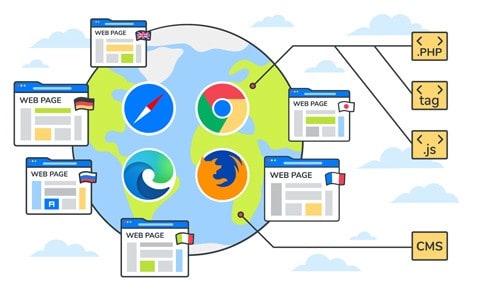 Again, single-location restaurants have an easier road here. Based on decisions you've made about your market area, make sure you provide enough cues and context to users and the search engines as to where your restaurant is and what area it serves.
Sometimes the search engines and out-of-town visitors don't fully understand the unofficial names of neighborhoods and areas. By providing content that is tied into the community and doesn't simply assume that everyone knows where you're located, you can help everyone out.
Conclusion
If you want to make sure your restaurant is a full day in and day out, people need to be able to find you online. Once they find you, you need to quickly win them over with a great website experience and drive them to your location. These six restaurant SEO tips will help you accomplish both of those goals.
Once those customers get to the restaurant, it's all up to the staff. Remember, no amount of SEO can save a restaurant that consistently leaves a bad taste in the mouths of its customers.