Keyword Research is not only about 'keywords', but it's also about the phrases and the questions your audience is using, to find products, services, or answers they are looking for. These questions and phrases are the most crucial components of any marketing campaign.
Finding the right keywords for your website's SEO, content marketing, PPC campaigns, and youtube videos can make or break your reach.
While you are in the process of keyword research, gathering data like phrases and questions can be extremely time-consuming. Several keyword tools will help you do the following tasks with ease:
Content Creation (text, video, social, etc.)
Audience Research
PPC Campaigns
Local SEO Campaigns
Competitive Research
What keywords or phrases to ignore
Free Keyword Research Tools
There are a ton of free tools that can help you gather the essential information you need. Here we have drilled down some keyword research tools that are free, and easy to use for marketers and businesses to improve their marketing strategies and efforts.
1. Also Asked
To help marketers understand how the questions are grouped, 'also asked' was created.
The questions displayed in 'also asked' can help you with keywords and related keywords or phrases, and will also help you add the questions that people usually are finding to get answers to.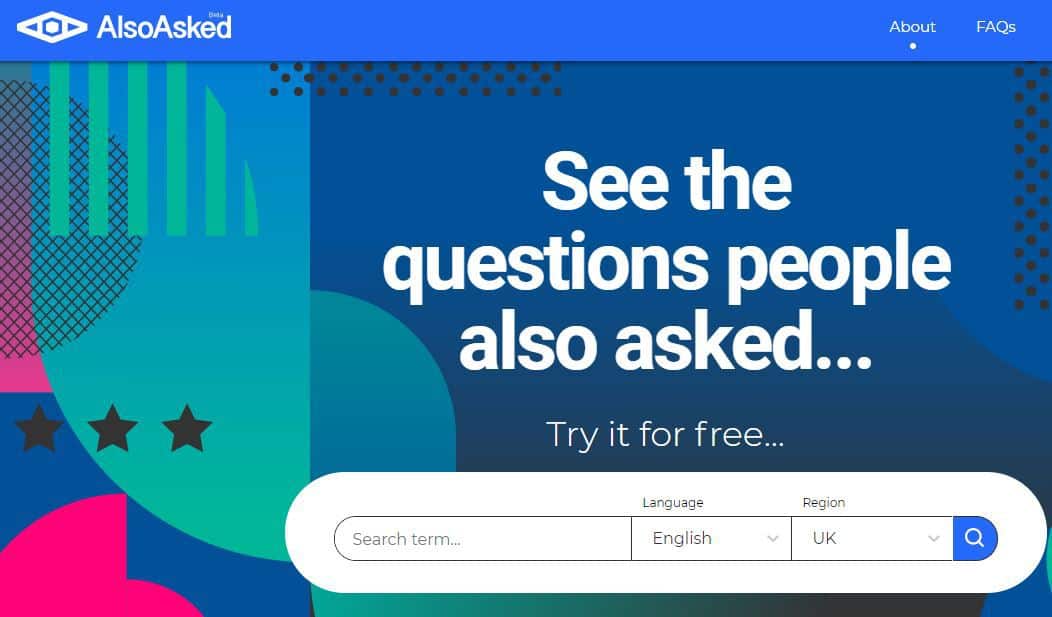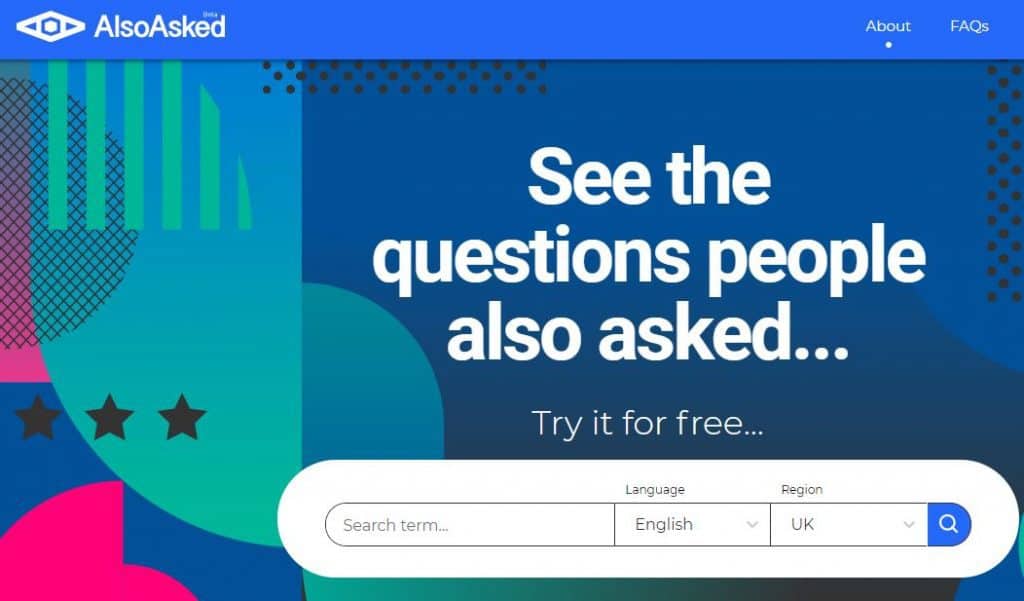 2. Amazon Autocomplete
We do not need to explain how many people shop on Amazon in a day. Amazon sells roughly $17 million in an hour on its platform, and imagine the number of searches performed in that amount of time on their website.
The autocomplete keyword phrases they suggest are like a gold mine of data that anyone can use.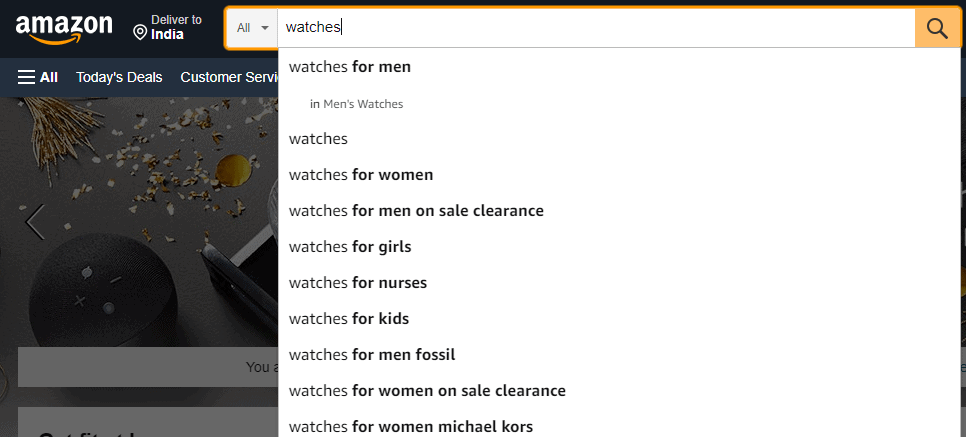 3. Answer The Public
'Answer The Public' helps you find questions, comparisons, prepositions, related searches, and alphabetical phrases of that keyword.
Didn't get it? Let's see each of these, one by one.
Here we are showing you the results of the searched keyword "SEO".
The first thing you'll see is the question search queries in the form of who, what, how, etc.
Examples:
How does SEO help your business?
How does SEO work for websites?
What does SEO do?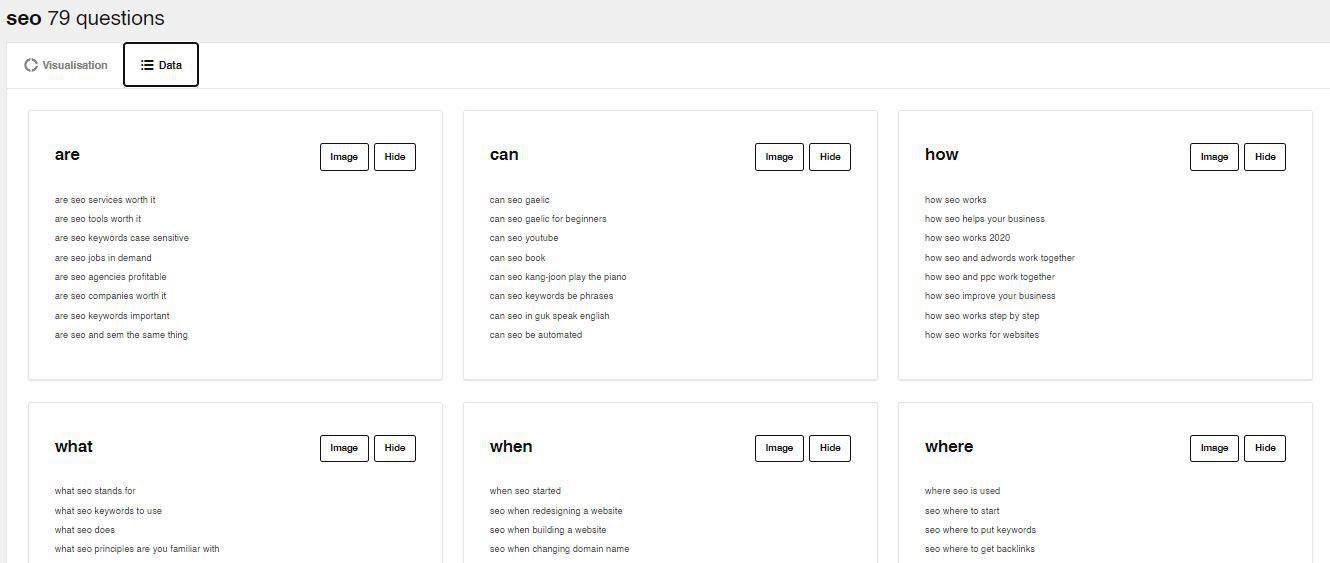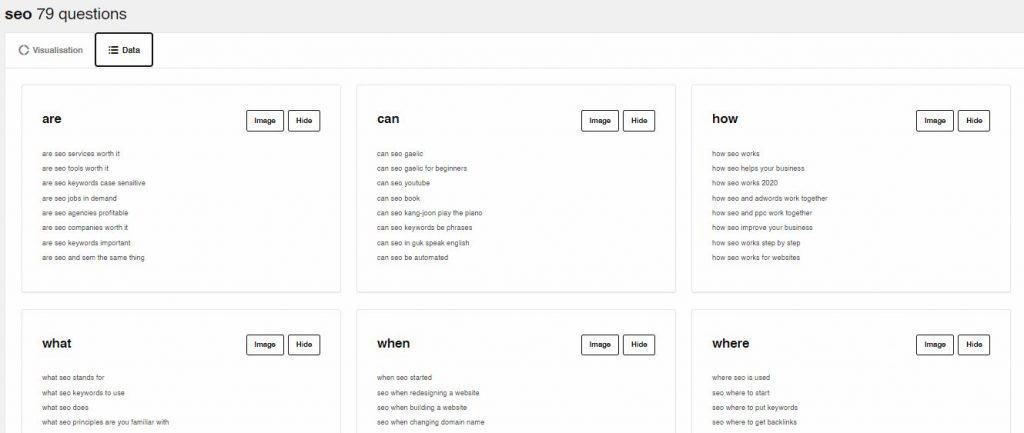 The next is prepositions, which means the queries are in the form of can, is, too, with, etc.
Examples:
SEO can be defined as
SEO is it worth it
SEO with Shopify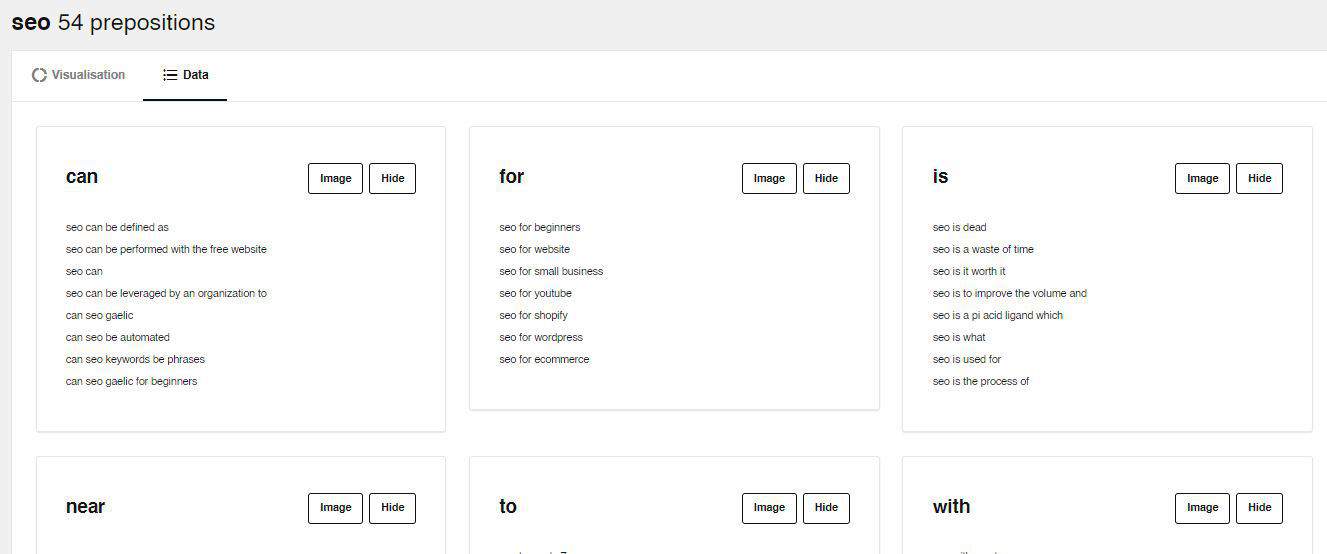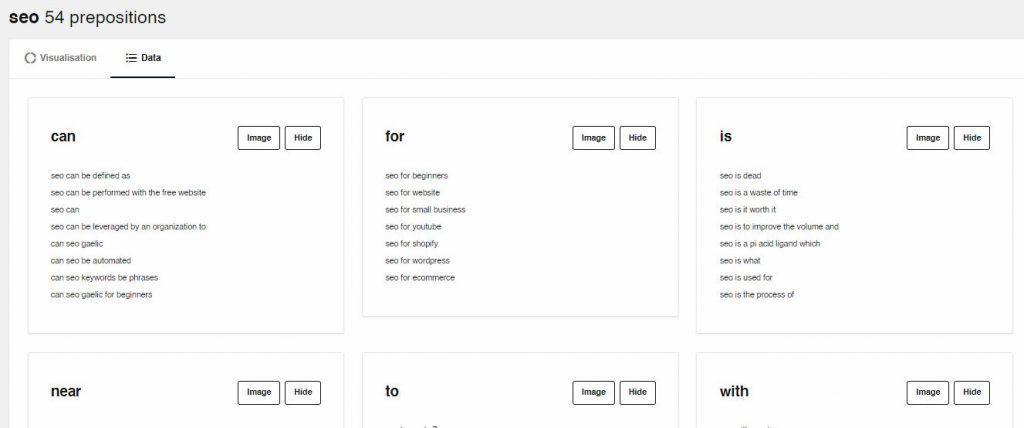 We then have comparisons, and we no need to tell what things are used to compare.
It is shown visually as the following in 'Answer The Public'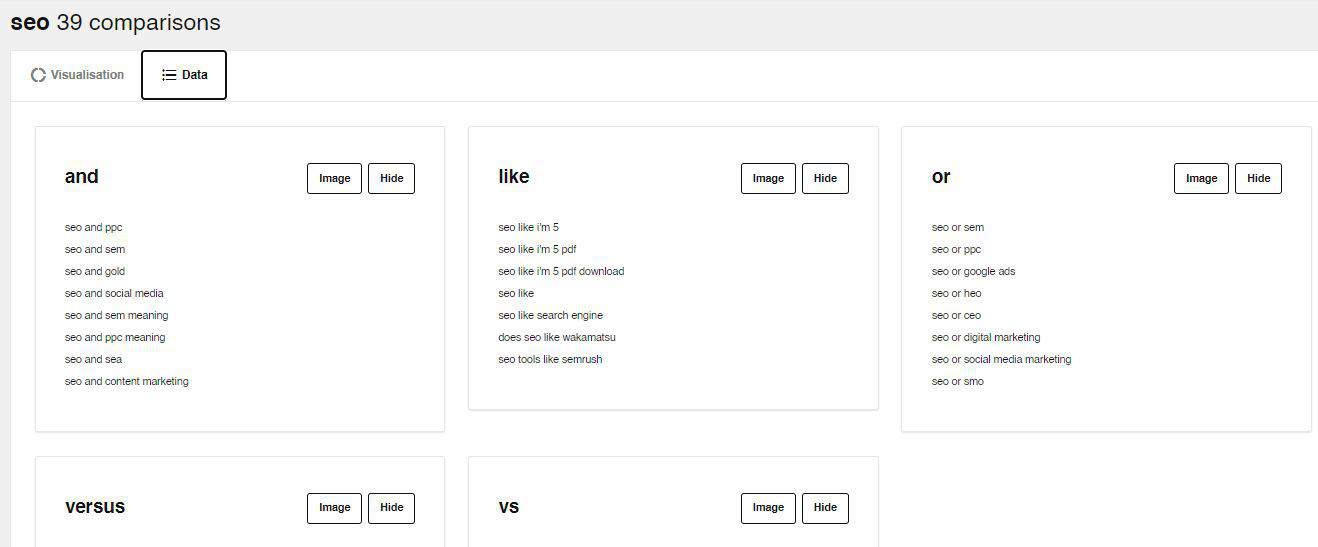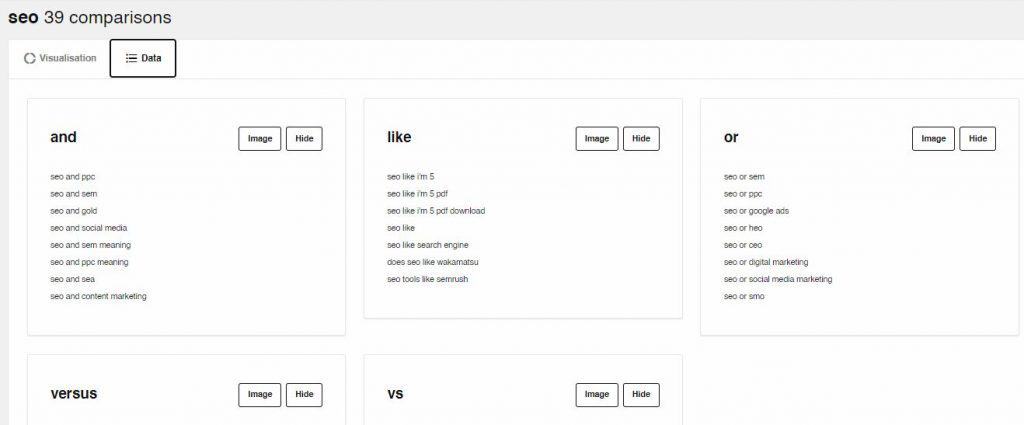 And finally, there is alphabetical and related.
The alphabetical is Google autocomplete suggestions.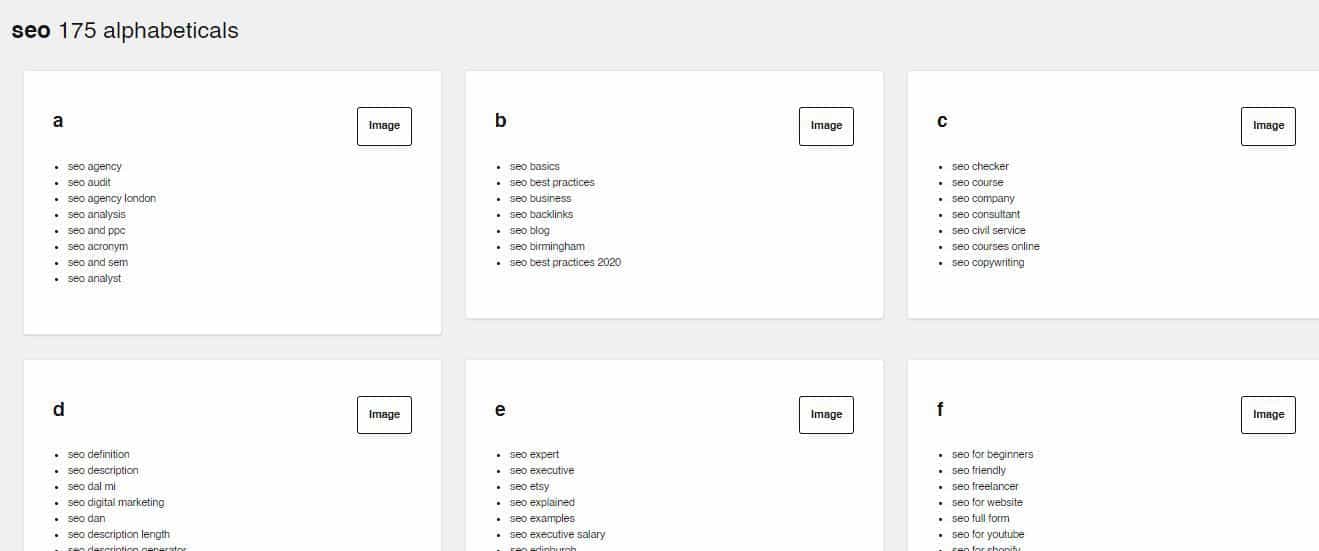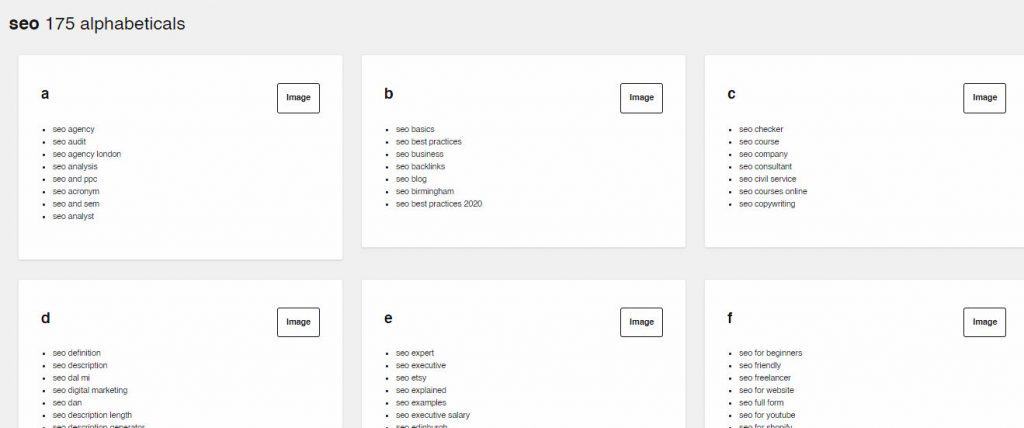 And the related is the related search queries people use with the designated keyword.

4. Bulk Keyword Generator
The bulk keyword generator is a free keyword research tool for local SEO. The keywords generated in this tool are based on industry types.
There are certain steps to get the keywords for the locality that you want to target. So without further ado let's dive into the steps:
Step 1:
Choose the business type from the drop-down and select the relevant products or services you offer.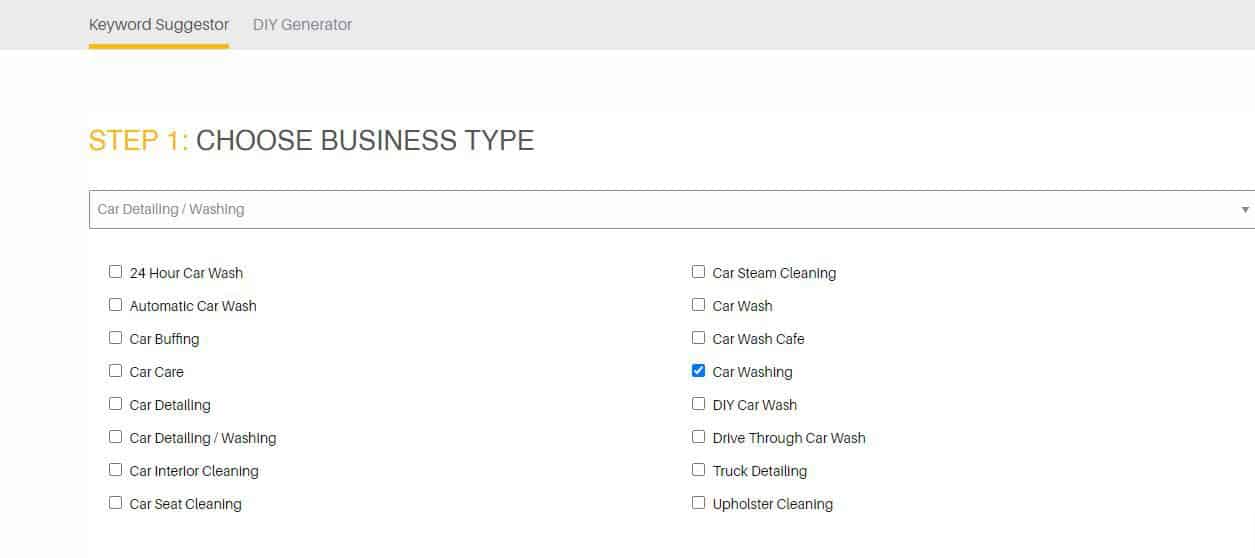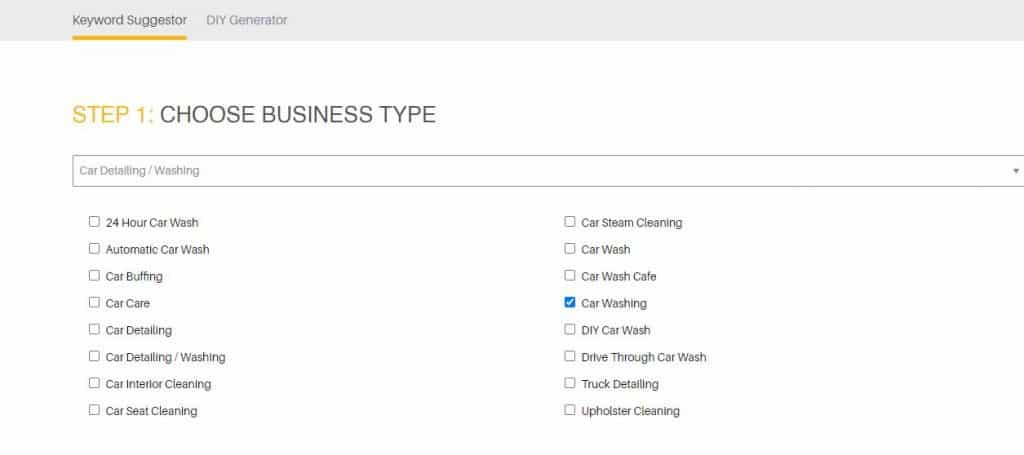 Step 2:
After selecting the business type and services, enter the location that you want to find keywords off and mention the target.


Step 3:
After entering the locations, voila, you get the keyword phrases that people are using for their businesses, and you can use them and target those locations accordingly.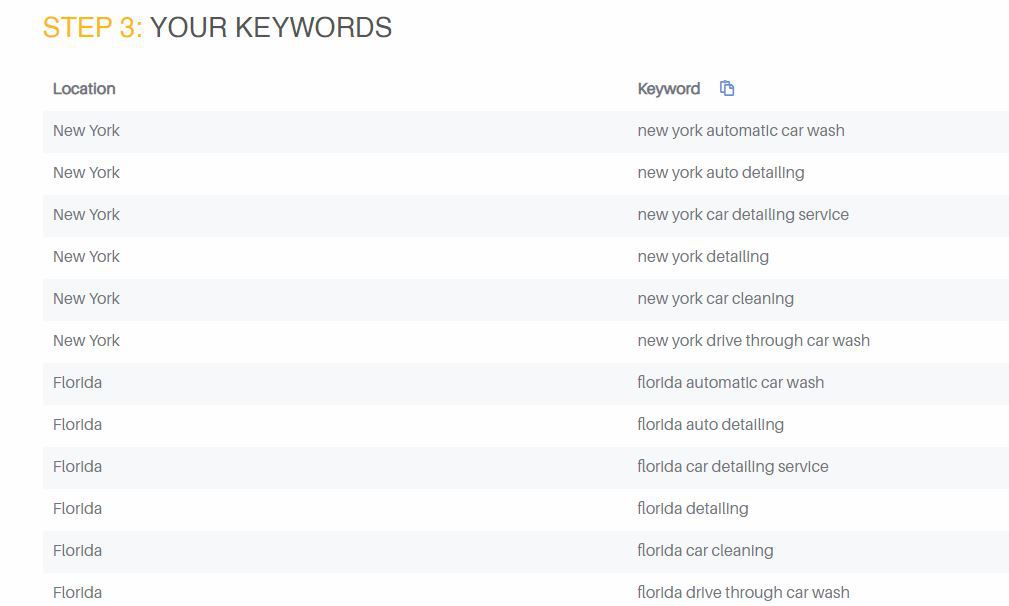 5. Google's 'PAA' (People Also Ask)
If you are looking for what people are usually asking, Google is the best source for it. If you enter your query with the keyword, there'll be a section that displays 'People Also Ask'. It looks like

Here you'll see some popular search queries related to the keyword that we used for 'SEO Campaign'. The more 'PPA' entries you click the longer the list gets. And you can also add these questions while you are drafting content for your business.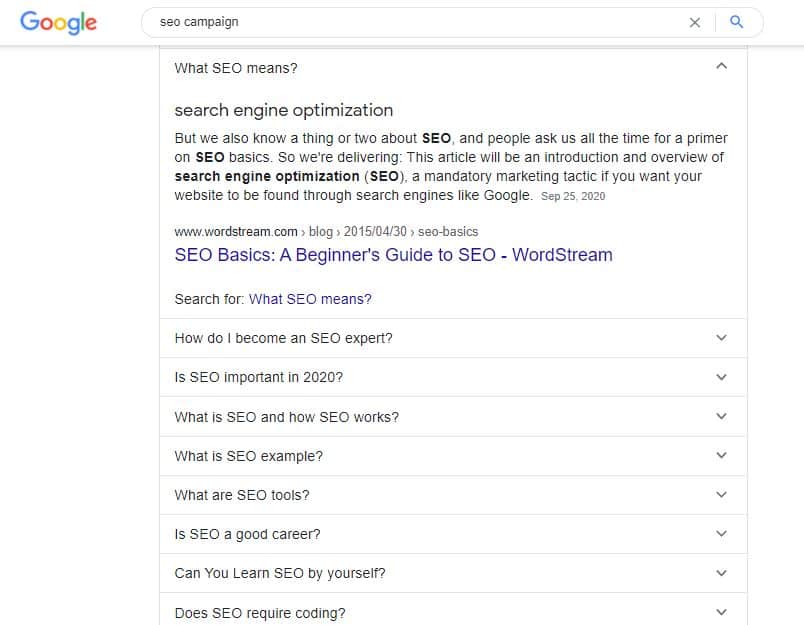 6. Google Auto Suggest
When we search in Google it tries to guess what we are going to search for and what we are looking for. Google can do it because of all the data they gather from different kinds of searches being made.
The keywords suggested in the search field are highly searched keywords and are suggested to you. This can help you optimize your website and PPC campaigns.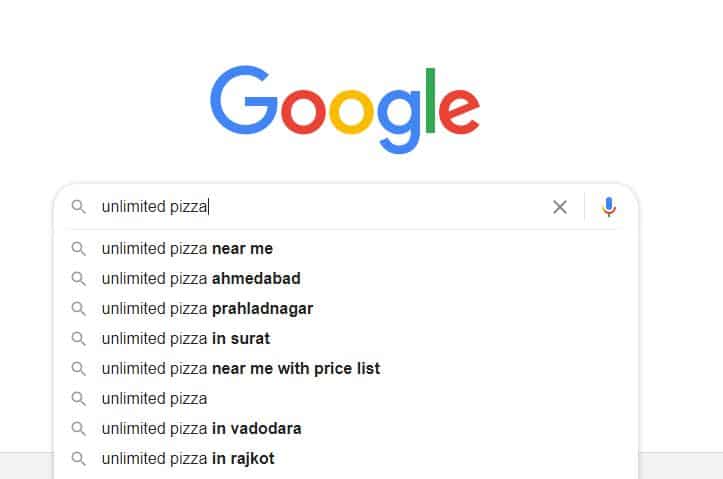 7. Google Keyword Planner
Google Keyword Planner, is a tool provided by Google that helps you get search volume, competition, and CPC for the keywords that you are looking for.
Just add your keyword and get a table of the average monthly and their relevant searches. This tool is also helpful for PPC Specialists to run Google Ads campaigns where they can check how much other businesses are spending on Ads for that particular keyword and can strategize accordingly.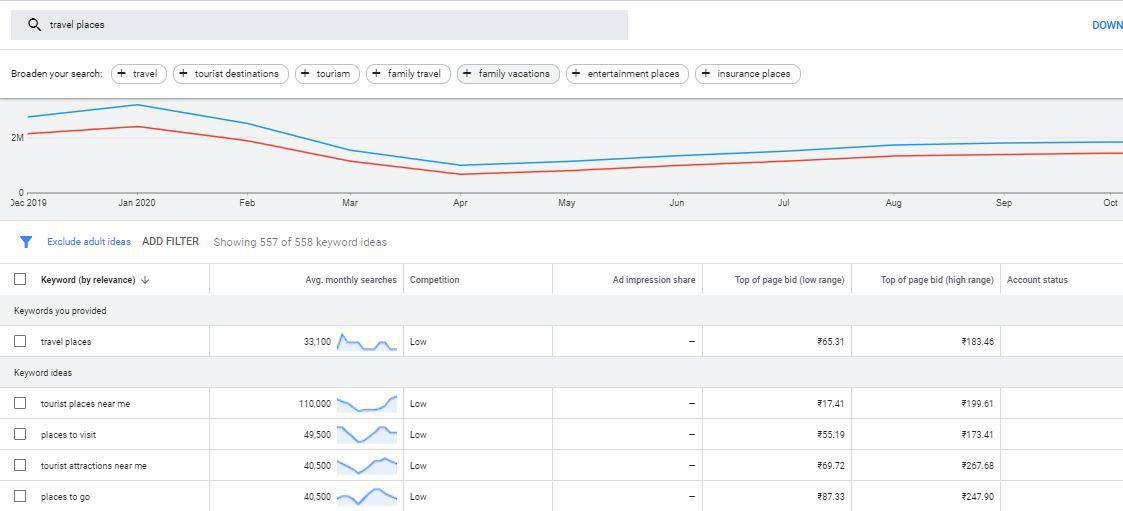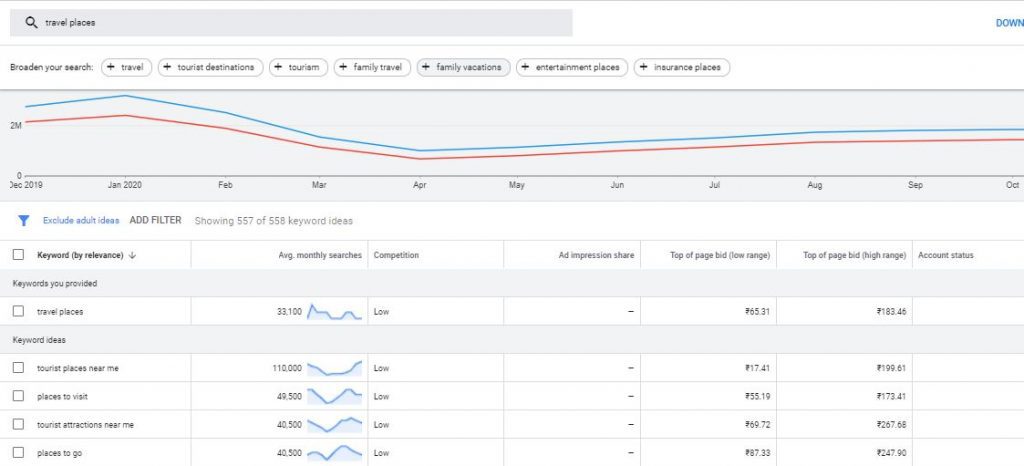 The key here is to look for high volume keywords with low competition.
8. Google LSI Keywords
Google LSI Keywords are somewhat similar to Google auto-suggest. The other suggestions that you see at the bottom of any Google search result page are LSI keywords.
It shows you the other searchers that are related to your keywords. These can be used as synonyms and also as the long-tail keywords in your content or webpages.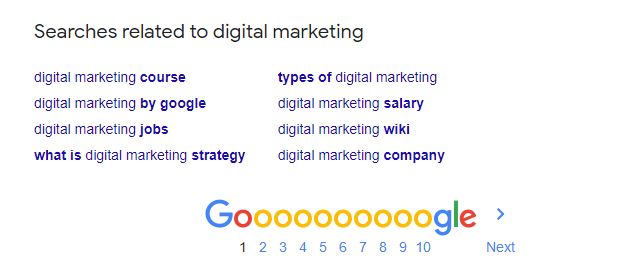 8. Google Trends
Google Trends help you see the popularity of the keywords, provides some valuable data on regional variations, and is also a great source to generate seasonal traffic for specific keywords over-time to your website.
The data provided from this is valuable because it will help you avoid jumping to the trends that have passed and also help you see what trends people are following for now.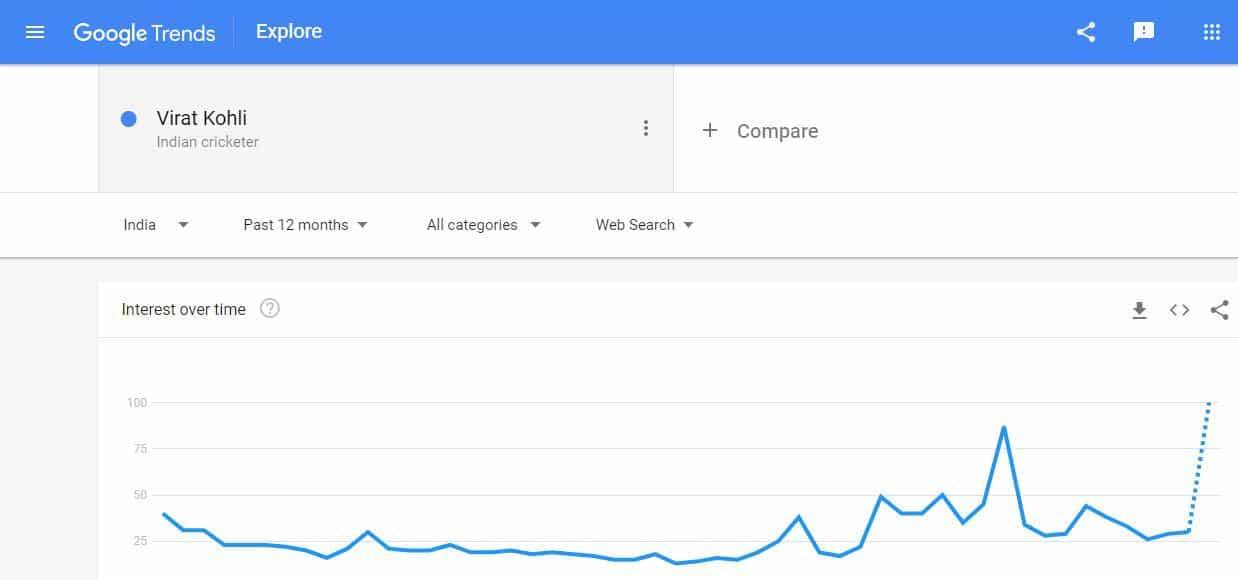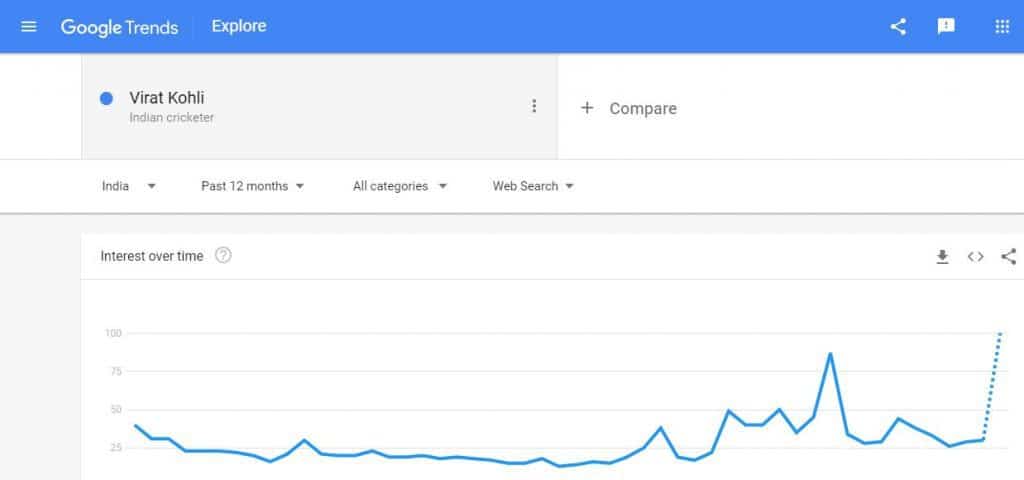 You can also compare the multiple keywords which will help you define the interests of the audience over time and can plan your content accordingly.
9. Keyword Generator
Keyword generator helps you find any seed keyword of up to 150 keyword ideas.
For example, if we search: 'travel' we get 100 keyword ideas along with their estimated search volume and keyword difficulty. However, the keyword difficulty is shown for the first 10 keywords in the list. The keyword difficulty score between 0-100 estimates the ranking difficulty.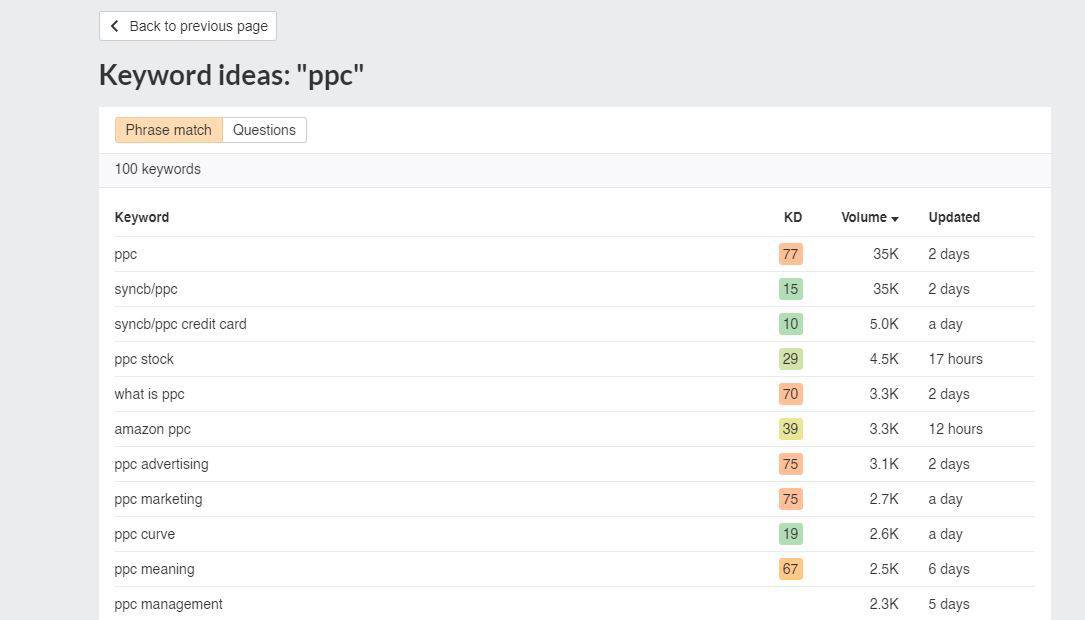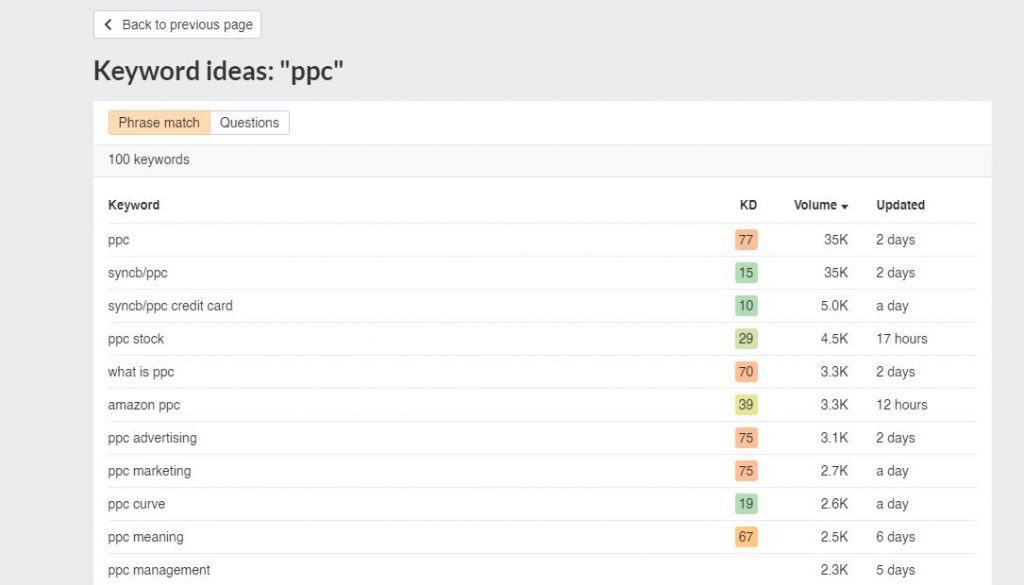 Also, the tools show a list of 50 queries in questionnaire form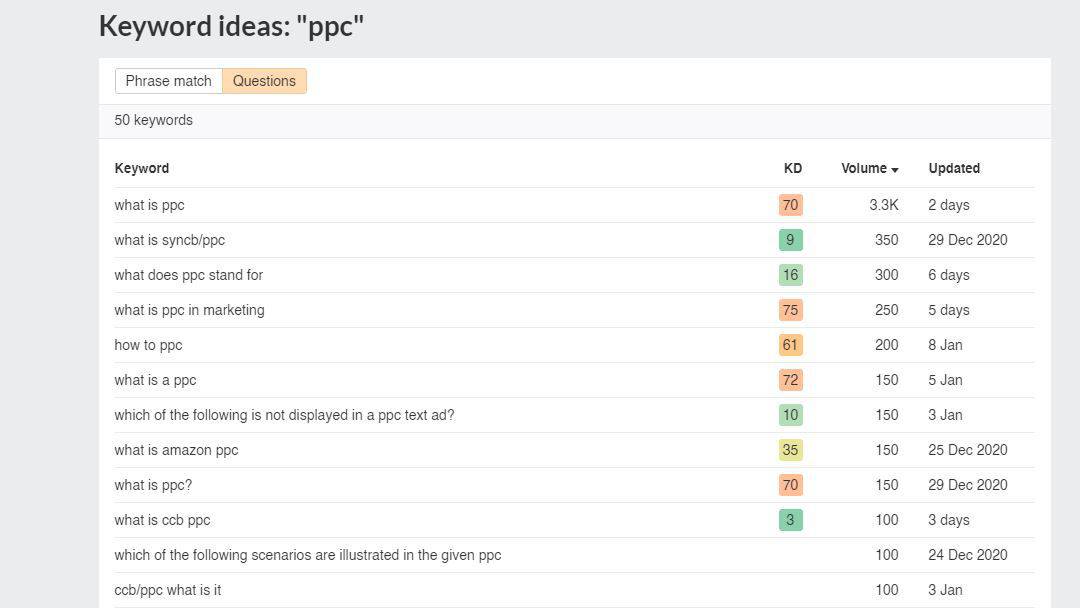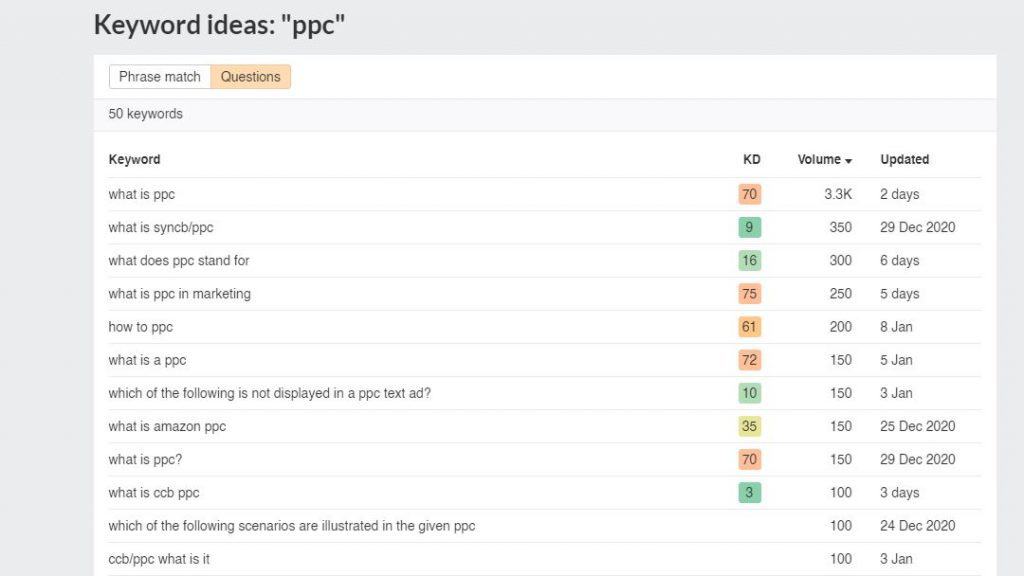 Note that the keyword difficulty and search volumes vary as per the location.
10. Keyword Sheeter
If you want to generate lots of keyword ideas faster than this tool is for you. Keyword Sheeter extracts tons of autocomplete suggestions from Google. To get started, you need to add one keyword per line if you are looking for ideas of more than one keyword.
Keyword Sheeter generates around 1000 keyword ideas per minute, and you can export those ideas too for free in just one click.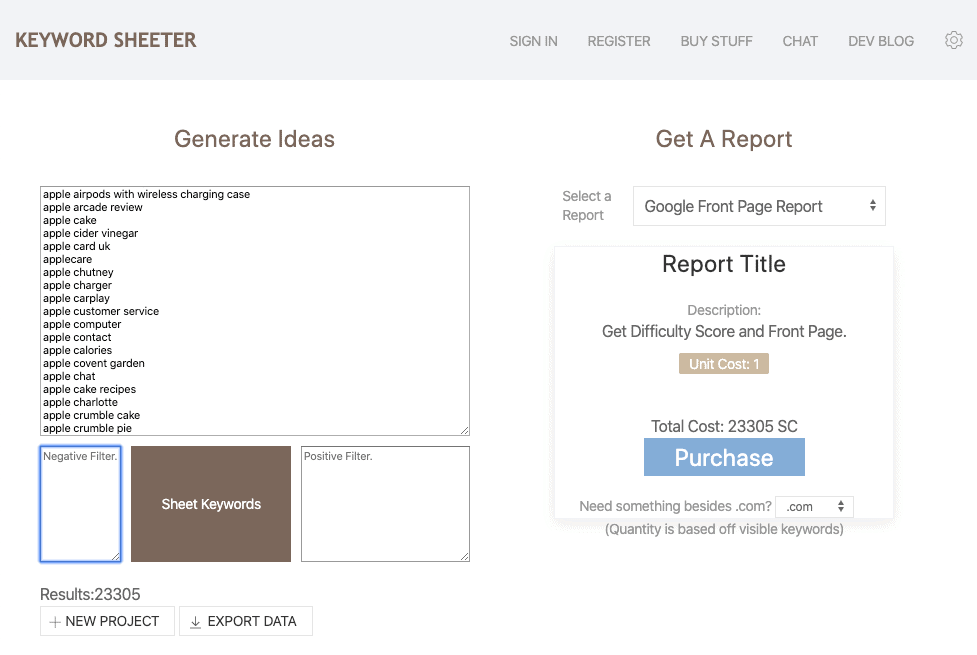 The only downside is that it doesn't show keyword search volumes or trend data. But has one more notable feature: a positive and negative filter.
11. Keyword Surfer
Keyword Surfer is a free chrome extension that displays estimated global and country-wise monthly search volumes.
As of now, keyword surfer shows local search volumes of just 19 countries. That being said the global search volumes won't be the true search volumes but will be a total sum of the 19 countries.

Beyond that, the tools also add search volumes to Google's autosuggest.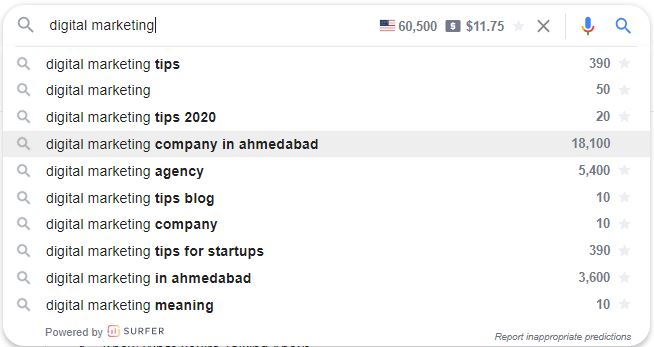 And it also shows similar keywords to your search queries.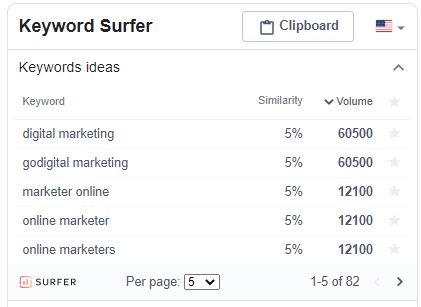 12. Keyworddit
Keyworddit is a tool that extracts keyword ideas from Reddit. Enter a subreddit, and the tool will mine up to 500 keywords.
This tool is a fantastic starting point for beginners who know nothing or little about a certain niche.
For example, we searched "Social Media" in the tool and it extracted the following ideas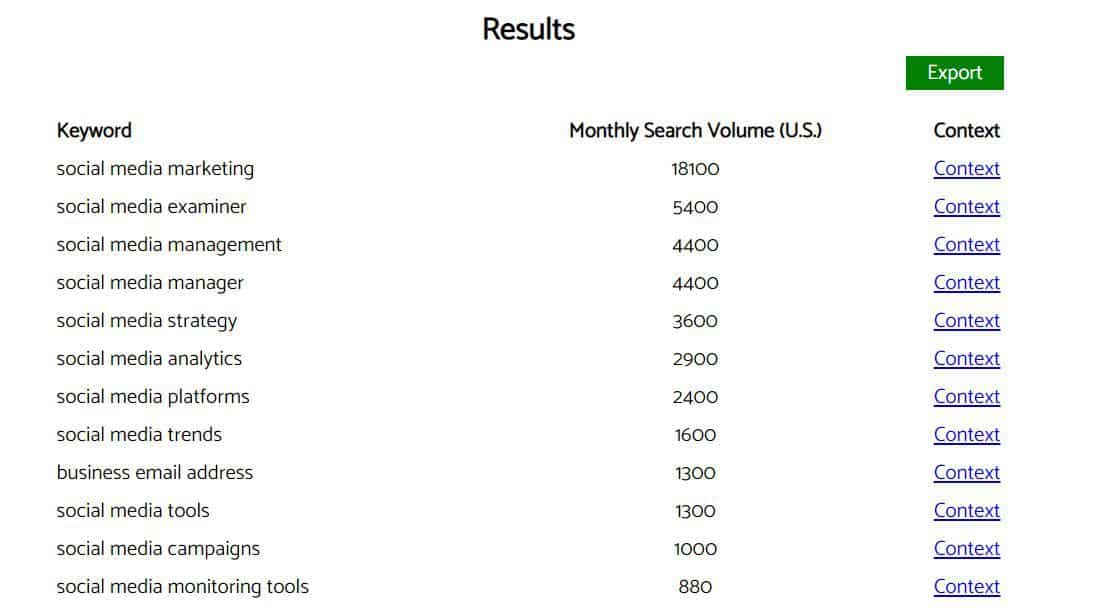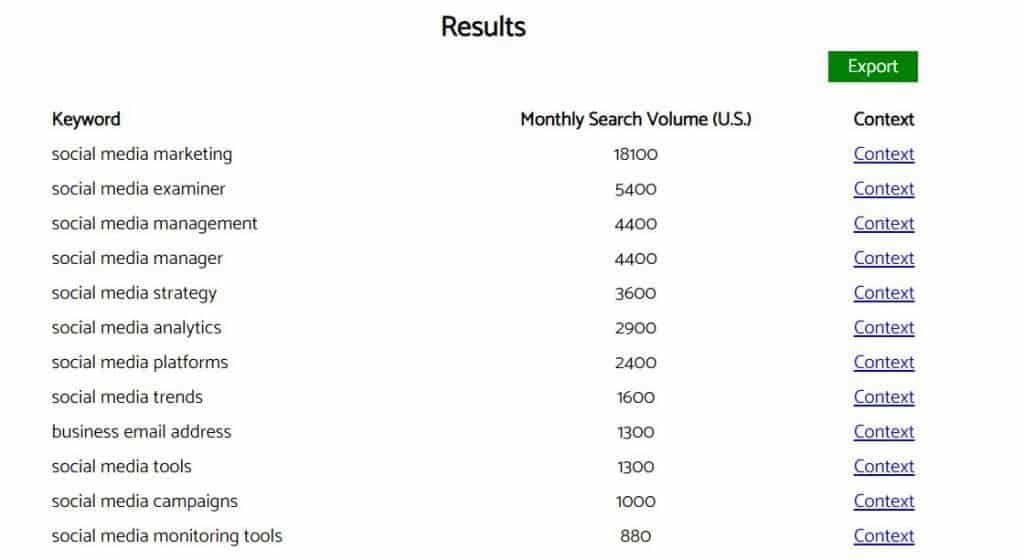 Beyond ideas, it also estimates the US monthly searches for each keyword. And if you hit "Context" it will show you a thread in Google from what that keyword was derived from.
13. Keyword Tool Dominator
Looking for keyword data from some large platforms? Keyword Tool Dominator is the tool for you, that lets you see the data from some huge platforms.
They have keyword research tools for Amazon, Bing, Etsy, Google Shopping, Walmart, Google, YouTube, and eBay.
Each keyword tool gives you an overview of the keywords' rank difficulty, and also in some of the tools you can choose by region.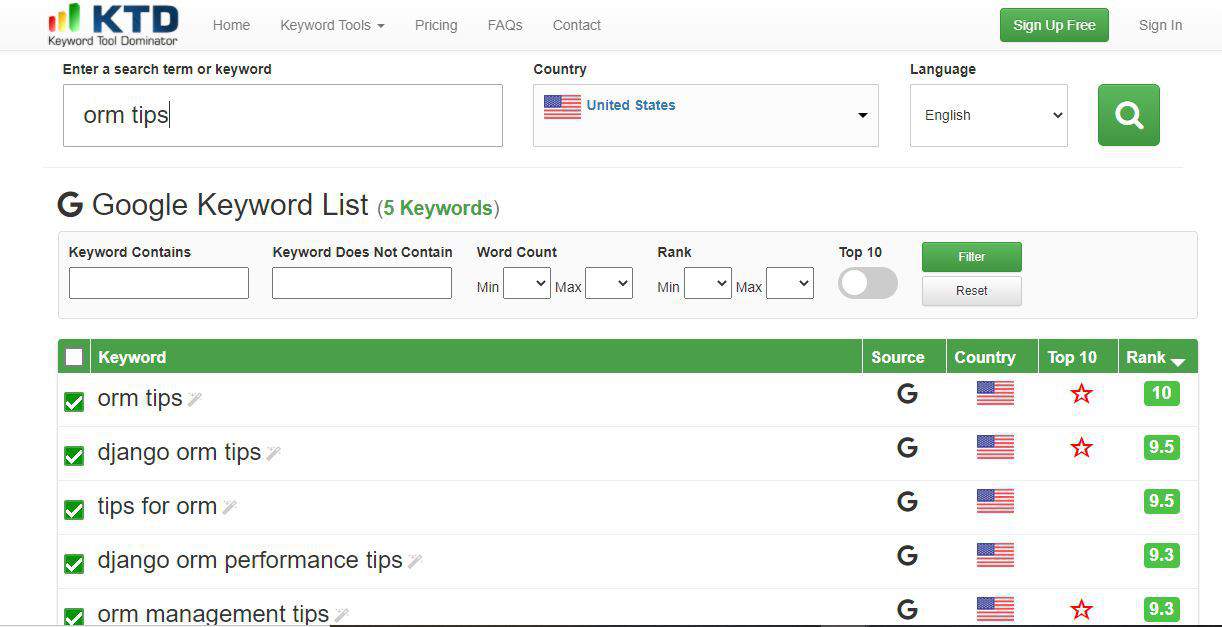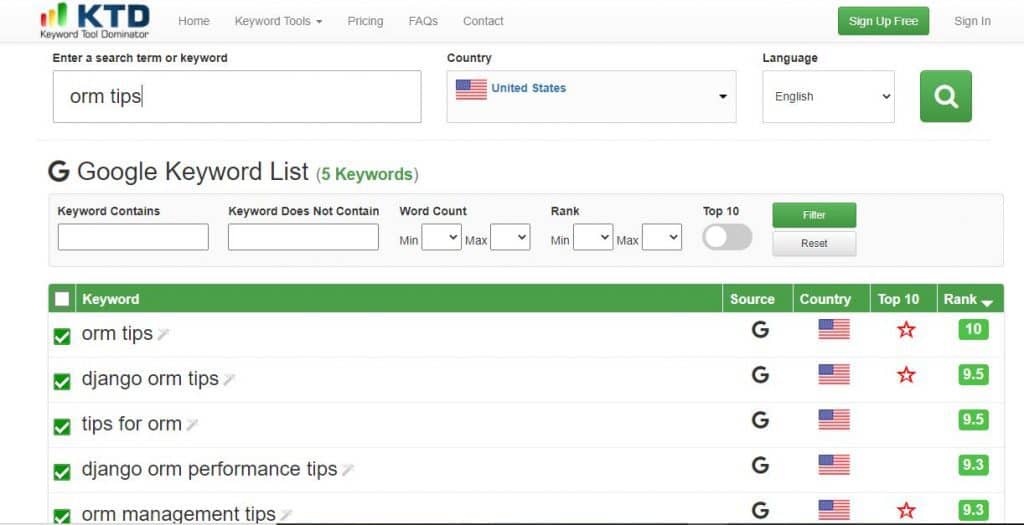 The tools also show frequency data in the graph.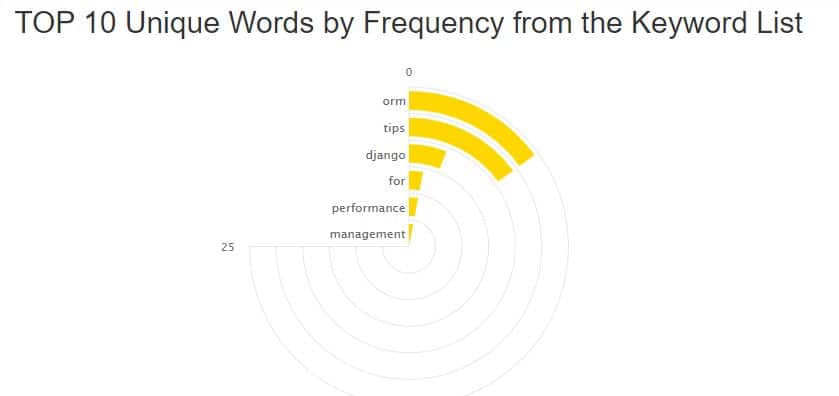 Note that in the free version of the tool you are only limited to 3 searches per day.
14. Question DB
As we are aware of Reddit being a massive platform that is utilized by millions daily to discuss certain problems they are having, like to find answers to some questions or to find solutions they need.
QuestionDB has a massive database of the questions asked on Reddit that are assessed by a keyword and also by the category.
The tool recommends using a broad keyword, but to get the best results we suggest you use only one to two words.
For example, we searched "digital marketing tips" and here is the result for it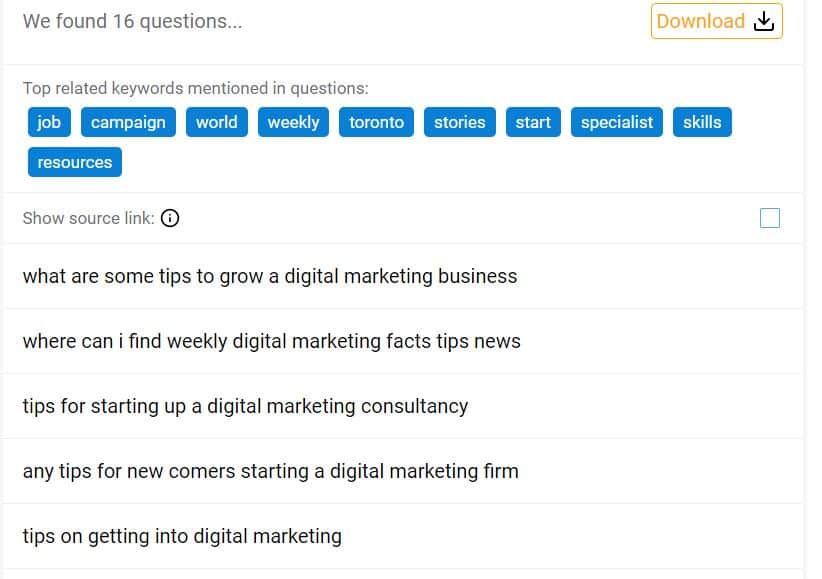 15. Side-By-Side SEO Comparison Tool
Side-By-Side SEO comparison tool saves a lot of time and also provides you with charts that can be used in reports.
This tool provides you with information about the keyword strategies of other websites and also helps you compare the URLs of your competitors. If there is a website that is constantly ranking on the keywords that you want to rank, you can peek into their on-page keyword strategies at a glance.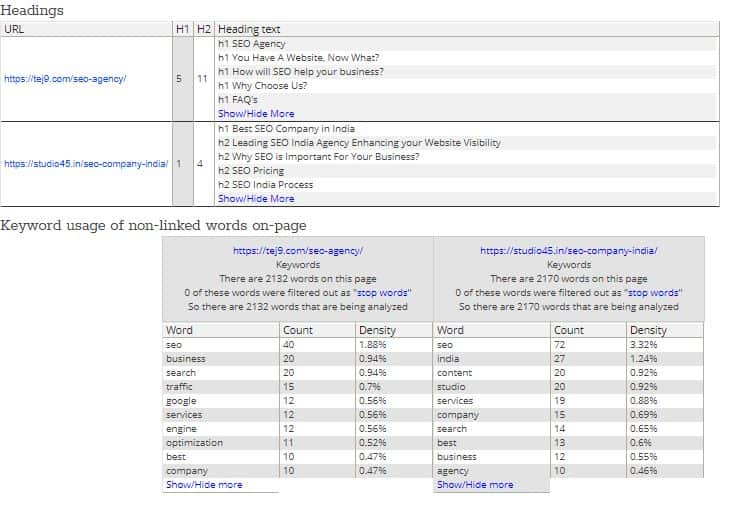 The on-page analysis data shows information about how they are using the keywords, how many keywords are targeted per page, keywords in head tag elements, how many linked keywords, and meta descriptions have been used.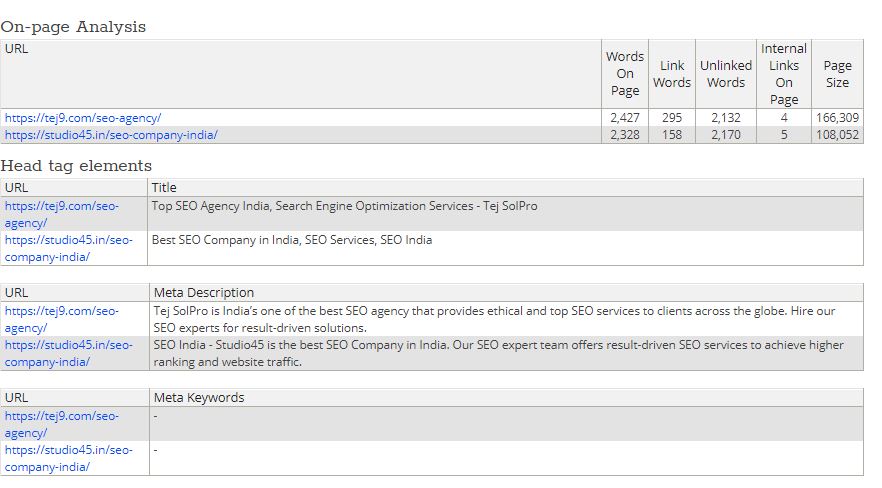 16. Soovle
Want to know about the difference in the interests of the users simultaneously on different platforms? Soovle is the tool just right for you, as it quickly generates a list of top terms from Google, Wikipedia, Amazon, answer.com, Yahoo, YouTube, and Bing.
Soovle is a great tool for beginners too. Just enter the keyword you want to get ideas for and it will search all sorts of databases throughout the web to give you similar keywords.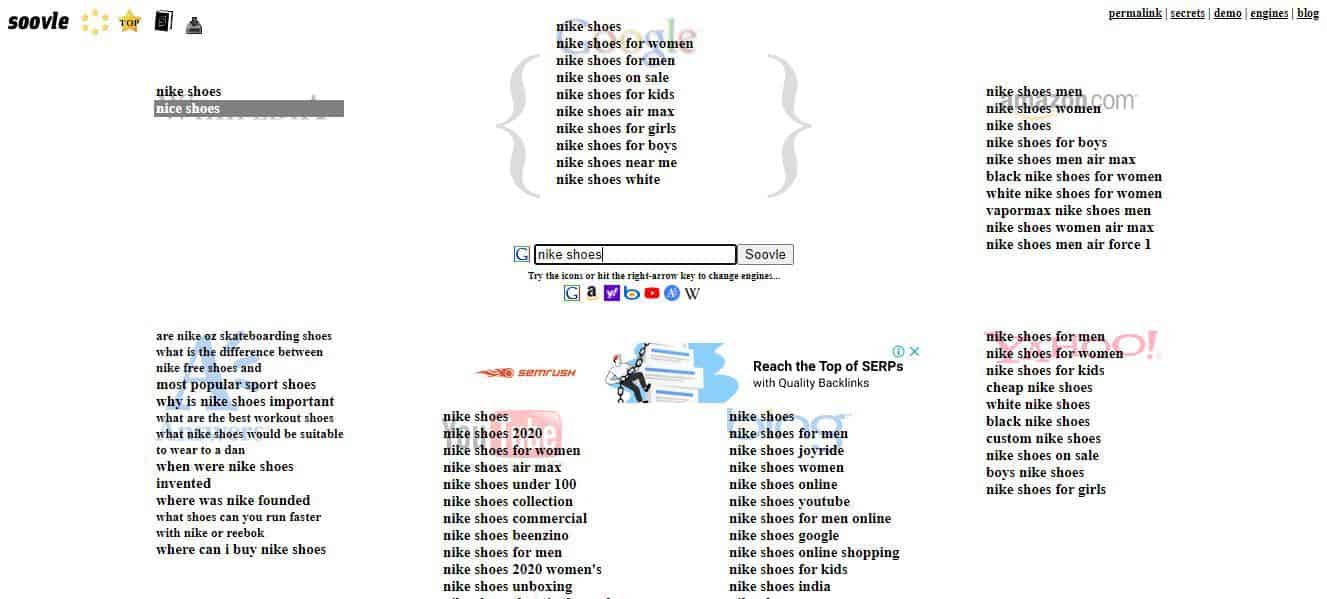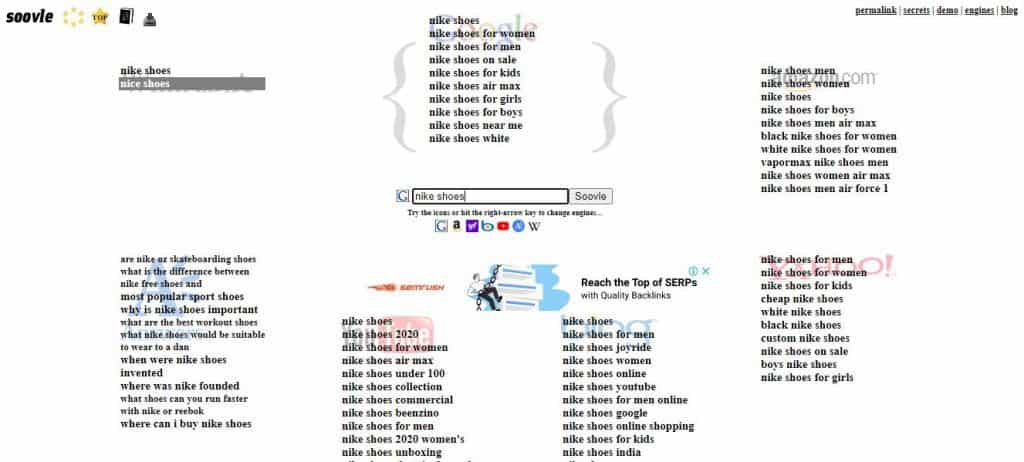 Well, it's not the in-depth keyword tool that you are looking for. But with this, you can quickly find some ideas for LSI or synonyms people are searching for. It is also a good tool for eCommerce businesses who are having difficulty how to name their product or what ideas to include in their eCommerce product description.
17. Twin Word
Twin Word Ideas tool is a great free research tool as it can separate the keyword-based on user intent or can even split into patterns and popular topics.
While entering the keyword in the search field you can also select what things you need from the search like keyword suggestions, only statistics, or trending keywords. Also, you can select what country and language you need the results from.
The tool provides various filters to segregate the keywords as per your need. Some of the filters it provides are popular topics, user intent, keyword patterns, include/exclude keywords, search volume, keyword score, and many more.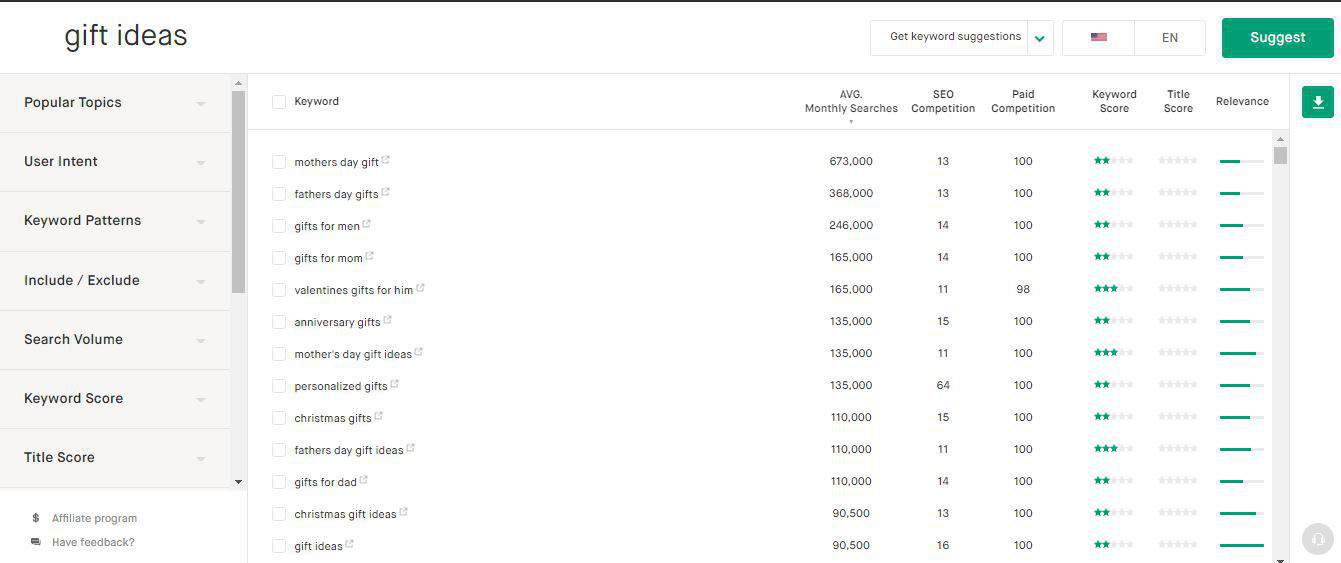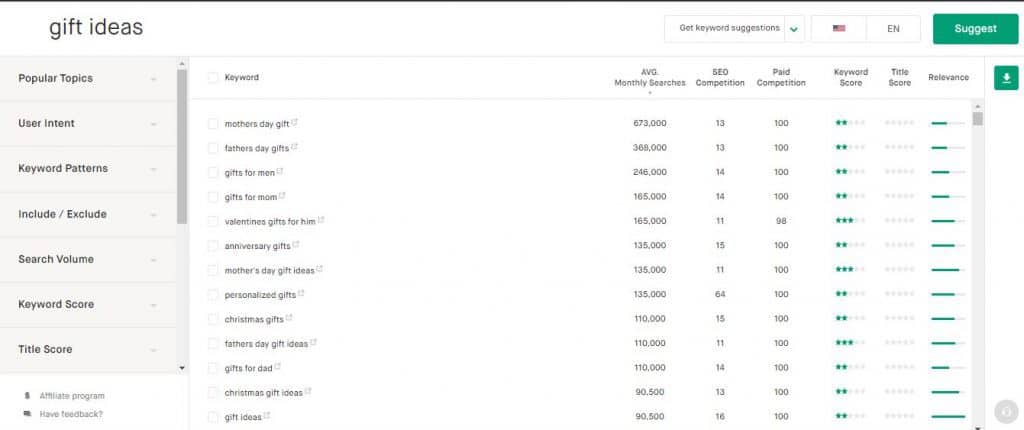 18. Ubersuggest
We all know who Neil Patel is. Ubersuggest was acquired by him and he integrated the tool into his website.
Ubersuggest is a free application that helps you get search volume, ideas, SEO difficulty, and CPC. It helps you find more than one long-tail keywords in just a few minutes. This tool also provides traffic insights related to any website traffic and organic keyword rankings.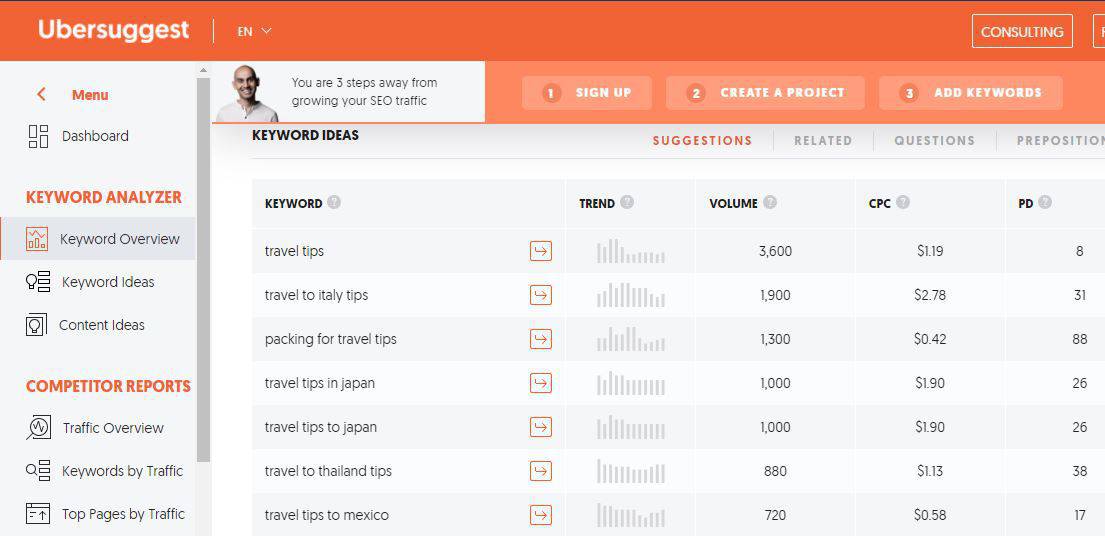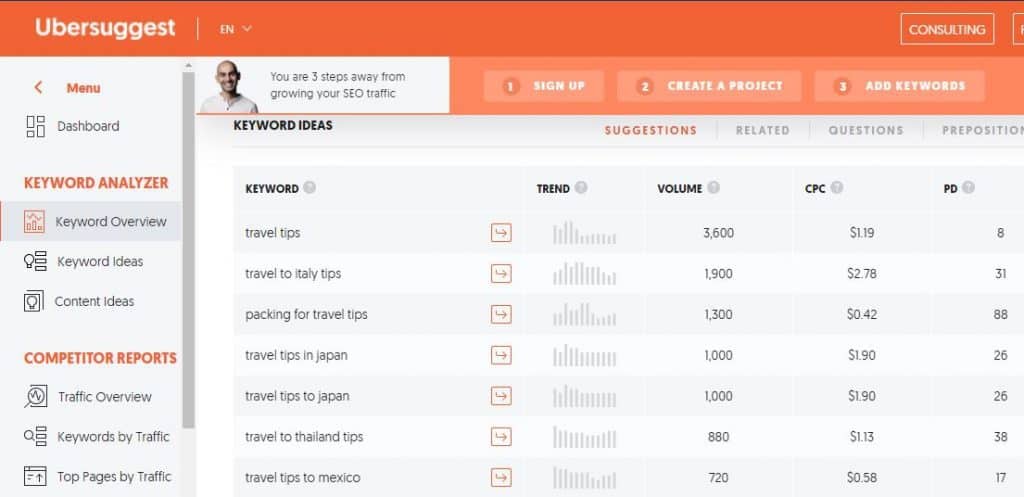 19. WordStream
WordStream keyword tool can give you insights into some keyword data like it's search volume for free.
You just simply add the keyword that you want to find the volume of and suggestions too and it will provide you with the keywords that are best for you. While entering the keywords you can choose the industry of whose keyword ideas you need and also the location where you wish to target the keywords.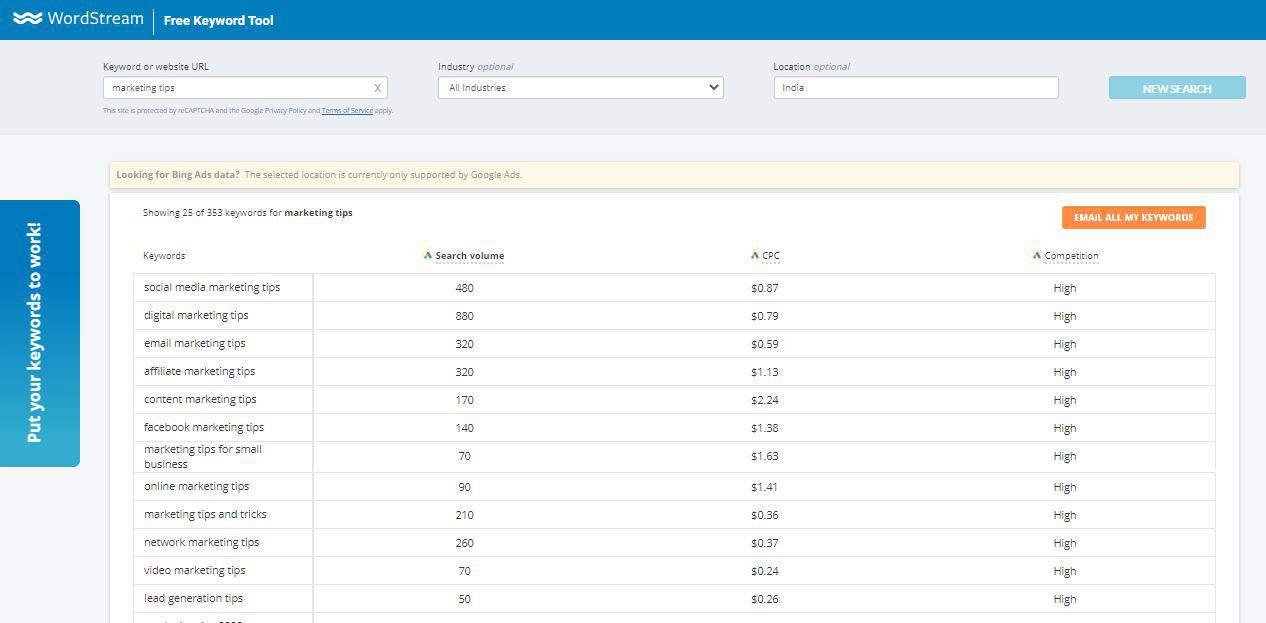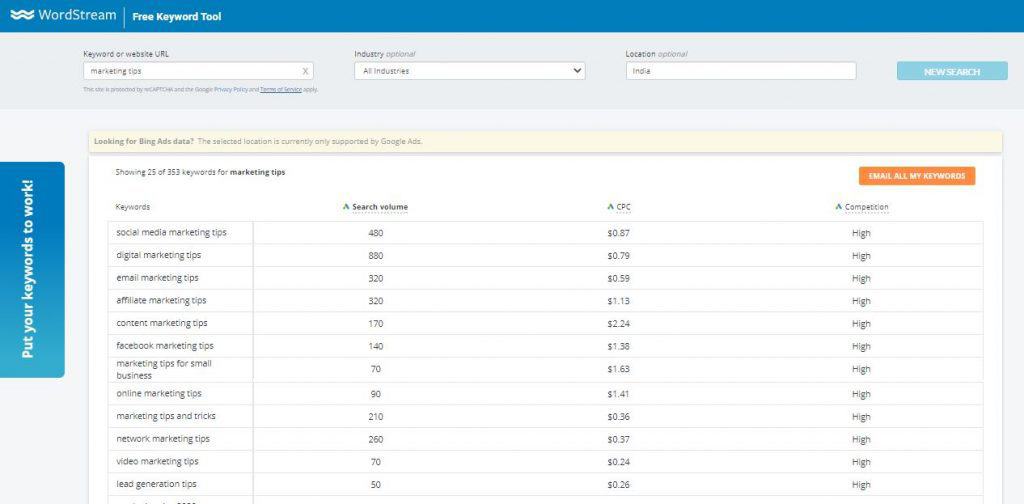 20. Youtube Autocomplete
When searching for something on YouTube, you usually see just like Google autocomplete, YouTube works as a free keyword research tool that provides the same option in its search bar. Those are related to your queries and have been often searched by users.
You can also review each of the displayed queries and get to know what users are usually looking for. This will give you the direction for your marketing strategies.

YouTube Competitive Research
You can look at the competitor channels too and gain some insights on the related topics and the keywords that perform well with your targeted audience.
You can have a check by going to their channel page, click on 'videos' and in that, sort by 'most popular'.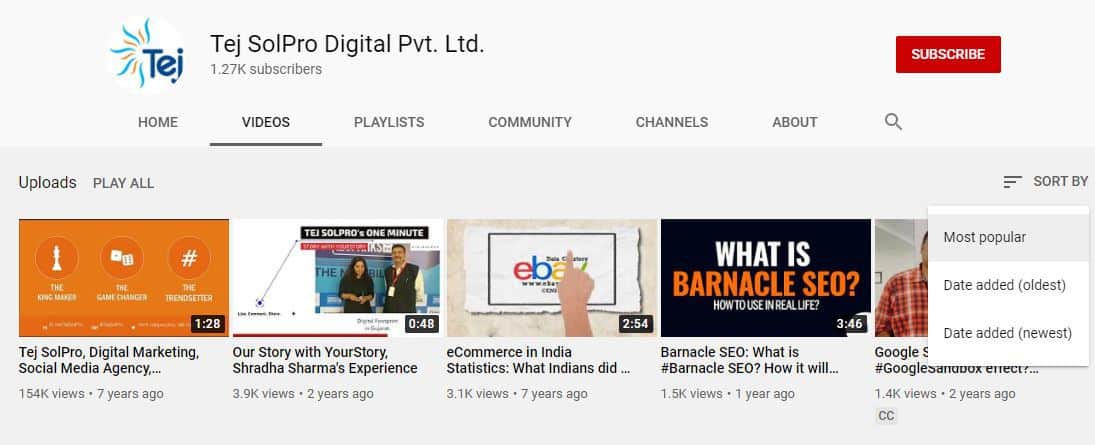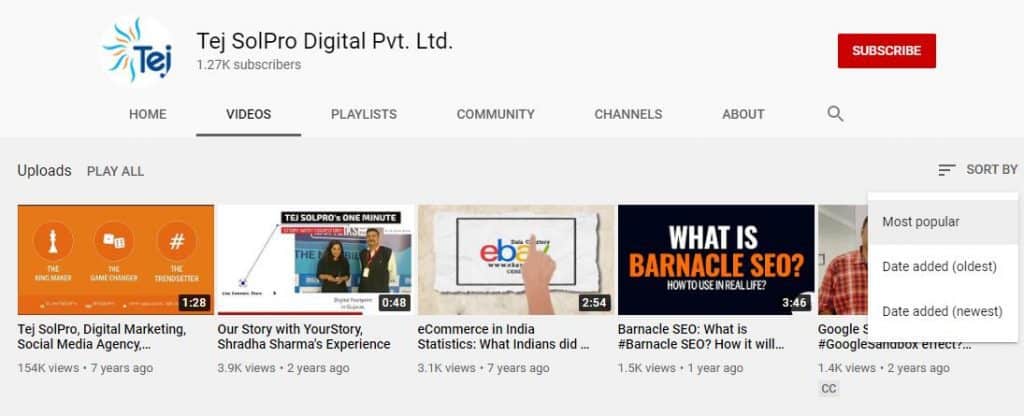 You can then review the videos that have been performed the best for them, and also can have a look at each video to know what keywords they have used in the title and description.
Wrapping Up
There are tons of free keyword research tools other than the list mentioned above to help you with website research, keyword research, and SEO practices. And we hope that the ones mentioned above can help you start finding keywords and phrases that will help you create an effective campaign.
Do let us know in the comment section if we have forgotten any other tools, we will be happy to add those too.