It is said that in order to improve something, you need to measure it. In SEO, it's no different.
The benefit of being into digital marketing is that you can track all your strategies applied or going to apply. You're investing your time, energy and money in SEO and it is better to be sure about the return on your investment. Thus, it is a prerequisite to measure the success of your SEO efforts, and this is where SEO metrics come into the picture. There are a few metrics that your site should track to gauge the success of SEO efforts. You should also understand why these SEO metrics matter.
There are several tools that can help you track the SEO metrics, the best being Google Search Console and Google Analytics. In this blog, you'll find the most important SEO metrics and the ways to track them.
Most Important SEO Metrics That You Need To Track
1. Organic Traffic
One of the foremost purposes of SEO is to bring organic traffic. And to keep a track of your organic sessions which will boost your SEO performance and also gives an idea of whether to change the SEO strategy or not.
The monthly report through organic search signifies that with the increase in the number of visitors, the rankings are also improving.
Several other metrics will show you growth but organic traffic shows you the exact evidence that your attempts are working in the right direction of bringing more visitors to your website. However, the traffic solely depends on the focus keywords and other keyphrases you have used and what are the conversions to your website.
How to Measure Organic Traffic
The simplest and easiest way to track organic traffic is through Google Analytics. Follow the below-mentioned steps to track organic traffic on Google Analytics:
Log in to your dashboard > Default audience overview > Add Segment > Organic Traffic


The organic traffic will be shown to you as a percentage of total traffic.
2. Organic Conversion Rate
You must be elated to find the influx of organic traffic on your website. However, you should always cross-check that the quality of traffic you generated is not spam or irrelevant traffic that will never convert.
And to check the quality of traffic you need to track the organic conversion rate of your website.
How to Track Organic Conversion Rate
Follow these steps to find out the organic conversion rate:
First and foremost set your 'Goal' or go to conversion events in Google Analytics. A few goals that you can set include:
Lead Generation
Purchases
Site Engagement
Form Submissions
Mentioning the goals and keeping a tab on them becomes easier in Google Analytics. 
To know the organic conversion rate follow the following process:
Log in to your dashboard > Conversions (Left Side Vertical Menu) > Goals > Overview


Do not forget to add organic sessions segments to see organic metrics.
3. Website Keyword Rankings
Keywords Rankings are an integral part of SEO metrics.
Here's why you should track keyword rankings:
To keep a tab on where your SEO efforts are headed you ought to know how well your SEO plan is working out. Even if one long-tail keyword is performing well, it can be considered the improvement of overall website performance.
So make sure that the keywords you have used are proper. Because for SEO metrics, keyword selection matters the most. When you see improvement in other SEO metrics but not in keywords, make sure to use a less competitive keyword in order to rank better.
How to Track Keyword Rankings
With the help of Google Search Console, you can track your keyword rankings. In Search Console, go to Performance > Queries > Click the Average Position. Tick off clicks or position and then you can export the data with Google Sheets. 


Interestingly, you can match your keywords with the location and language. Adding tags to your keywords is also advisable.
Log in to your SEMrush dashboard > Type your Website URL into Enter Domain Field > Select Country > Click the Search button


After following these steps, you'll find Top Ranking Keywords.
4. Referring Domains and Backlinks
Needless to say, backlinks play an important role in SEO performance. Backlinks and referring domains are an integral part of SEO metrics.
While considering factors like time on site, bounce rate, and content on two different pages, the one with more number backlinks and with good domain authority will outperform the other page. Experts believe a high number of relevant referring domains with good authority links helps you enhance your ranking on search engines. Improved rankings are a gradual process and will not happen overnight despite more backlinks.
How to Track Backlinks
In this fast-paced digital world, you have to choose the fastest tool possible. Make the most of backlinks by using SEO analytics and backlink monitoring tools. A few requisites you should consider in a backlink monitoring tool are:
Login in to Ahrefs dashboard > Type your Website URL in the Search Bar > Click on Backlinks and Referring Domains
You can also toggle to the Overview section on the left side, where you can find new, lost, and broken links. Also, new and lost referring domains. 
5. Domain Authority Metrics
Did you think only the number of backlinks was important? If yes, then a lot of websites would have those in huge numbers. But that is not the case. You should also focus on the quality of the backlinks and improving the authority of your website. 
How to Measure Domain Authority Metrics
You can measure Authority metrics with the help of Moz. Go to the Link Explorer tool in Moz where you can find your exact Domain Authority. 
Higher the DA, the more reliable the website.
Log in to your MOZ dashboard > Go to Link Explorer > Click on the MozBar or Click on the SERP Analysis section of Keyword Explorer. 


6. Local Visibility
Your content is directed to the target audience and thus you also have to ensure that the website traffic is also coming from the right audience. Tracing a few SEO metrics would really help you out.
This can be carried out with the help of local SEO metrics as follows:
In order to track your Google Maps Rankings, you'll need to find a rank tracker. Another important SEO metric for Local Visibility is Google My Business Insights.
With these insights, you will get a clear picture of the number of times your GMB page displays in search results, number of calls, and directions. Session location is equally important to figure out the exact locations from where your website receives traffic. 
7. Landing Page Metrics
Your landing page performance is also one of the most important SEO metrics.
Just randomly optimizing your landing page will not elevate your website's ranking. You also need to keep a tab on how each page is performing.
You can add backlinks or enhance your page's content. Following which make sure to keep a tab on the traffic so that you can get an idea if the SEO efforts you are putting in are working out.
How to Track Landing Page Metrics
Log in to your Google Analytics account > Go to Behavior > Site Content > Landing pages


After applying the organic segment which will only display organic sessions. The table will show you goal competitions, conversion rate, track sessions and bounce rate.
8. Website Page Speed
You shouldn't neglect another important SEO metric, the website's page speed. With the advent of mobile phones, the number of people searching with their mobile devices is increasing each day. Irrespective of what the device is, mobile or a desktop, page speed matters the most.
Page speed is nothing but the speed at which content loads on your device. The faster page speed, the better the user experience. More time in loading the content on the page will increase the bounce rate. This is one of the factors that Google decides where to keep you in SERP.
There are two ways in which page speed can be described: One is page load time and another is time to the first byte.
How to Track Page Speed
Google's PageSpeed Insights tool will give you in-depth information about the page score, page speed and it also suggests improvements.
Open GTMetrix > Write your URL > Click on 'Test your Site' > You'll get the page speed analysis report. 
9. Exit Pages
So far we have discovered how to track your website's performance using different reliable SEO metrics. But what about the pages that aren't performing well? You can do this by tracking 'exit pages'.
You might wonder what exit pages are? So, Exit page is the last page accessed during a visit. There may be instances where people are leaving your website after they visit a particular page. This shows that it needs some improvement.
How to Track Exit Pages:
Log in to Google Analytics > Behavior > Site Content > All Pages


This will give you a clear picture of the % of exit ratio of each page.
10. Mobile Traffic and Rankings
Mobile optimization should be given the same leverage as desktop optimization. More and more people are using mobile for searches. But there are a few things to be taken into account.
The website should be mobile-friendly. Google gives preference to mobile-friendly sites over anything else in mobile search results. If there is an overall increase in your website traffic but that of mobile traffic is static, make sure to look into mobile-friendliness issues.
Keep a tab on the usage patterns of your visitors. If the influx of visitors is more through mobile traffic, you'll be required to invest more in mobile development.
On one hand, when long-tail keywords work the best on desktop, on the other hand, people use fewer keywords to search on mobile. For this reason, you also need to invest in mobile-only search items.
How to Track Mobile Performance
You can check your mobile traffic from the following steps
Log in to Analytics > Audience > Mobile > Overview


And if you want to have a look at the keywords performance for mobile devices follow the following steps
Log in to Search Console > Performance > Click New > Devices > Click on Mobile


11. Engagement Metrics
There are a few factors that will tell you about the engagement metrics. Before we delve into the engagement metrics change, you should learn about the following:
What is the bounce rate?
Bounce rate is the percentage of visitors leaving your site without any action.
What is time on site?
It is the average time that the visitors spend on your site.
What are the pages per visit?
Pages per visit is the average obtained by dividing the total number of page views by the total number of visitors.
These are nothing but engagement metrics that portrays the engagement of visitors on your site. This metric also helps you in depicting the ranking of your website. It is quite obvious that the more time visitors spend on your website, clearly means that your content is being liked by the visitors. With this, needless to say, that for your website ranking to be better, the bounce rate has to be lesser.
How to Track Engagement Metrics
Log in to Google Analytics > By default, it will show you bounce rate, average time and pages per session on the dashboard itself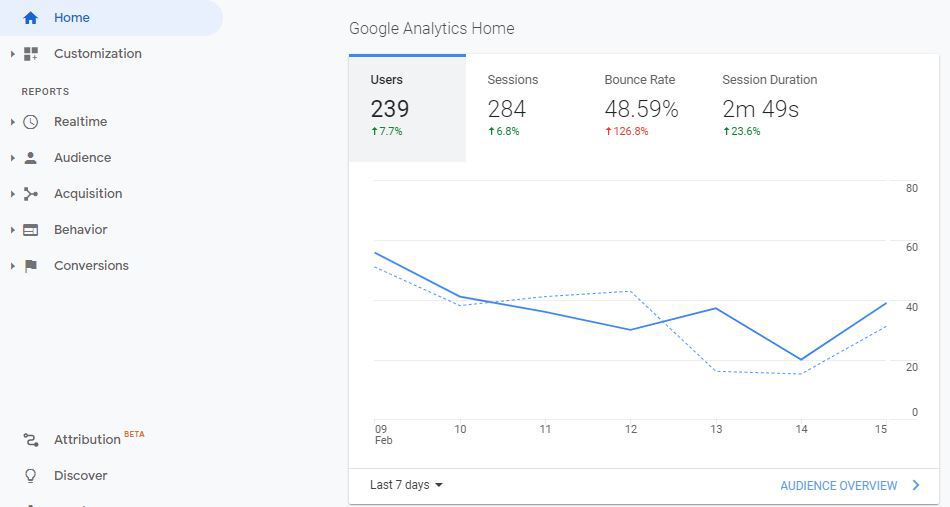 12. Organic CTR
Organic CTR is also one of the SEO metrics that give a glimpse about how your website's performance.
Organic CTR is the percentage of people that click on a search engine result. For improved Organic CTR, make sure that content is relevant to the search terms, your title or title tag, meta description, and a lot of other factors are in place.
Higher the Organic CTR means visitors are liking your content more.
How to Trace Organic CTR
Open Google Search Console > Go to the 'Performance' section in the report > You can either check the CTR by page, device or even query


Generally, from the SEO metric perspective and keeping the bigger picture, page CTR will provide you with an insight into what content's performance is weak on SERP.
13. New VS Returning Users
It is easy to understand that new visitors are fresh visitors who have never been to your website, while the returning visitors are those who have previously visited your website. Now you may think about how you will differentiate between the two sets of visitors.
Thankfully, with the help of cookies, Google bifurcates visitors will no cookie present terms as a 'new visitor' whereas a visitor in which the cookie is present is termed as 'returning visitor'.
Ways to Track Returning Visitors
Log in to Google Analytics > Go to Audience > Behavior > New VS Returning


14. Crawling Metrics
If you expect Google to rank a website the moment i is developed or content is uploaded, then you're highly mistaken. You have to give time to Google to read it.
There may be several factors that may averse Google from crawling your website, like, broken links or missing pages. You need to ensure that the crawl errors are taken care of which will eventually lead to the higher ranking of your website.
Crawl Errors need not be checked daily but make sure to rectify after a specific duration.
How to Track Crawling Metrics
Go to Google Search Console > Coverage > and you'll see the errors that needs to be fixed 


15. Competitor Analysis
After you have taken care of all the SEO metrics for your own website but your work is still half done. Don't forget to track your competitors' SEO strategy.
It will be really helpful to you in the following ways:
Go through your competitor's rankings, social media mentions, most importantly go through the number of backlinks, keep a tab on the page changes of your competitors. Find out the keywords on which your competitors are ranking and you can utilize the same for your content.
How To Do Competitor Analysis
There are many tools that can help you with competitor analysis but we would suggest you to go with Ahrefs and SEMrush.
For Ahrefs you can check on what keywords your competitors are ranking or how many backlinks they have by doing the following thing.
Login To Ahrefs > Enter The URL > and make sure you have selected *.domain/*


In SEMrush, you can check your competitors by the following steps:
Login to SEMrush > From the left panel go to Competitive Research > And Select what you want to get the overview off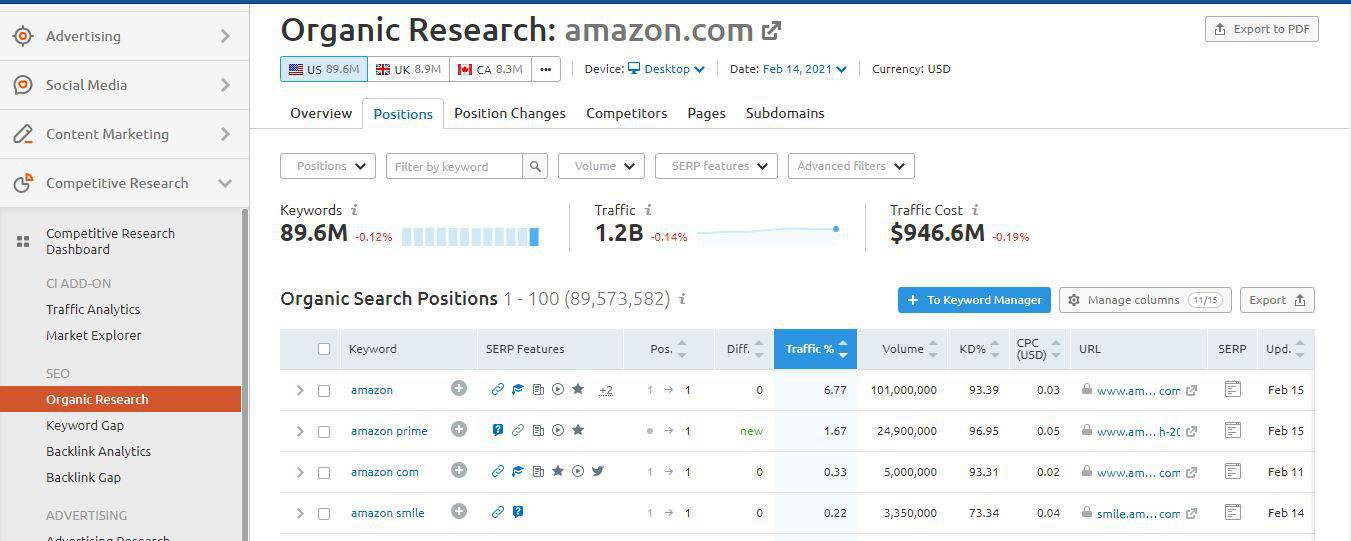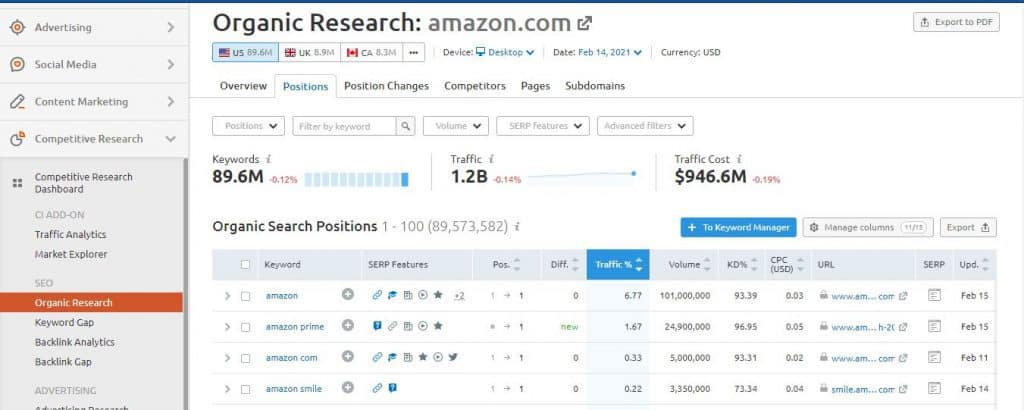 Conclusion
With so many metrics, it can be understood that measuring SEO success is a bit difficult. As mentioned in the blogs, you have to measure several metrics ranging from new and returning users to domain authority and backlinks.
This blog provides a comprehensive view of the SEO metrics you should keep in mind to further enhance your website rankings.
If you feel we have missed out any, feel free to mention in the comments below.