If you're someone who's into SEO, then there are higher chances of you being stuck on your laptop. We're sure you might be looking at the SERPs (Search Engine Page Results) in your browser checking the landscape for potential keywords and ensuring that your landing page is providing what people are looking for.
With Google Chrome extensions for SEO, it will be easier to acquire ideas for making improvements in the SEO strategy. Also, it will be extremely helpful in analyzing your competitors. Some chrome extensions can also curate colorful graphs and charts for people who like visuals which can come in handy at the time of presentation or making comparisons.
If you're still looking for free extensions, then stay right here.
Here, we have a power-packed list of the best free Chrome extensions for SEO according to us that will help you in working faster and can also increase your productivity.
Free Chrome Extensions For SEO
Extensions for Keyword Research
1. Text Optimizer
Text Optimizer is considered to be a writing assistant tool. It scrutinizes the search results for some pertinent keywords and pulls out the intent tables to propose similar other words. These words can be used in your content as they mostly match the search engines' expectations.
2. Ubersuggest
Ubersuggest is one of the free chrome extensions for SEO and also a free keyword research tool that showcases the actionable SEO metrics directly in your Amazon search suggested terms, Google search results, and YouTube search results.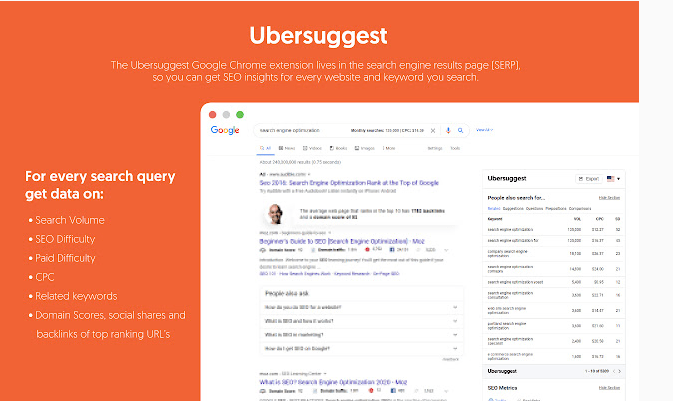 3. Keywords Nowhere
It is a free chrome extension for SEO that helps you in knowing the CPC and search volume of keywords in the US and UK. Keywords Nowhere is an extension that will make the overall process as simple as possible by showcasing keyword search volume and CPC under the Google search UX.
4. Keyword Surfer
Keyword Surfer is a keyword research and SERP analysis tool. It provides you with an enormous amount of data. This data consists of keyword volumes (local and global), domain-level backlink counts, Keyword suggestions, and domain-level traffic estimation in the search results.
5. SEOStack Keyword Tool
SEOStack Keyword Tool is a chrome extension for SEO that produces a thousand keyword ideas from seed keywords. Furthermore, it scrapes the suggestion coming from various search engines like Google, Bing, and Amazon. Interestingly, all data that you've got on this tool can be exported into a CSV.
Extensions for Link Building
6. SimilarWeb
The SimilarWeb chrome extension for SEO is a tool where you can check your website's traffic and other key metrics of other websites too. Other than that, you can also get the keyword ranking, traffic ranking, engagement rate, and traffic source. SimilarWeb is extremely useful for opportunities related to links.
7. Link Grabber
Link Grabber is a chrome extension that helps you extract links from a webpage and then showcase them on another tab. Here, you'll also be able to block the links automatically from an adaptive list of sites. These can be clicked and also copy-pasted on a spreadsheet.
8. Hunter
Hunter helps you in finding email addresses that are connected to the website you visit. Here, you'll get a whopping free 50 credits every month. If you wish to check faster, then you'll also get a Google sheets add-on.
9. Link Miner
Link Miner is a free chrome extension for SEO that inspects the HTTPS status of all the links on the current web page. This tool helps you in finding any broken links present on the web page instantly. All the 404 or broken links are featured in red color. Link miner is considered to be one of the most useful tools for finding broken link-building opportunities.
10. Streak CRM for Gmail
If you're looking out for a customer relationship manager for Gmail, then your search has ended here. Streak CRM for Gmail can create, track emails, merge emails, log interactions with leads generated, prospects, and customers. It also works best for organizing outreach campaigns.
Chrome Extensions for Technical SEO
11. AMP Validator
AMP Validator is another free Chrome extension for SEO. It comes in handy for people who use AMP i.e. Accelerated Mobile Pages. This extension tool has the ability to automatically check all the pages for AMP validation and report if the pages pass or may fail through the extension icon.
12. Meta SEO Inspector
Meta SEO inspector is one of those chrome extensions that let you inspect the canonical tags, XFN tags, and several other microformats. This extension is also updated frequently in order to stay in line with any upcoming additions or upgrades in Google's best practice guidelines.
13. Redirect Path
When you're doing technical SEO, you must opt for Redirect Path. It can identify Javascript redirects, 301, 302, 404, and 500 HTTP Status Codes issues quicker. The Redirect path will notify you whenever something goes wrong.
14. Website SEO Checker
Website SEO Checker is a free chrome extension for SEO that aids you in recognizing the on-page SEO issues. Once you've known the problems, it will be easier to fix them. By solving these issues, you'll be able to boost your rankings and attract greater traffic and sales.
15. View Rendered Source
This chrome extension for SEO is a must-have for people who work with websites powered by Java. View Rendered Source makes a comparison between raw page code and its rendered version.
Extensions for On-Page SEO
16. Woorank's SEO & Website Analysis Tool
Woorank's SEO & Website Analysis Tool is a useful chrome extension for SEO. Foremost, this tool will give you an overall SEO score. Post this, the tool will display the ways to boost your website's on-page and off-page SEO.
Generally, SEO tools only focus on problems and don't provide any solutions. But this chrome extension will provide you with a detailed checklist for fixing any SEO issues that come your way.
17. SEOInfo
If you're looking for an extension that finds various on-page SEO problems on your website and also lets you explore it further, then you must choose SEOInfo. It looks into various things like canonicals, meta tags, page speed, Open Graph tags, etc.
SEOInfo is also powered with a built-in module that uses Google Pagespeed Insights API.
18. SEO META in 1 CLICK
SEO META in 1 click is a free chrome extension for SEO that showcases the tags and other main SEO information distinctly. This tool focuses on showing the length of title and description, SEO robots, a number of links, Open Graph and Twitter social data, etc.
19. Free Backlink Checker by LRT
Foremost, this tool sounds like it's related to incoming links, but surprisingly it's not. Free Backlink Checker by LRT analyzes the outgoing links of a page. If there are any broken links, then they are highlighted in red whereas the green ones go live.
20. Hreflang Tag Checker
Hreflang Tag Checker lets you have a look at the hreflang data in the most advanced manner. It also crawls the URL's hreflang tags to confirm if they do have any return links.
The All-in-one Extensions
21. SEO Minion
SEO Minion plays several roles such as Google location simulator, broken link checker, and On-page analyzer. It is a power-packed all-in-one tool for your website. This tool can also help you save a lot of time by comparing Google rankings for your website across various locations.
22. MozBar
MozBar is a free chrome extension for SEO by Moz. This tool provides you with quick SEO insights regarding various websites or SERPs without quitting your web browser. Apart from this, you can also see several backlink metrics, the website's domain authority, and the page authority.
Source: Moz.com
Most importantly, MozBar gives you vital data and statistics. Everyone in SEO must have the MozBar chrome extension in their browser.
23. Ahrefs SEO ToolBar
Ahref SEO ToolBar will provide you with a quick on-page SEO report for any page visited by you. Here, you can also check your broken links, redirect tracers, and get your hands-on many important SEO metrics for any of the web pages in your browser.
The Assorted Ones
These extensions are the ones that don't fall into any of the categories mentioned above.
24. Scraper
This free Chrome extension for SEO can scrape data from any of the web pages with the help of jQuery and XPath. The scraper also lets you amalgamate your data with Google sheets and then export it into a spreadsheet.
25. ObservePoint TagDebugger
With ObservePoint TagDebugger, you can audit and debug issues through web analytics and marketing tags on your website. It can also check the on-click events and variables.
Conclusion
We're sure that your web browser must have been packed with extremely useful free chrome extensions for SEO. Now, It's time to use these extensions and see what they add to your SEO efforts.
Remember, Using too many browser extensions will cause your device to slow down. So, ensure to use them responsibly.
If you're someone who uses too many extensions, then you must create various profiles for different tasks.
Last but not least, we hope this blog on chrome extensions for SEO will add to your SEO efforts and improve your website.
If you have any query, please feel free to ask in the comments section.