Does anyone have the skill to know who is willing to buy a product or who is not? If yes, it would have been so easier to poke people and say, oh! It's time to buy this particular product. But in reality, it's next to impossible. If it were a reality, then this world would have been a sorted place!
Do you remember the last time scrolling through an eCommerce website where you saw some products didn't buy any like always! (pun intended). Let's get to the point, as soon as you get out of this website and visit other social media sites like Facebook or Instagram, you'll magically come across the advertisements of the same product.
This is the point where retargeting and remarketing come into the picture. These two concepts are used by several eCommerce businesses as their marketing strategy. You might have heard these words and also used them as synonyms. Well, that is where you went wrong.
To ensure that you don't repeat the same, here is an article on retargeting vs remarketing. This article focuses on the differences between these concepts. Not only that but how you can make the perfect use of them both.
What is Retargeting?
The term 'Retargeting' refers to the procedure of recognizing people who have taken some action on online platforms and then come across some digital advertisements. Retargeting is all about providing online or display ads to audiences based on their earlier interactions with your website such as – time spent on it or the number of pages visited.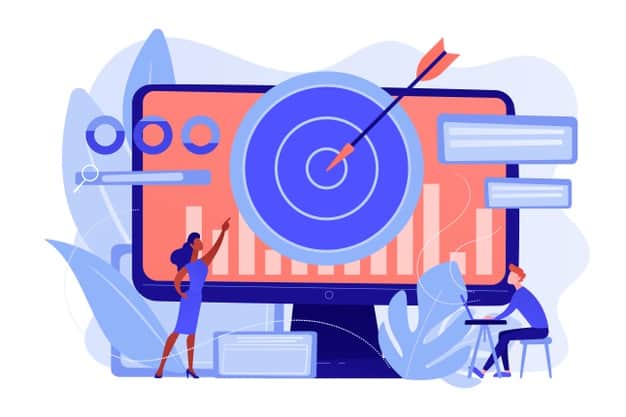 If you've recently visited a website and saw a similar product ad on some other social media platform (Facebook and Instagram), then you've already come across retargeting.
Adding Pixels to a brand's website is extremely important for making the process of retargeting successful. Furthermore, pixels are meant for capturing the data about who is visiting your website and what they are doing on it. The data captured is used for creating audiences based on those interactions. Post this, the audiences are targeted via social media ads or Google display.
Through retargeting, advertisers can bring back the audiences to their website. Once they're back, it will increase their chances of converting into a customer.
There are several triggers that you can put to use in retargeting:
Any users who might have viewed some of your interesting content on social media platforms like a post, video, meme, etc.
People who have recently visited a site that is similar to yours.
The online search history of a user.
Users having similar interests in content when compared to your present users.
Any of the subscribers who have interacted with your emails.
What is Remarketing?
Remarketing refers to the process of re-engaging with customers through email marketing. Mostly, these emails are triggered by the actions initiated by visitors on a brand's website. Suppose, a visitor has abandoned a shopping cart or has kept a certain product on the wish list, then you'll need to send a remarketing email.

The major reason behind the effectiveness of remarketing emails is the wide reach of email marketing among the audiences. Many organizations believe that customers are hugely influenced by these marketing emails and are pursued to make a purchase.
The remarketing emails are used as a way of reminding people of what they might have missed or left behind. Sometimes these emails act as an impactful way of bringing prospective customers back to your site and purchase from their shopping cart or wishlist.
Once the visitor has already shown his or her interest in your product, it's a good idea to give them a little reminder for making the right purchase decision.
Retargeting vs Remarketing: Differences
The difference between retargeting vs remarketing is in the strategies used for accomplishing these objectives.
One of the main differences between retargeting and remarketing is that retargeting uses strategic paid ad campaigns for re-engaging site visitors, whereas remarketing makes use of marketing emails.
Retargeting consists of ad content that appears on outside platforms like search engines or social media ads. While remarketing is present on just one platform which is email.
Similarities Between Retargeting And Remarketing
Both retargeting and remarketing are lead-nurturing strategies that stand as a supporter of an overall customer lifecycle marketing strategy. Both of them put your brand across the audiences to help in attracting leads and customers to your purchase funnel.
Similar to remarketing, retargeting also need its site visitors to take some actions for triggering the retargeting ad. It could be either placing any product in the shopping cart, clicking on a particular product, or visiting a specific page several times.
Another similarity between retargeting and remarketing is that they believe in building enduring brand awareness and recognition among the audiences.
Both of these concepts are most likely to capture the qualified audiences who will probably make a purchase.
Retargeting vs Remarketing: What's Better?
Before picking retargeting vs remarketing, you must remember that the end goal of both concepts is the same – re-engaging and nurturing audiences who are already interested in your brand or product.
The only difference between both concepts is the marketing strategies they adapt to re-engage audiences. Talking about retargeting, it makes use of ads to reach people who have visited your website or social media profile and took action. While remarketing is all about using emails to reach your past or present customers.
As remarketing concentrates on email campaigns, this concept is best when you're using emails for sending your message. While retargeting ads have a certain limit when it comes to the amount of content. With this, remarketing is a better option when you're not only trying to send a reminder to your prospects but also intending to add an additional promotion to the offer or cross-sell.
If you wish to target a wider range of consumers, then retargeting is the most appropriate way to engage with people interested in your product or services. While Remarketing lets you connect with your past site visitors. But, retargeting ads help your products to come in front of new audiences who are quite similar to your present customers.
So, which would be the best for you and your business? Well, it entirely depends on the type of market segmentation you have and the goals you're working for.
Opt for Retargeting
If you're getting a lot of traffic on your site but not driving conversions.
If you're inclined towards attracting a new set of customers.
If you don't have an email list of interested people or audiences.
Opt for remarketing
If you've already got your hands on an engaged email list
If you're lacking a budget for advertising.
If you're looking forward to focusing on re-engaging your past or present customers.
If you're in a situation where you'll have to pick one from retargeting vs remarketing, well luckily you'll not have to choose anyone. As you have the freedom to choose both the strategies or concepts at the same time.
Doing so will help you increase your results and also attract more interested customers into your sales funnel.
Conclusion
Even though retargeting and remarketing are not the same, they are definitely connected. A good marketing strategy needs to adapt both concepts. This is the only way to encourage and nurture relationships with your audiences – Be it the potential customers or the present customers.
We hope this blog on retargeting vs remarketing will help you understand the difference between both. These concepts will surely add to your business and its success.
If you have any questions, please feel free to ask in the comments section.