Have you ever wondered why a few websites or ads catch your attention more than others? No doubt that pictures speak a thousand words but one can never emphasize enough on the power of words. Web Copywriting helps in a lot of factors, that include, increased profits, earning Return on Investment (ROI), and achieving business goals by luring them with words and images. It catches the required attention of your audience and helps strengthen your brand's value.
You will be amazed to know a few interesting statistics about web copywriting and how effective it is:
8 out of 10 people only read headlines
Personalized calls to action are 202% more effective
A whopping 74% of web readers pay attention to the spelling and grammar
Readers only consume 20% of content on a page
60.8% of marketers agree visual content is absolutely necessary
Messages that are written at a third-grade reading level receive 36% more responses
What is Web Copywriting?
Web Copywriting is the amalgamation of art and science that uses words and technology to market your products. It can be said that Web Copywriting and sales go hand-in-hand. However, the stark difference between the two is online and offline. A salesperson manages to reach a limited client base while Web Copywriting reaches all of them at once through different mediums.
The purpose of Web Copywriting is to engage readers or target audiences to your product or service that compels them to take some action. As the name suggests, Web Copywriting is writing digital content that includes, blog posts, service pages, product pages, landing pages, social media posts, online ads, email marketing campaigns and so on.
Why is Website Copywriting Important?
Words can do wonders but copywriting is more than just words!
Even when reading an article online or in a newspaper what catches your eye is the headline. If you find it attractive or engaging only then you will read further or click on the link. The same goes for Web Copywriting. Needless to say, there are several reasons why web copywriting is important.
One of the foremost reasons is to attract visitors to your site that may convert into your customers. You need to give visitors clarity about your product or service and with the help of Web Copywriting convince your visitors to become your customers. You also need an appropriate SEO strategy and decent content to lure more and more visitors to your website.
In order to save a certain amount of money, you might think of writing on your own. It is strictly not advisable if you want your business or website to perform better. Hiring a professional and efficient copywriter will take away all your stress.
The first impression is the last impression. This definitely holds true in web copywriting as you have only one chance to prove your potential customers that you are the best. One of the ways it is possible is due to effective and to-the-point web copywriting.
The following reasons show why Website Copywriting is crucial:
Attracts visitors to your website
Why fuss about copywriting if it does not convert your leads into customers? Quality content, attractive headline, captivating copy, and clarity on what you have to offer the customers are the factors that will bring visitors to your website. Ensure your content is engaging enough to make the visitors stay on your website for a long time and lessen the bounce rate.
The more they spend time on your website, the higher the probabilities of visitors converting into your customers.
Increases website traffic
The right use of keywords by the copywriter can improve your website traffic provided it is engaging, reader-friendly, and serves the purpose. It is not just the copywriting that matters, SEO strategies matter equally. When both are in sync, it is beyond imagination what wonders SEO and copywriting can do. To achieve this, an SEO agency can help you hit the nail on the head.
Boosts your sales
Call-to-action, the most longed for and fruitful aspect you look forward to all your efforts. Make sure to place the call to action and links for your visitors' convenience to get in touch with you. After being convinced by your content, the visitors should not be left wondering about what to do next. Without wasting a chance, they should be allowed to take the next step that will help increase your business.
Best Practices for Web Copy
There are a lot of factors that collectively make copywriting impactful. The following are the best practices that should be followed while writing a web copy:
Give Enticing Headlines
The first thing that compels any reader to read further is the headline. Make sure your headline is on-point that even a few words give a complete picture of what the content is all about. User understanding is important which will decide if the user wants to read or not.
Write Short Paragraphs and Sentences
In today's time, people have access to information on the tip of their fingers. While searching, they want quick information that is short and to-the-point. Longer paragraphs will make them move to the next website. Thus it is ideal to keep writing crisp sentences and keep the paragraphs short too.
Include Relevant Keywords and Content
Long paragraphs of copywriting would be futile if relevant keywords are not used. To elevate your ranking, relevant keywords that fall within the limits of your business or service model should be used. This will increase engagement among the right kind of audience. The content should be written keeping in mind your audiences' expectations when they visit your website. Avoid using complex words or technical terms that the audience may find it difficult to understand. Your content should also be in tandem with the brand's image and what you wish to portray.
Know Your Audience
Before writing anything make sure to keep in mind the target audience you are targeting. It is important to have a good understanding of your audience, analyze the reasons they would come to your website, and that their purpose is fulfilled. Keeping your audience engaged on your website which in turn will enhance your business.
Structure Your Content Appropriately
The flow of your copywriting content is utterly important. How much time a visitor spends on your website also majorly depends on the way your content is structured. Dumping all the information in one paragraph will increase your bounce rate which will benefit your competitors. Breaking the content into paragraphs, subheadings, and bullet points will make the readers spend more time on your website.
Use Images
Agreed that words have more power, but without images, these words will be less powerful. Graphics, images with text, adding stats can add charm like nothing else. Images increase the relatability of the content with the readers and connect with the audience easily.
Web Copywriting Examples:
Enough of blabbering about the importance of web copywriting. Let a few examples do justice to what web copywriting is capable of.
L'Oreal Paris
What comes to your mind when you see lipstick? A brand promoting its product? In most cases, yes! But this has a hidden message in it: Gender Equality. L'Oreal Paris with ad agency McCann gave out a strong message highlighting the gender inequality in Germany as men dominate the management and executive boards. They highlighted a survey that states hiring women benefits the companies more. This was a print ad that went viral.


Nescafe Gold
One glance is enough to understand the underlying message. The message hits right on the chord from both perspectives: social message and brand promotion. A social message has been smartly put into brand promotion or vice versa. The embossed 'Don't drink & drive' conveys the obvious message. While 'Don't (Settle for just any coffee), Drink (Something special) & (Let it) Drive (The Moment) emphasizes the promotion of Nescafe Gold. The copy is so subtle and enticing. This was a print advertisement published on December 31, 2020.
Innocent Drinks
A recent study revealed that for the first time in history, global human-made mass exceeded all living biomass. Looking at the seriousness, environmentally friendly steps are in need of the hour. Innocent Drinks in a subtle way conveyed on the webpage about the recycling revolution how they use recycled materials in their packaging. This clearly shows their purpose while describing their history, current status, and future of packaging. Environment lovers or those who want to do their bit for the environment will definitely choose this product as compared to others. Why? Because using recyclable products will give a sense of pride to customers in a small but impactful contribution to save the planet.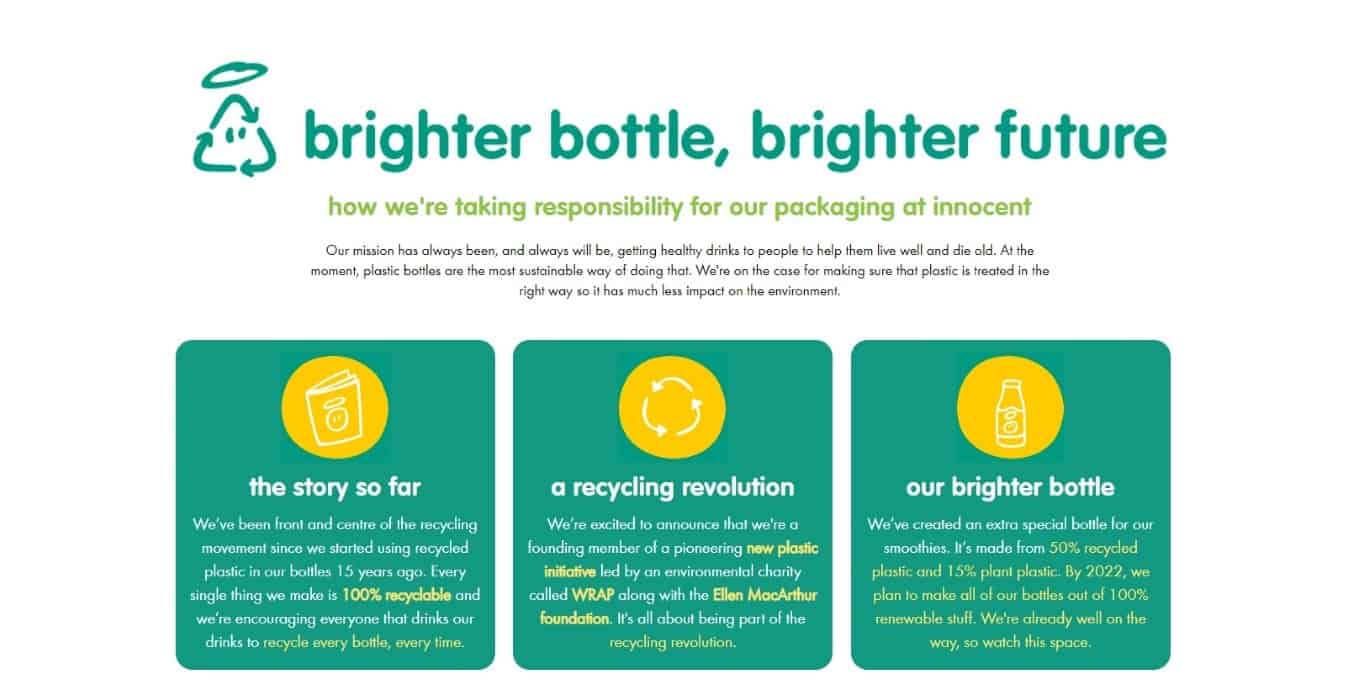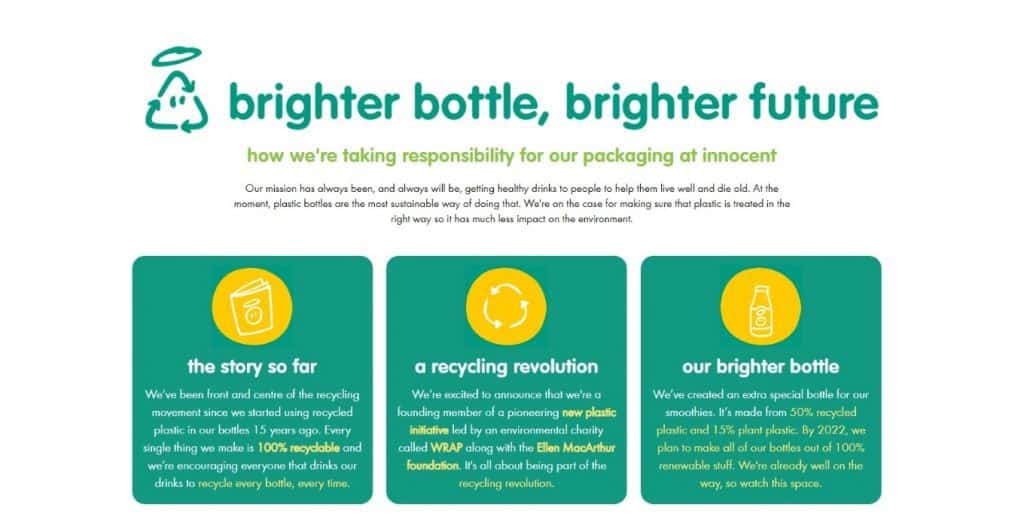 Nike
As a brand, your responsibility is not just limited to profit-making. In the recent past, brands have taken up social responsibility where their acts and deeds benefit society as a whole. The American sportswear company, Nike through its video campaign 'Play for the World' urged to stay fit during the lockdown but by practicing alone. The punchline of the ad 'But today we're playing for 7.8 billion people' powerfully conveys the message.
If you feel we are missing out on anything about Web Copywriting do let us know in the comments.