If you are PPC Expert then you surely wanted to expand your ad with additional ad extension and to give visitors a reason to choose your business ad extensions are used. Its format includes call buttons, links to the exact part of your website, and many more.
Adding extensions won't guarantee that your ad will show all the time. Extensions show with your ad when:
It predicts that the extension would improve your performance.
For extensions to show your ad's position and rank should be high enough. AdWords requires a minimum Ad Rank to show extensions.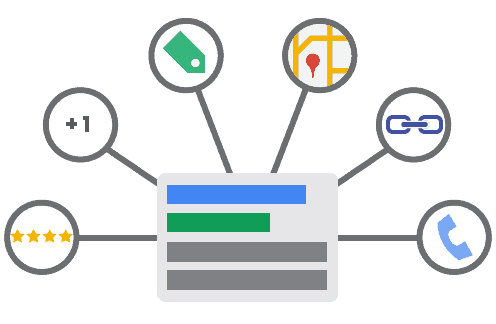 There are many types of Ad extensions, and they are mentioned and explained below:
Sitelink Extension, Callout Extension, Structured Snippets Extension, Call Extension, Message Extension, Location Extension, Affiliate Extension, Price Extension, App Extension, Review Extension, Automated Extension.
Types Of Google AdWords Ad Extensions
Sitelink Extension:
Taking people to specific pages on your site like your store hours, a particular product, or more, site links are used. Whenever someone clicks or taps on your links, they are directed right to what they want to know or buy. Create site link extensions if you desire to add more links to your ads.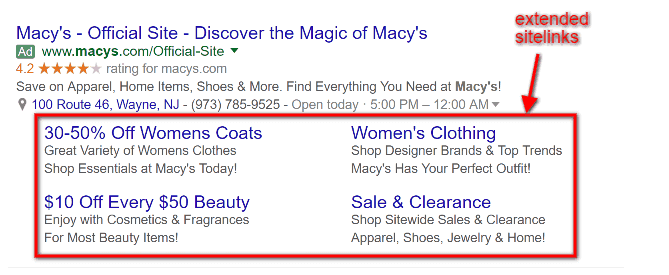 How they work:
You can add site links to the account, campaign, or ad group level. You need to specify the link text (what shows to people) and URLs (the pages they click on).
Google may increase your site links with descriptions that you've provided about those pages. You can add that details yourself when creating or editing site links, or can automatically use information in your account linked to individual site links. By showing bonus information with your site links, your ads can be more relevant to potential customers.
Sitelinks are free of cost to add, and you are charged for clicks on people viewing your ad.
Benefits:
Here are a few benefits of adding site links to your ads:
You can change link texts and URLs whenever you want so that it makes it easy to keep them ready for sales and special offers.
You can find out how many clicks occurred in your ad when site links appeared.
Without resetting their performance statistics, you can edit your site links.
To show on mobile devices, you also can create mobile-optimized site links.
Specify the dates, days of the week, or times of day your site links are eligible to show.
Callout Extension
Callout extensions are used to promote unique offers to the customers, like free shipping or 24-hour customer service. When consumers see your ads, they get complete information about your business, products, and services.

How they work:
You have the authority to add callouts to the account, campaign, or ad group level. You can choose where to add the extension, create a callout text, and can list when you'd like them to appear. The factor into how many callouts become visible and whether a callout will show for your ad depends on the order of your callouts, their length, and how they perform.
If you insert callouts to an ad group which is in a campaign that already has callouts. Then it will use the group level callouts and not the campaign level callouts
Adding callout extensions is free of cost, but you'll be charged for the clicks on your ad.
Benefits:
You can endorse popular or unique points of your business with a few words or a single phrase.
Allowing you to include generic or detailed information within your ads, you can add callouts at the account, campaign, or ad group levels.
Structured Snippets Extension
To highlight specific aspects of your products and services you need structure snippets extension. Structured snippets showed below your text ad in the form of a header (ex: "Destinations") and a list of values (ex: "Hawaii, Costa Rica, South Africa").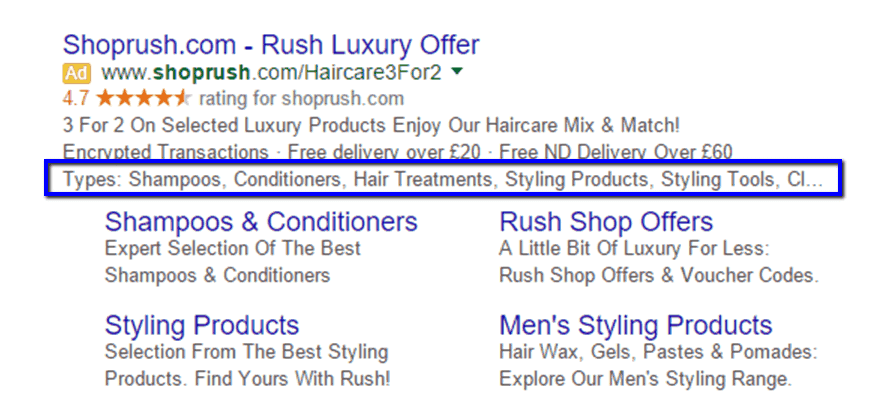 How they work:
You are allowed to add structured snippets to the account, campaign, or ad group level. You can prefer where to add them, choose what type of information potential customers will find most valuable, and plan when you would like them to appear.
The list of available headers for structured snippets is – Amenities, Brands, Courses, Degree programs, Destinations, Featured hotels, Insurance coverage, Models, Neighbourhoods, Service Catalogue, Shows, Styles, Types.
A mismatch of the header and values is probably a reason your snippets can be disapproved, so it's important to make sure your header and values match.
Adding structured snippets extensions is free, but you'll be charged for clicks on your ad.
Benefits:
A structured snippet gives visitors a partial view of a variety of your products and services before they click on your ad.
If any additional information is appearing in your commercials, then it can increase your ads' importance and click-through rates. It may help you improve attracting clicks from visitors who are more likely to be drawn in what you have to offer.
Call Extension
To add phone numbers to your ads call extension used. When your call extension shows, the visitor can tap or click a button to call your business directly, which means more consumer engagement with your ads and it creates more chances for you to get and track your conversions.
If your website has a phone number and your business goals include getting people to call you, then AdWords may set up automatic call extensions.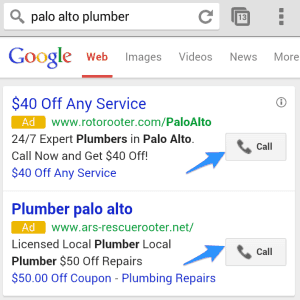 How they work
You can add call extensions to the account, campaign, ad group, or ad level. That runs on any Search campaign, ad group or ad, but some boundaries applied to the Display Network. If you create call extensions at different levels, the most specific used. So when you add call extensions to an ad group, then it shows ad group level extensions instead of your campaign or account-level. Similarly, campaign-level extensions ignore account-level extensions.
Key points to know about call extensions:
Phone or website: When you show your call extensions in your ad, people see your number where they can make calls on a clickable call button. If a person wants to go to your website they can click on your ad.
Business hours: You can display time that when your business can answer the calls.
A call is a click: It's the same cost as headline clicks if someone clicks on your number.
Message Extension:
For people who are seeing your ad, and want to contact you directly by text message, message extensions are used. If you used message extensions, then people can contact you to book an appointment, or can get a quote, or can ask for information, or can request a service, with just one tap on your ad. Message extensions give people another option to reach you and can help you grow your business.
Using a mobile phone number when you set up a call extension or if your website indicates that your business goals include getting people to message you AdWords may set up automatic message extensions. This will allow visitors to message your business directly.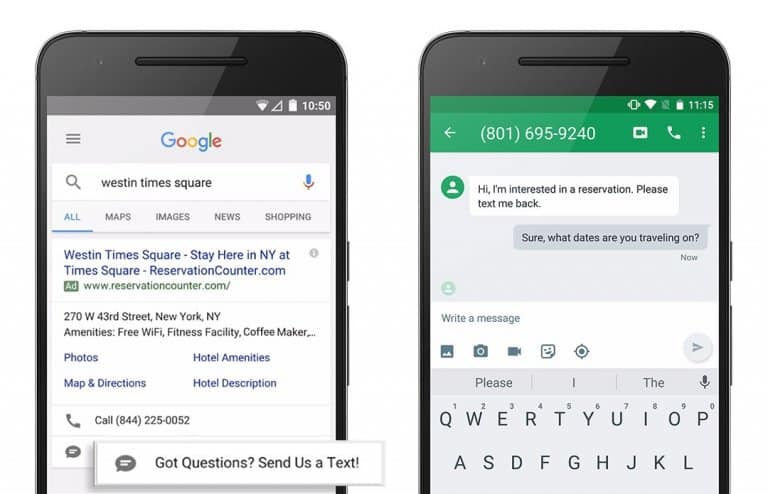 How they work:
When a visitor taps the message icon displayed in your ad from their mobile device, then their messaging app will initiate with pre-populated information that you create.
At the account, campaign, ad group, or ad level you can add message extensions. This runs on any Search campaign, ad group, or ad. If message extensions are created at different levels, then the most precise will be used. So when you insert message extensions to an ad group, then it shows ad group level call extensions instead of your campaign or account-level. Similarly, if you add campaign-level extensions, then it will override account-level extensions.
Benefits:
If you add message extensions to your ad then it's is smooth and free of cost.
Message extensions help you grow your business as it makes it easy for the people to contact you.
Set up your extensions according to your specific needs. One extension can apply to an ad group or the entire campaign.
You can get detailed information about messages that are exchanged between people and your business.
Location Extension:
Displaying your location by showing in your ads with your address, a map to your site, or the distance to your business, location extensions are used and generate great Local Business Marketing. To get further details about your location on your location page, people can then click or tap your expansion that includes the most appropriate business information all in one place. Location extensions may consist of a phone number or call button so that people can call your business efficiently.

How they work:
If there is a location extension in your ads, then it encourages people to visit your business. This extension also runs on Display Network campaigns. Location extensions on Display help you close the loop between online ads and offline sales by driving foot traffic to stores. So by adding location extensions with your ads, you make it easier for your visitors to call, visit your business or spot where your business is located.
Location extension shows your business information in different layouts like on mobile devices and computers in Search Network, Display Networks, and Google Maps.
Affiliate Location Extension:
To reach customers when they are deciding what and where to buy, affiliate location extensions assist you if you wish to sell your products through retail chains. This extension helps people find nearby stores that sell your products.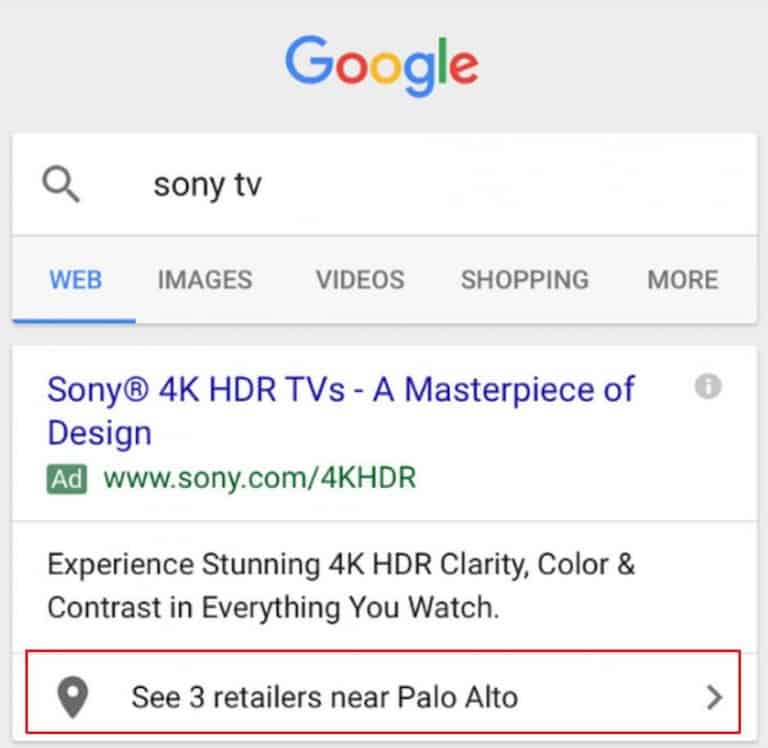 How they work:
To know how affiliate location extensions could help you win new customers on the Search Network refer the following:
When someone searches on Google for a product, then your ad is shown with your affiliate location extension. Then the person sees the nearby store that retails your product, as an address or on a map. On a mobile device, the visitor can tap to get directions to the store. The person visits the store and buys your product.
Price Extension:
Price extensions give you more freedom to tell people the details about what your business offers and the extension can be seen below the text ad on desktop and mobile. They show a set of up to 8 cards where customers can see different options and prices. From your price menu, the visitor can be redirected directly to the item that interests them on your site.
It can add more value to your Search Network text ads by offering you a bigger platform for your services and range of products and connecting people directly to what interests them on your site.

How they work:
The cost of a click on a price extension is the same as the cost of a click on the title or display URL of the ad it shows. The clicks are charged when a person clicks on any of the price extension items. But, clicks on the mobile drop-down to enlarge the carousel are not charged.
Price extensions give visitors more chances to click, but you won't get charged for more than two clicks per impression. Besides, if somebody hurriedly clicks on more than one link while seeing an ad, this may catch as an invalid click so that you won't be charged for the second click.
Benefits:
These are a few reasons to consider adding price extensions to your ads:
Price extensions showcase your business's offerings in an interactive format user can scroll through.
When people click or tap a specific item on your price menu, they go directly to it on your site.
You won't need to make new text ads or edit your old ones.
You can change your item names and description whenever you want so that you can keep them up-to-date for sales and exciting offers.
If you wish to change your price extensions, you can do it without resetting their performance statistics.
Depending on which ads you want them to show with, you can add price extensions to an account, campaign, or ad group.
App Extension:
To link mobile or tablet apps from your text ads app extensions are used. People will click on your ad headline to visit your site, or on the link to your app. Providing access to your website, and your app from a single ad, an app extension is a great way.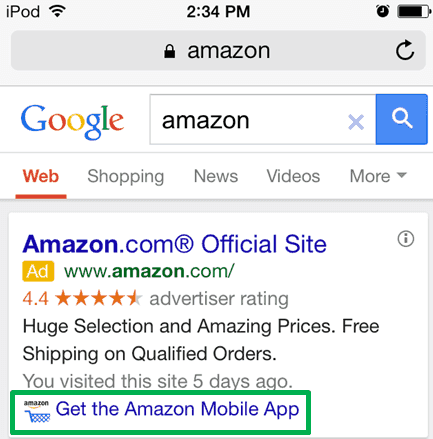 How it works:
App extensions display your mobile or tablet app by presenting a link to your app below your ad for better optimization of app Marketing. By clicking this link, it will lead the visitor to your app's description in the app store. Though, clicking on your ad's headline will still direct them to your website.
Adding app extensions are free of cost, and you'll only be charged for the clicks. Costing of clicks on an app extension of an ad is the same as the clicks on the headline of that ad. Means, you'll be charged the same price no matter which link is clicked on the same ad.
Benefits:
When an app extension appears you can see how many clicks you receive on each part of your ad, such as clicks to your ad's headline compared to clicks on the app extension. Split these statistics by campaign, advertisement, or ad groups.
Creating an extension for each app store, Google will display the store link that correlates with to the customer's device. So if a customer uses an iOS device so they'll see your Apple App Store link. Google will also show the app extension link that correlates with to a customer's device type, for example, if your app runs only on tablets, then Google won't display that app extension link to a consumer using a mobile phone.
Without resetting its performance statistics, you can edit your app extensions.
Only one app extension is displayed per text ad. You can still create multiple app extensions, one for each app or app store.
Review Extension:
Nothing is more significant than getting a good review, and customers like to see them too when they search for products and services online. If you want to share those write-ups, awards, or third-party rankings with possible customers in an additional line of text below your ads on Google Search, you can do with review extensions.
Review extensions let customers know that a valued third-party source agrees. And by adding a quote from a positive review, award, or honor to the text beneath your ads gives likely consumers one more reason to click.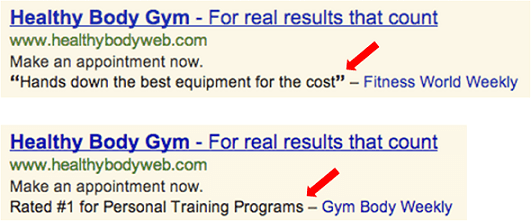 How they work:
When you are creating a review extension, you will choose and enter your own quoted or rewritten review. You can use a revised or exact quote, as long as it's assigned and linked to the published source.
If you're already using a quoted or rewritten review within your ad text, adding a review extension and moving the review text there gives you more room to promote your business or products. With all extensions, reviews won't appear every time. Multiple factors affect whether your review can show, including your bid, available space on the search results page, ad relevance, and other extensions or information.
You'll be charged for a standard CPC (Cost per Click) for the clicks on the ad itself but won't be charged for the clicks on the reviews.
Most importantly review extensions will only display on desktop devices and  Google Search Network and not on mobile and tablets devices or  Display Network. This extension is not available for shopping ads.
Automated Extension:
To get more good ads and more chances to win new customers' automated extensions are used. If an automated extension anticipates improving your ad's performance, AdWords mechanically creates and shows it below your ad. Most automated extensions are suitable to display with all ad types, but only some shows on desktop and laptop computers.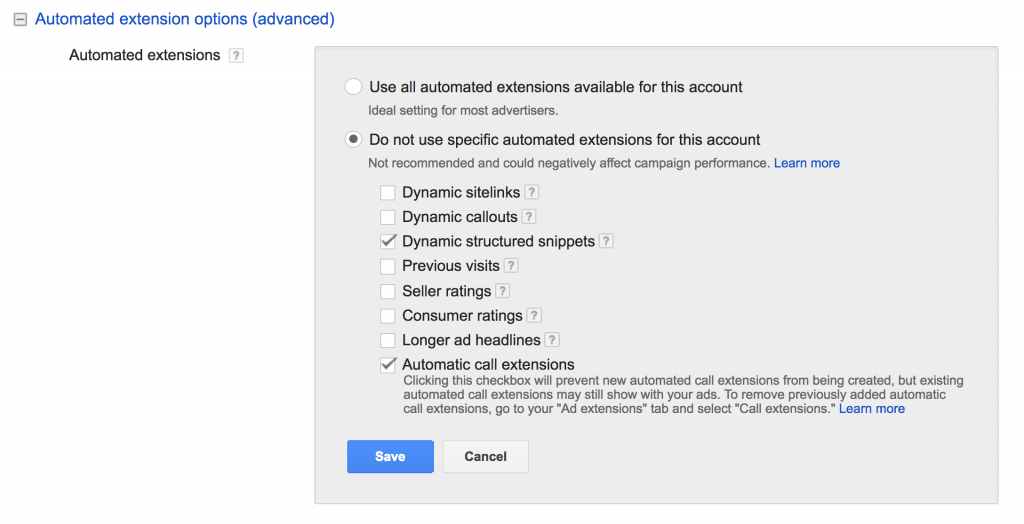 How they work:
It's free of cost when extensions show with your ads, but you're charged as usual for clicks on your ad, and for some interactions that extensions provide. Extensions improve ad performance, which makes your ads likely to be clicked. AdWords don't charge more than two clicks (per impression) on each ad and its extensions. Automated extensions are well-matched with campaigns and ad groups that too use manual extensions.
We recommend you to use manual extensions instead of automated extensions that suit your business. The extensions mentioned above should be used wisely that suits your business so that you can increase the crowd to our website and make visitors the potential buyers. Unnecessary extensions could make your ad less interesting for the visitors looking for the product. We personally recommend you to use manual extensions instead of automated extensions that may suit your business.