Let's say you created a great content. You ensured it is optimized for search engines, then you posted it on your blog, and on your social media accounts.
But the views aren't where you'd like them to be.
Before getting to any conclusions, know that getting traffic is a common problem for most marketers. There are many ways to get those numbers up, and one of them is content syndication. Content syndication stands out because it's cost-effective, improves SEO performance, and helps you boost brand awareness.
Of course, it helps you only if you do it right. Or else, you are at risk of being outranked by other websites with your own content. Additionally, you end up negatively impacting your SEO performance if you pick up the wrong website to syndicate your content on.
Content syndication is a central element of modern growth marketing and it always has been. But the nature of it has changed over the years.
Content syndication has evolved along with the content formats that fuel it.
It's never late and is always an exciting time to begin your journey in content syndication.
Here, we will discuss how you can use intent-driven marketing, account-based marketing, and other lead generation techniques for your overall content syndication strategy.
What is Content Syndication?
Content syndication is the process where you publish your own content on a third-party platform with the goal to reach a larger audience.
In other words, content syndication means republishing the same piece of content be it an article, video, infographic, etc. — on different websites.
Publications, be it a big or small, syndicate contents because it helps them give new and fresh information to their readers.
The original authors also benefit from this since their brand is automatically presented in front of a new audience. It's a win-win for both.
An important note, if you think content syndication is somewhat similar to guest posting, let's be clear that it is not at all similar to guest posting. Guest posting means you curate a completely new piece of content and submit it on that website.
Where syndicated content is that same piece of content that is republishing as it is on the other website, of course with permission of the website owner, on other platforms.
You can also differentiate whether the content is a syndicated content or a guest post. A syndicated content usually has a mention of where this content was posted originally. Typically, publications mark syndicated pieces with text like:
"This article originally appeared in [Original publication + Link]."
OR
"This article appeared in [Original publication + Link] and has been published here with permission."
OR
Originally published at [Original publication + Link]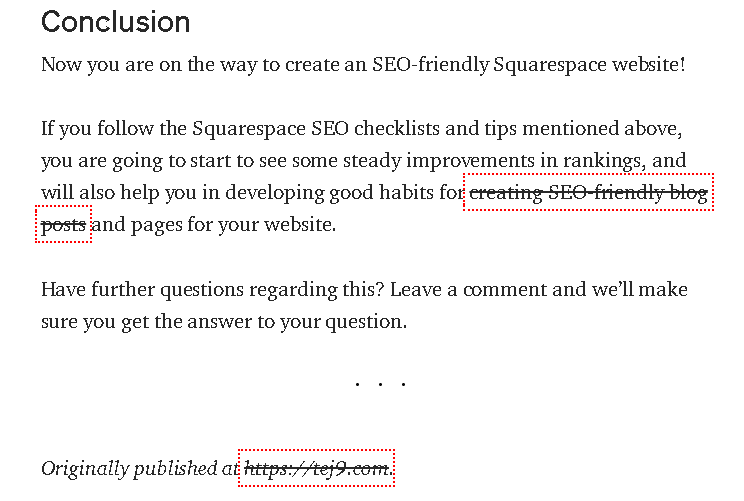 Types Of Syndication
1. Syndicate Third-Party Content On Your Blog
As a publisher, you can always ask another website's permission to feature their content on your blog.
Ideally, your blog should only contain about 10% syndicated content. Even though it is not original, but it's always a great idea to feature content that benefits your readers and if it's worth their time.
If you run a multiple-author blog, it becomes challenging to get fantastic authors to commit their time to write a post for you. Anyone who is a big deal influencer in your industry usually won't have much free time to write a unique blog post just for you.
So instead, asking to feature an influencer's existing content is much more reasonable. They will probably feel honored that you want to publish their article on your blog.
If you contribute guest blog posts to third-party sites, republish those too on your own blog. Adding syndicated content will diversify your content, and It brings something valuable and new to your audience, even if it isn't new to the web.
2. Content Syndication Of Your Blog Content On Other Websites
As a publisher, you can contact other partner websites to syndicate your content on their website.
These deals usually come in one of two flavors:
All Syndicated Content: In this you don't need to create an original content for your partner. They simply republish your content.
Syndicated and Original Content: You agree to a split which is acceptable to both sides. For instance, you both decide that one month you provide them syndicated content, and the next is an original piece.
Usually, publishers make these types of deals provided the quality is there. After all, they know you're busy – and who says no to free content!
However, those publishers will usually only honor the deal as long as the content you're giving them lives up to their expectations. It won't be worth the time and effort if your syndicated content is not generating traffic or engagement.
3. Publishing Content On Sites That Syndicate Their Content
If you are a regular contributor for a website that syndicates its content then you can also get your content syndicated.
For example, if you are a columnist at Inc. magazine. So that means you are publishing your content to a content syndicator.
Inc.'s content also ends up on major partner sites like Slate, Business Insider, and TIME.
4. Self-Service Syndication
You can also syndicate your own content. And for that Medium, Business2Community is a great place to do some self-service syndication.
Where Should You Syndicate Content?
Like any other marketing strategy, your content syndication success will be determined by the tactics you use.
The first step in achieving your syndication goals is to decide upon the source of your content.
This will more than likely be your proprietary content, but content published elsewhere (such as a corporate or executive LinkedIn page) is also appropriate and valuable.
Search Engine Journal, for example, allows guest bloggers to syndicate their posts, provided they wait two weeks after the date of publication.
Look for specialized content syndication players that have experience in helping their clients find the best possible outcome.
How To Do Content Syndication?
Republish your best-performing or latest content on bigger websites, that has higher authority and more readers than yours.
You can also syndicate your old content on websites having roughly the same audience and level of authority as yours.
Guest post on a bigger publication and syndicate later on your website, Medium, or LinkedIn.
Get picked up by websites that naturally syndicate content.
Use paid platforms like Outbrain and Content.ad to get your content on major publications.
How Does Content Syndication Work?
There are easily over 50 companies that provide content syndication as a service.
For most, the process is fundamentally the same.
These companies operate on a Cost Per Lead (CPL) basis.
They customize targeting for each campaign with the aim of presenting content only to the most suitable audience.
Typically, the more specific the targeting, the higher the CPL.
With any partner, the goal should be to test their capabilities by starting with a small budget, and then evaluate and repeat to optimize results.
The best partners will help you do that work, and use their experience to help minimize risk and maximize yield.
Many syndicates do not provide service support.
However, the industry is evolving.
Growth enabled by content syndication must go beyond publication.
Intent marketing and account-based marketing approaches utilize the reach that content syndication provides.
They bring that prospective audience down the funnel by incorporating precision targeting methods that focus on prospects that are ready to buy or working within targeted businesses.
There are also other forms of content syndication, such as:
Earned Syndication
Some blogs and news outlets use syndicated content as the backbone of their editorial output.
As a content creator, you simply need to reach out to the publication and see if they are interested in republishing your content.
Social Syndication
Social syndication is where two companies agree to promote each other's content on their respective social media channels.
This is another straightforward tactic, as sharing on social media requires little effort and most businesses have connections to peers and partners who will be willing to cross-promote.
Co-Marketing
This is when two or more companies collaborate on a joint promotional effort.
All parties share the effort of creating and promoting a piece of content and then share any leads that are generated from co-marketing.
Conclusion
Content syndication is the fastest way to make your content work for you, even at the earliest stages of your content marketing efforts.
Not only is this a way to generate revenue and directly impact your business's bottom line, but it creates longstanding and ongoing equity by elevating your brand.