The past decade has seen a hike in social media user base which makes it a potent platform for marketers. In 2019, it is expected that one social media platform is going to dominate the Digital Marketing industry. That platform is Quora. Founded in June 2009 this question-answer platform has gained increasing popularity year by year. Quora boasts of having 300M+ unique monthly visitors.
Well, Quora not only provides a vast user base but also provides some advanced marketing options. In this advanced guide to Quora Marketing, we have described ways to exploit those options and make maximum profits out of it.
Follow these steps, and you are sure to become a master in Quora Marketing by the end.
Quora Marketing Strategy
Answer the top and most popular questions on Quora
It is no secret that to build your authority on Quora; you need to answer as many questions as possible. But you can further gain benefits of this strategy by answering the most followed and most viewed questions.
How would this benefit you?
Well, answering most viewed or followed questions would give more exposure to your answers, and thus your chances of getting upvotes and shares will also increase. Not only this but if you aim to increase your website's traffic through links in your Quora answers then it is apparent that more people will visit your site if more people are viewing your answers.
How to find the top or most popular questions on Quora?
There are many paid software available that can assist you in finding the top questions on Quora. But here, we are going to tell you three of the most effective ways to find top questions and that too without spending a single penny.
1. Using inurl:quora.com
Well, this one is quite simple. This is a Google Query and gives satisfactory results. What you have to do is –
Type inurl:quora.com in the Google search box and then write your Topic.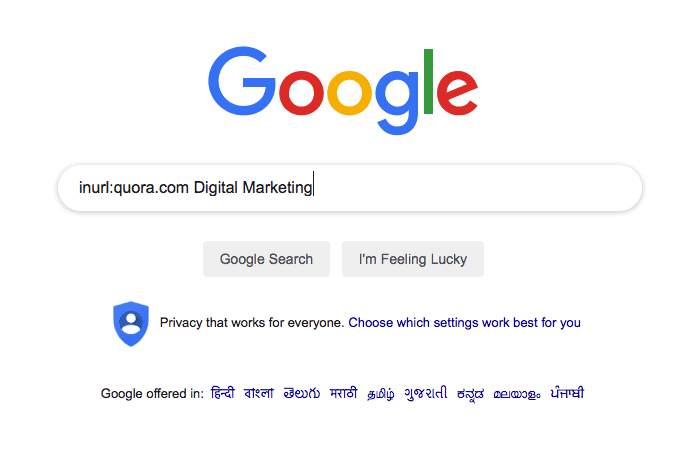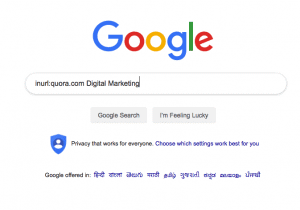 After this, tap the search option and you will get a list of top questions related to your topic.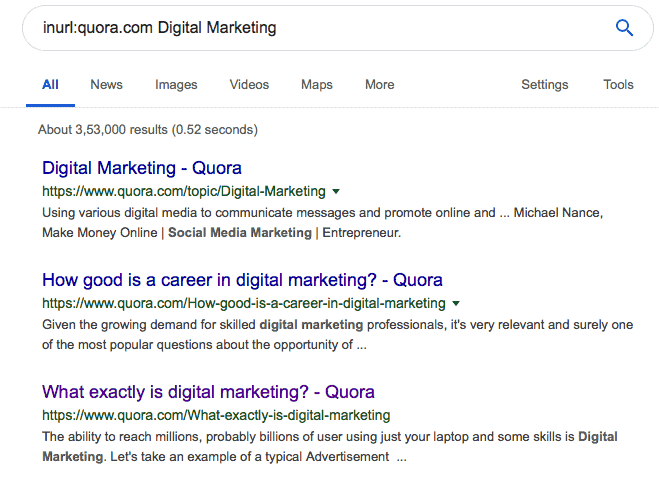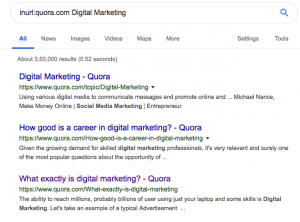 This two-step process is an excellent option to start with. But there are advanced techniques then this which you will find below.
2. Using Quora Search Box
This method is a research-based method and can give you great results if appropriately implemented. What you need to so is –
Enter the keyword that defines your niche in the Quora Search Box.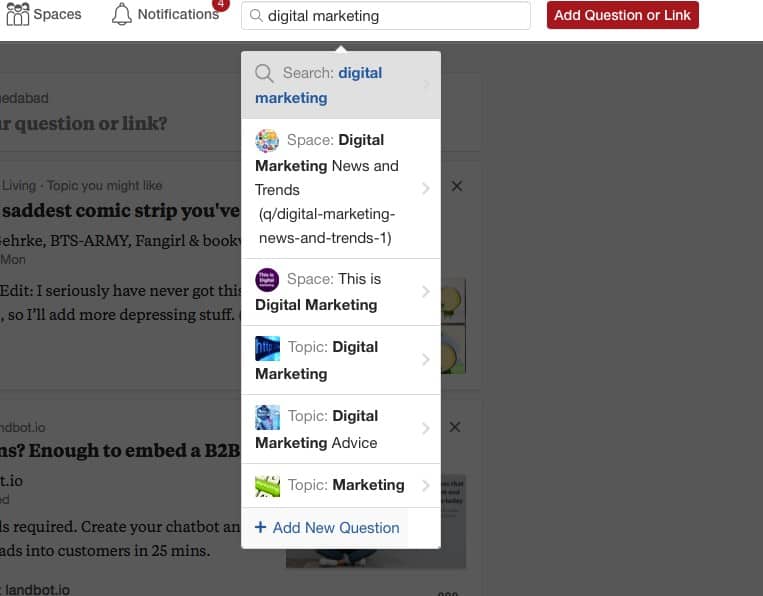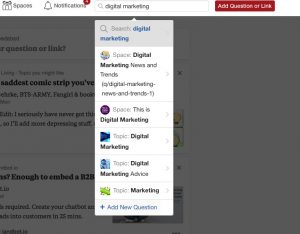 You will get a list of results.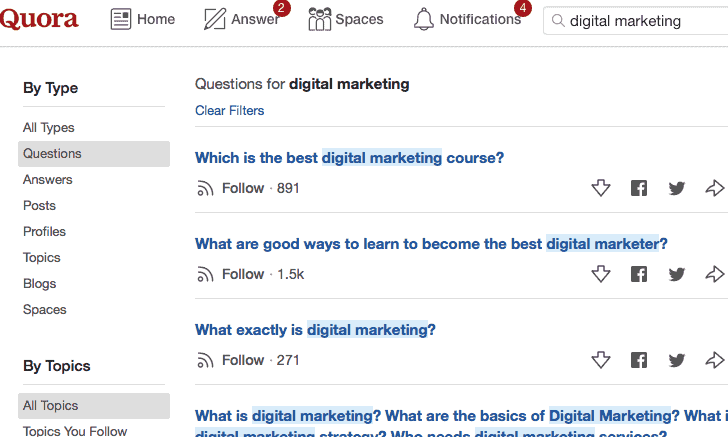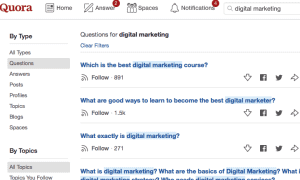 Now, you can sort the results according to Topics, Questions, and Answers.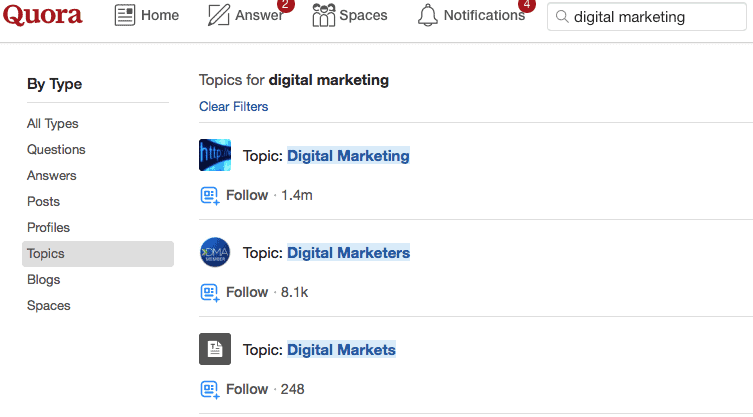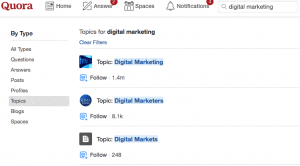 You will get a list of topics around that keyword.
Click on any one of them.
When you open a Topic, you will find an option of most viewed writers.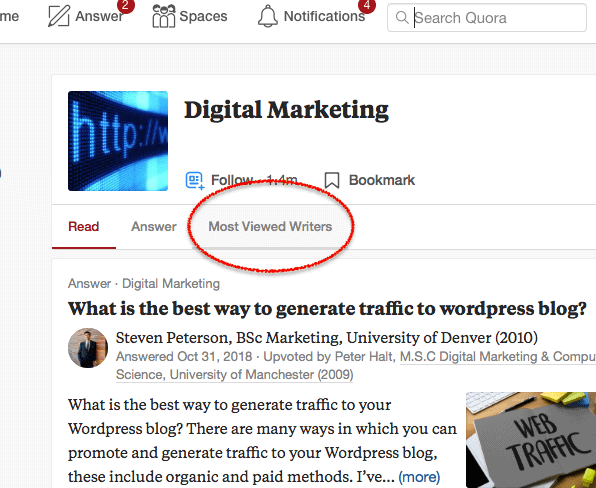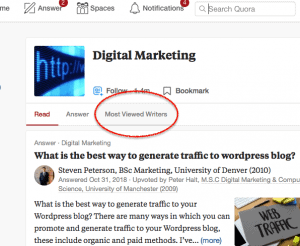 Click on it, and you will find a list of writers.
Open their profiles one by one and make a list of questions answered by them.
Repeat the process for other topics too.

Sorting based on Questions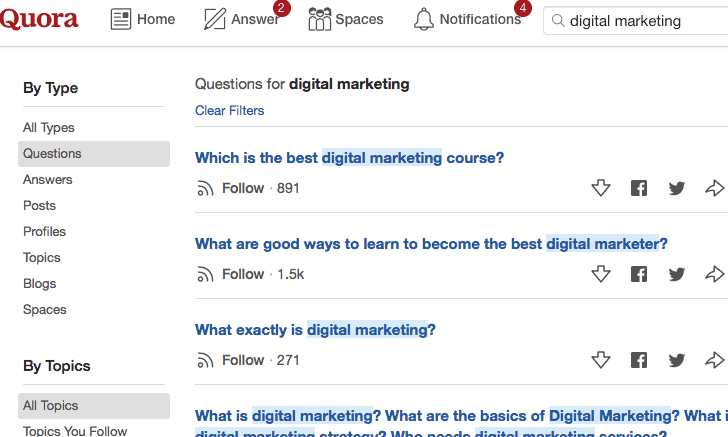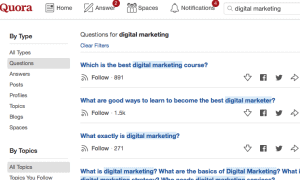 You will get a list of questions around that keyword.
From that list note down the questions that have the maximum number of followers.
When you answer a question then the followers of the question get notified and this way you can gain views for your answers.

Sorting based on Answers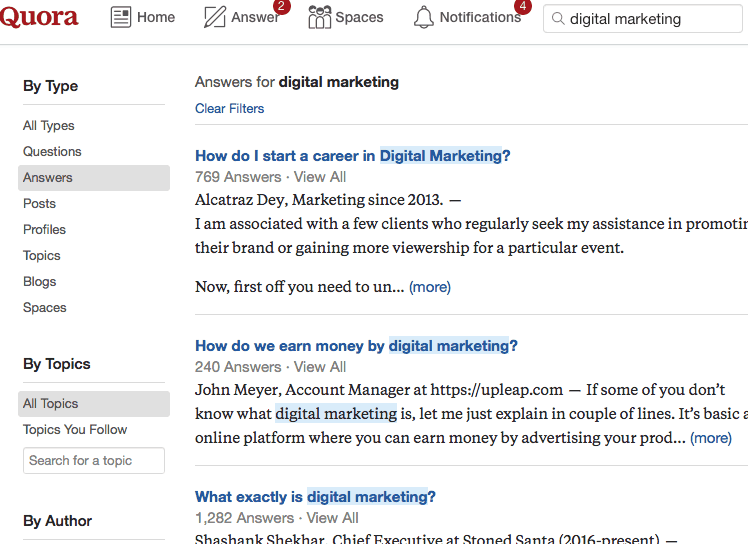 You will get a list of questions around that keyword.
Now the difference is here you will get a list of questions that are most answered for a particular topic.
If more people are answering a question means there is great engagement on that question. This can get more engagement for your answer too.
The method is quite long, but it is data-driven. So you should use it. But then if you want to save yourself from all this hassle, you can take the help of Quora's Ad Manager. The method is a bit complex but is most reliable and is the least time-consuming.
3. Using Quora's Ad Manager
This method can be used only if you have a Quora Ad account too. Now, if you already have a business account then –
Tap on your Profile Icon on the top right corner.
Select the Ads Manager option from the pop-up menu.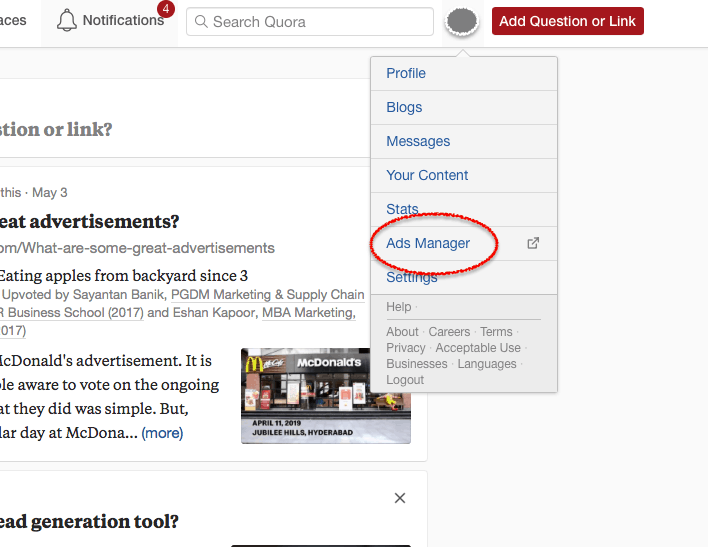 Click on the Create Campaign option on the top right corner.

Create a campaign named let's say "Test".
Choose any Objective and Conversion Type and a minimum budget of let us say INR 100/-. (Your choice does not affect the results.)
Click on Continue.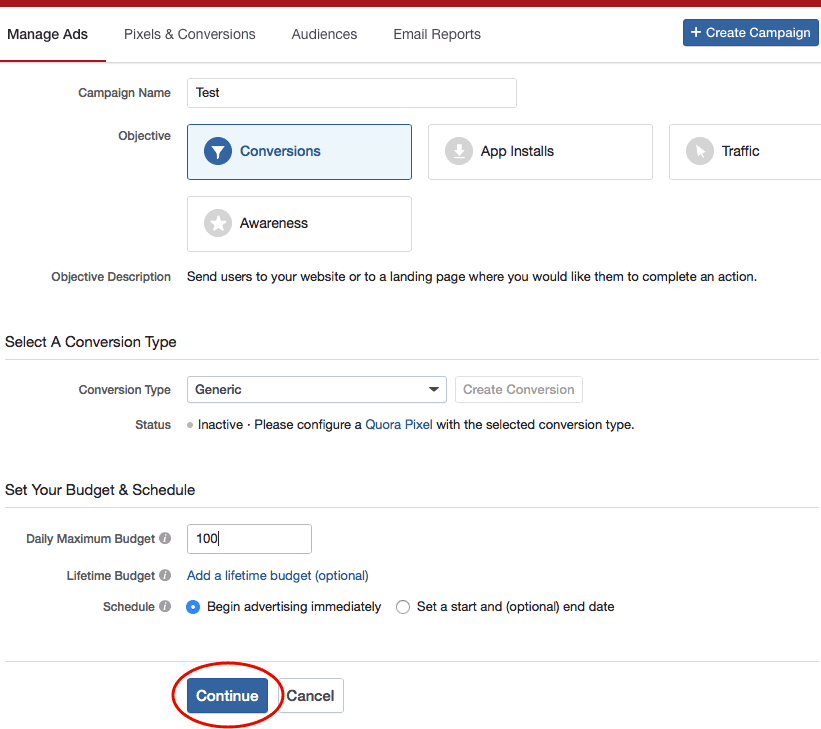 Further, you will be asked to create an Ad Set.
Give the name "Test1" to your Ad Set.
Select "Question Targeting" as your Targeting Type.  
Tap on "Add Questions".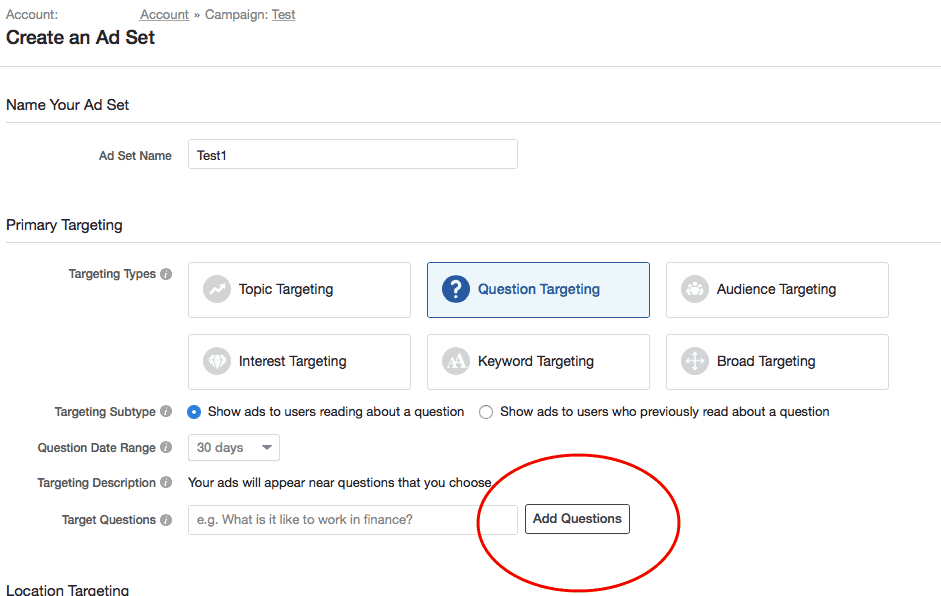 Now type a keyword around your niche.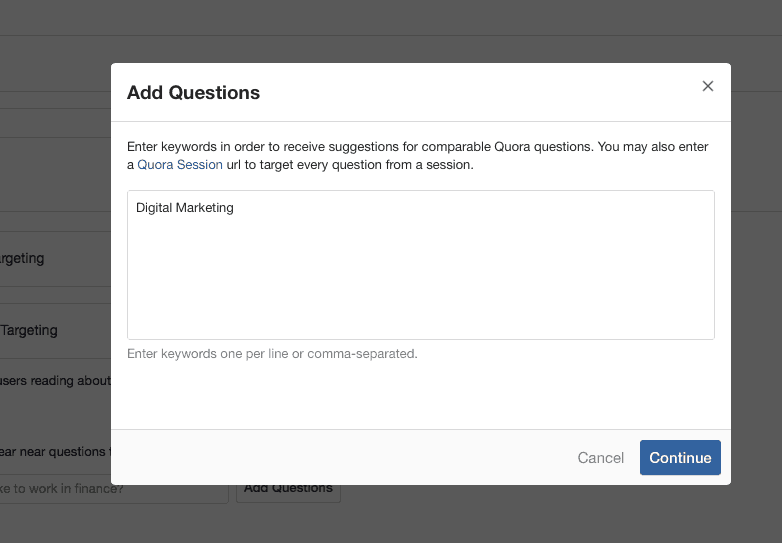 Next, you will find all the "most viewed" questions around that keyword.
Make a list of all those questions and then answer them from your profile.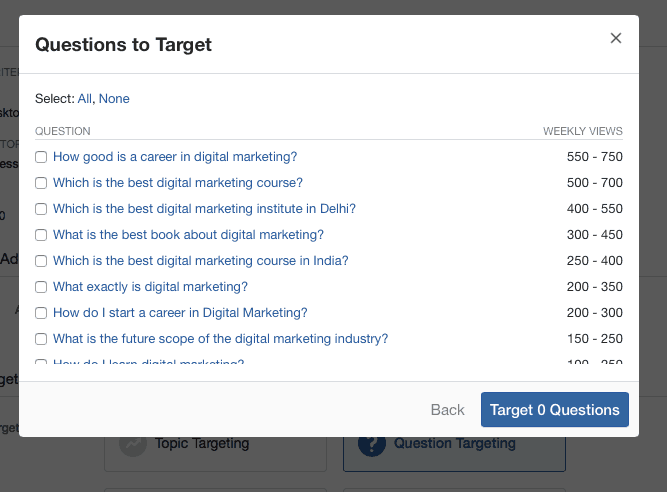 You can create the full Ad Set, but you won't be charged until you give your Bank Details. This way you can get the top questions from Quora itself without paying a single penny. This is the most reliable method to find top questions on Quora.
Promote your Blog with Quora
The basic marketing guides for Quora tell the marketers that there is only one way in which you can promote your blog is by answering questions on Quora and inserting your website's link in the end.
We advise that you should insert your blog website links occasionally and wherever it is relevant otherwise the Quora moderation team may ban you. One another easy way to promote your blog through Quora is –
Use the in-built Quora Blog feature.
Tap on your Profile Icon on the top right corner of the page.
Select the "Blogs" option from the popup menu.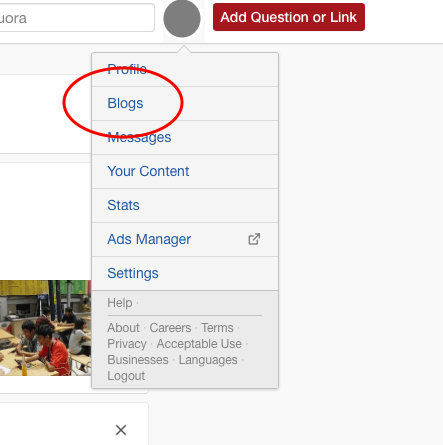 Then you will be directed to a page where you will be able to see all the blogs that you have created.
Now, you will find a "Create Blog" option on the right side.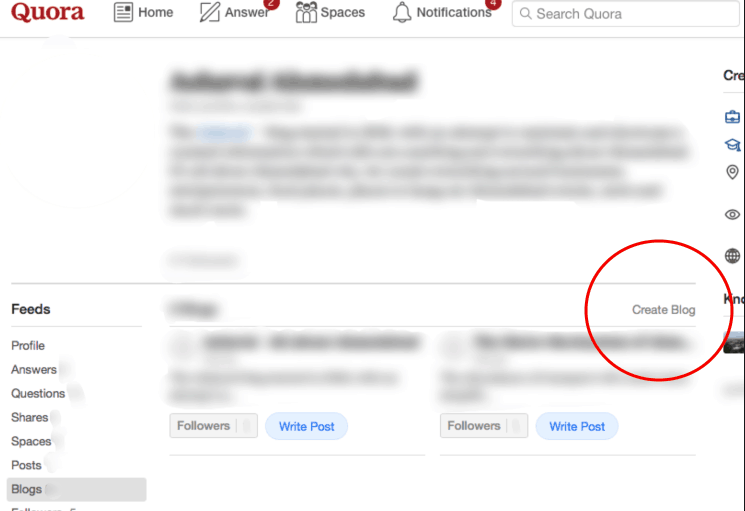 Click on that, and you will be directed to a form for creating a blog.
Enter an appropriate Name for your blog and then enter the URL you want to show.
Give a short description of your blog and select "Create Blog" option.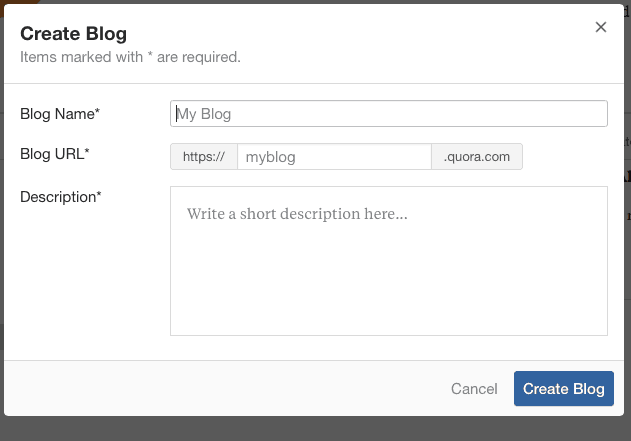 Now, you can start writing posts on this Quora Blog.
The trick here is that – Do not provide the complete information in the blog post of this Quora Blog.
Write a short description and provide some details of the title and then give a link to your blog post on your Blog website.
They will lure the readers to visit your blog website, and thus more traffic will be generated.
Also, Quora gives an option to other Quora users to submit their articles to your Quora blog.
This way you can have a contribution from other Quora users and enhance your blog and at the same time contribute to other Quora Blogs and get a backlink to your blog post on your Blog's website.
This technique will boost engagement on your Quora profile, will generate traffic for your blog, and help you collect quality content from other contributors as well.
Create Brand Awareness with Quora
Quora is a great platform for creating awareness around your brand, and here we have described two methods to do the same.
Promote your Quora answers
In November 2018, Quora introduced a feature of promoting your answers. Now, you can very well use this feature to promote those answers that have a link to your website or talk about your brand and services.
Follow the steps to know how to promote an answer on Quora –
Go to the answer you want to promote.
Just below your answer, you will find an option "Promote". Click on that.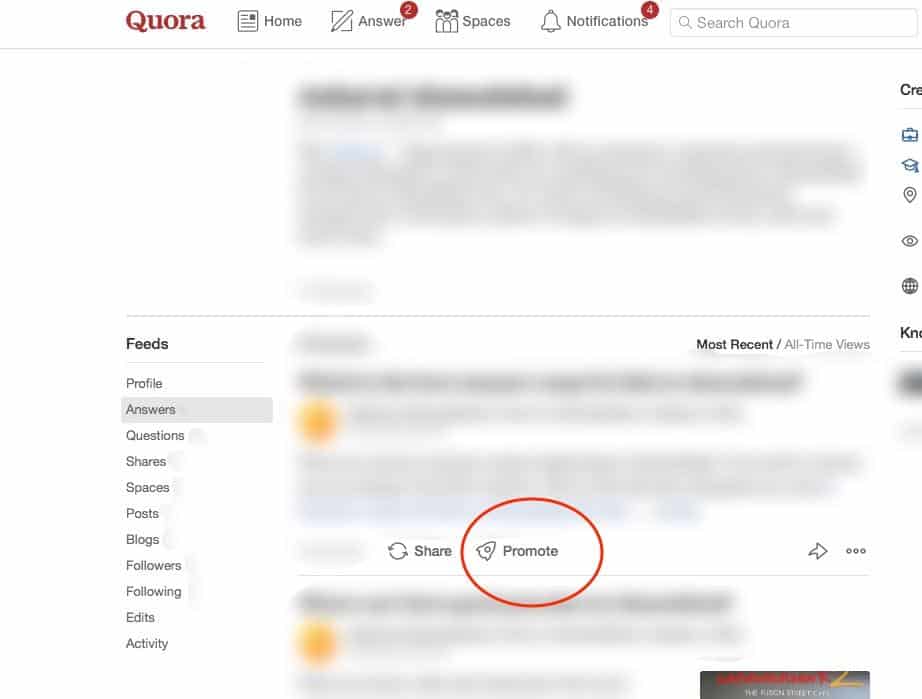 A dialogue box will appear which will and will ask you details regarding how you want to promote your answer. It is just like creating an Ad set copy.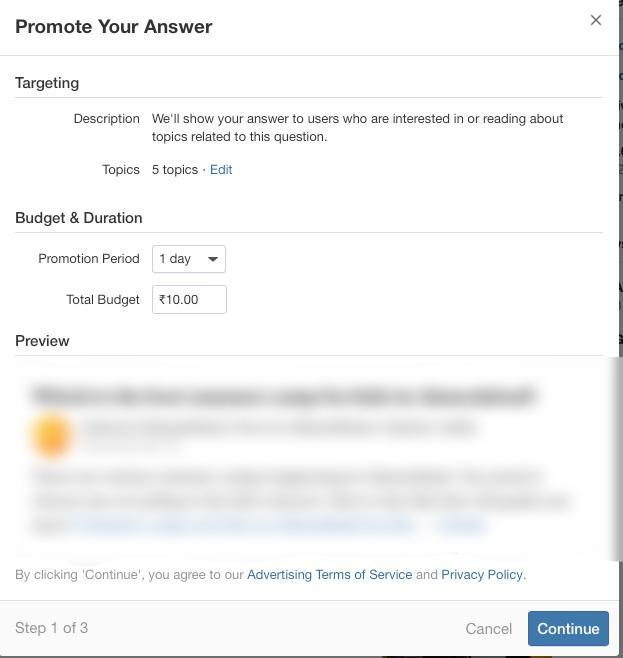 You can add or subtract the topics that are related to your answer.
You can set the promotion period and the total budget and see your Ad preview as well.
Once done Quora will ask for your card details, and then you are all set to promote your answer.
The answers you promote will be shown to the people who are interested in or read the topics you had selected while creating your Ad.
Create a topic for your Business
This is an easy and very effective technique. You need to create a topic under the name of your business. To do that you will have to –
Search for your Business Name in the Quora search box.
Sort the results by Topic.
After doing this Quora will give you a dialogue box on the right-hand corner which will provide you with an option to create a topic.

Click on that. A dialogue box will appear asking you the "Name" and "Description" of the topic.
Fill in those details, and your topic will be created.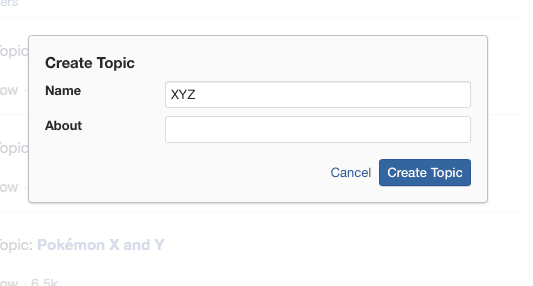 Now the only thing that you will have to do is ask questions related to your topic, send answer requests for those questions, and do activities to increase your topic's follower base. This will create brand awareness and engagement on your profile.
Use Quora Pixels
Installing Quora pixels in your website's code will help you create audiences for remarketing. Also to simplify this, Quora has now integrated with Google Tag Manager. To know how you can set up Quora pixels optimize your marketing costs follow the steps below –
Open Ads Manager, by clicking on the Profile icon on the top-right corner, and then select Ads Manager from the popup menu.
You will be directed to your Ads account where you will see a tab – Pixels and Conversions on the top left corner. Click on that.

Now, you will see an option – Setup Pixel in the middle of the screen. Tap on that.
Choose the second option from the dialogue box – Install with a Partner.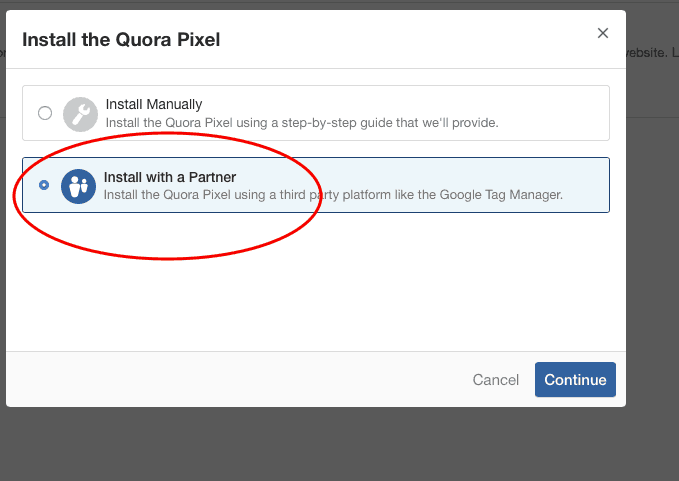 Copy your Pixel Id from there and click on Done.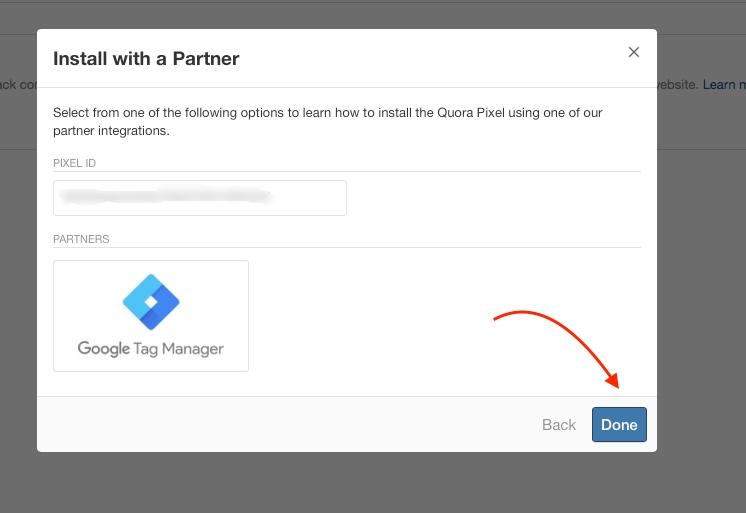 Now open Google Tag Manager.
Open the "Tags" tab on the left side and select "New" and then "Tag Configuration."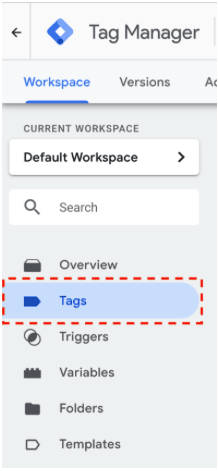 Now, choose "Quora Pixel" and paste your pixel ID into "Quora Pixel ID" field and select "Page View" to set up the base Quora pixel across all your site pages.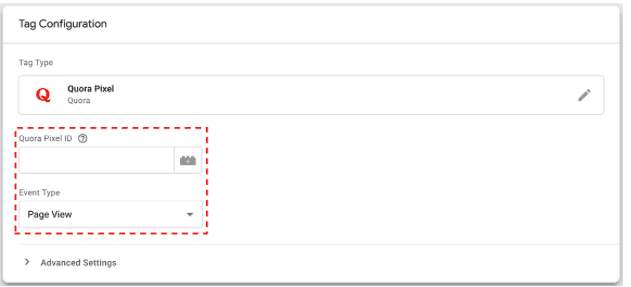 Now, with this, you can create events and track down their audience. You can retarget this audience on Quora and thus have higher conversions with lesser spendings.
Use Auction Insight Metrics – the latest and advanced feature of Ads Manager of Quora
Quora now offers an Auction insight for all your ad sets which will help you optimize your Ad set. The metrics provided by them are calculated on the prior week auction data. Quora gives the following metrics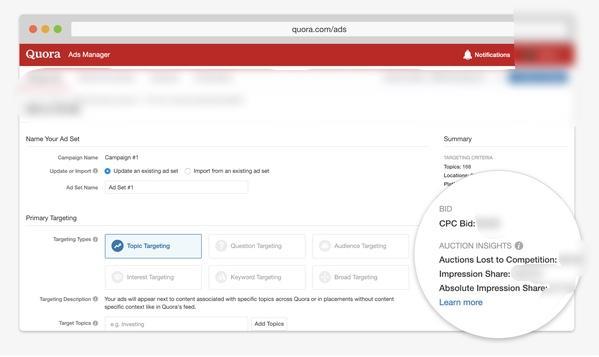 Auctions Lost to Competition –  This will tell you the percentage of auctions that your Ad set entered but could not win a slot. The Ad set for which this metric is calculated will be the best Ad set in your account for that particular Auction.  
Impression Share – This will tell you the percentage of auctions where your Ad Set got a slot.
Absolute Impression Share – This is the percentage of auctions your Ad set entered and won the top slot.
By comparing the Impression Share and Absolute Impression Share you will know how many auctions your Ad set enters and does not gets the top slot. Do keep a regular check on these metrics and improvise your Ad creatives and bids accordingly.
Well, these were five advanced tips for Quora marketing. We hope you optimize your marketing strategies effectively using these tips. Also, Quora has started a Grow with Quora Podcast. We would recommend you listen to it regularly.
Do let us know in the comments section below if you think that we are missing out on any vital information worth mentioning.
Stay tuned for more such digital marketing tips. Have a nice day!