Can you see a Facebook messenger sign on the bottom right corner of the page you are in? Does a question come to your mind asking what exactly is it? That is simply a chatbot! A robot that can chat as humans.
The industry today is moving towards making itself more customer-centric and creating extra ease for their customers. Imagine, if you could simply ask a bot to place an order for say a "2TB Seagate hard drive" without any hustle to go through the entire process of ordering online.

LEGENDARY, right?
It is believed that by 2020 more than 80% of brands and businesses would have a chatting robot or a chatbot in place for customer interactions, claims Business Insider 2016.
So what basically are chatbots?
By definition, chatbots are computer programs that can carry a conversation with the users over Internet. They are an effective solution to strengthen the bond between brands and their clients.
The main idea behind chatbot is simply targeting the space where your consumers are – "on the messaging platforms"
More than 1 Billion users are active monthly on messaging platforms  & more than 50% of users prefer to interact with a business through messages (Facebook)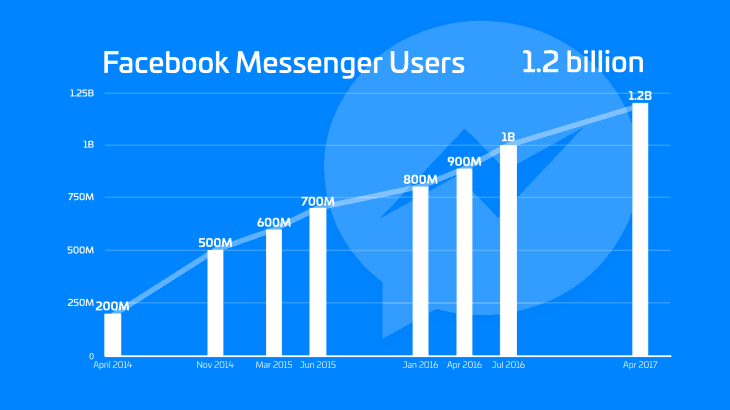 Image Credit: TechCrunch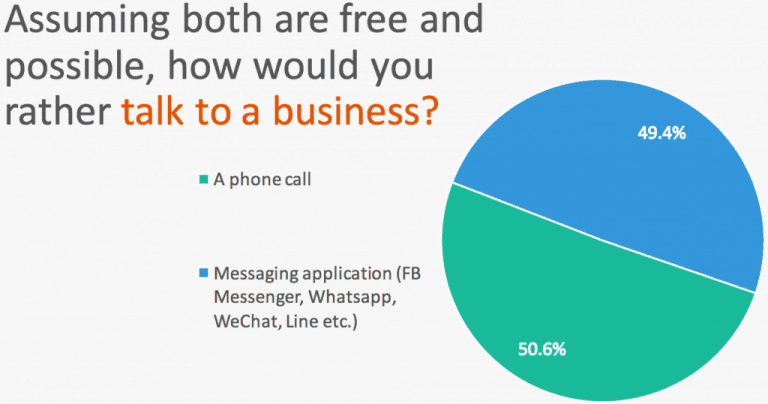 Image Credit: GetVoIP
It all began in April 2016, when Facebook launched a Bot platform on Messenger. Chatbots combined with Artificial Intelligence revolutionized the customer experience by boosting loyalty and customer engagement.
Fast forwarding it to 2018, chatbots are now trending. It is creating a "FOMO" for the brands.  According to the bot expert Molly Pittman, "Now is the time to hire someone to man your chat."
What can a bot exactly do?
Well as a starter, a chatbot can make conversation with customers flawless. The availability of a manpower 24*7 to give a great customer experience would not be of a need any more, since chatbot can do the same (of course there are glitches but hey, exceptions are always allowed!).
A chatbot can make a businesses or brands life easier by booking appointments, taking surveys, generating leads, creating awareness, creating a blast if there are any new offers, answer repetitive questions & much more!
And a customer today loves messaging the brands because of instant replies to their queries, to avoid the hassles of going through lakhs of products for online orders and of course on receiving offer coupons 😉
Why are Chatbots a big deal?
Frankly, we as a digital agency had the same concern when we first heard about the bots. But with over time research on this we find it a great platform to connect with all.
Talking numbers first:
Facebook has more than 50 Billion businesses active currently (Facebook)
More than 1 billion messages are being exchanged with businesses on Facebook every month (Facebook)
When the numbers are huge, the output is equally great. Big brands have already started to make the maximum use of the bot successfully. See how Whole Foods uses it to solve cooking queries of customers flawlessly.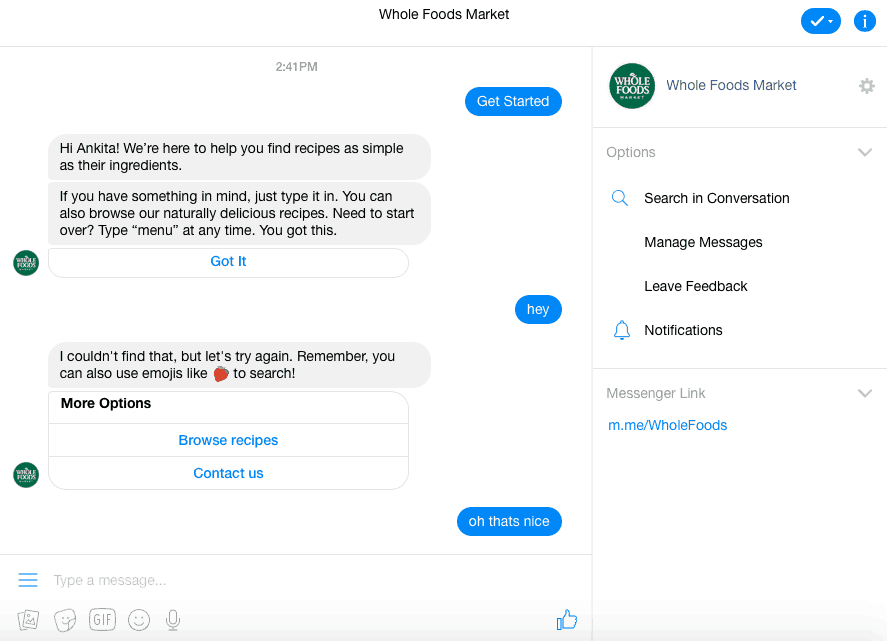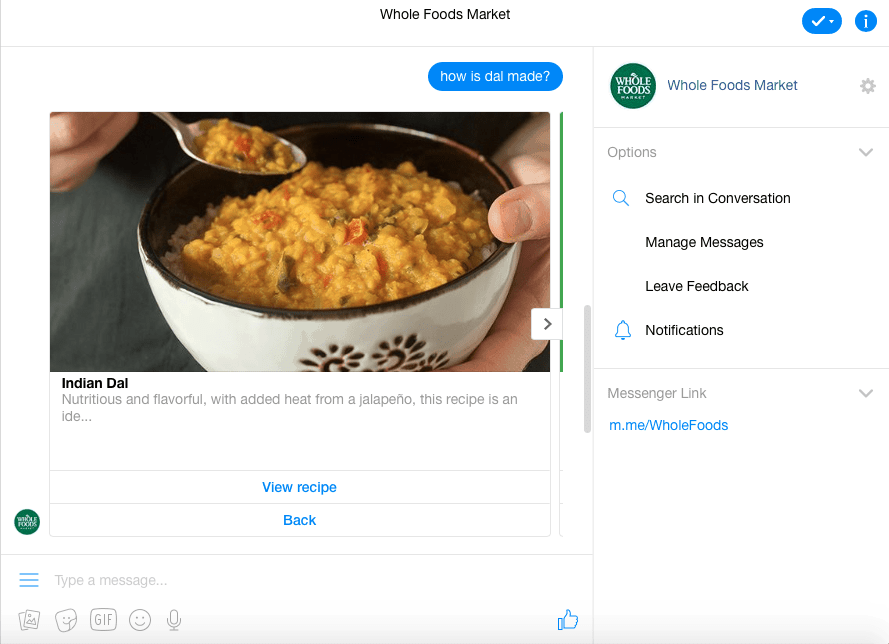 Not only whole foods, but a lot of brands have implemented the bots creatively, like for example Casper uses it to help insomniacs get through the night.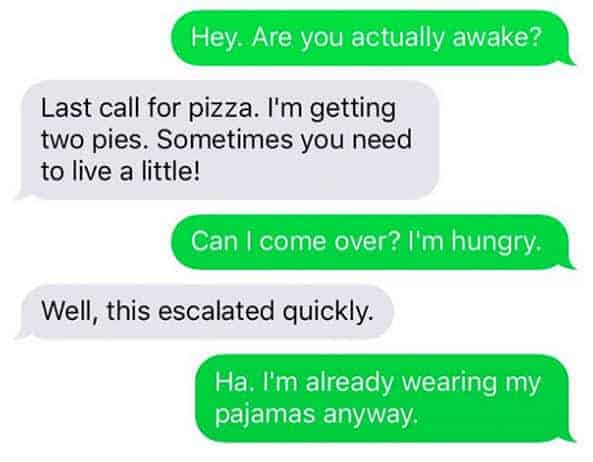 Image credit: casper
Who is the bot for?
The bots are not only for the big organizations. It is for all big, small and medium sized organizations to help engage customers real time. The key is to use it in an efficient way that can give a win-win situation to both the customers and the brand.
What about email campaigns?
Have you heard about email fatigue? Yes it's a real thing. Customers now are not interested in giving out their email id's any more. The top reason people say they unsubscribe is, "I get too many emails in general," says a survey by MarketingSherpa, titled the "Customer Satisfaction Research Study (Dec 2016)."
Unsubscribing from the email lists is one part of the discussion, the other major being the less open rates.

Image Credit: GetResponse
Chatbots are crushing the open rates of email. A typical email open rate is 20% compared to an incredible 80-90% view rate on Messenger. (Search Engine Journal)
How to build a chatbot strategy?
There are various resources currently present in the market helping brands to get started with Messenger Chatbots. Mobile Monkey is one such platform that Tej SolPro implemented.
Let's get started?
Define a goal: List down the objectives for which you want to implement a chatbot. Whether it is lead generation or simply branding, whether it is spreading awareness or offering discounts. Every objective will be worked out in a different manner.
Create a message flow: Once the goal is finalized, create a flow of messages. Keep it simple and to the point. The best strategy to use here would be creating a flow that eases the conversation for users with just a click. Check the bot of Mobile Monkey. It chats with you just like humans do.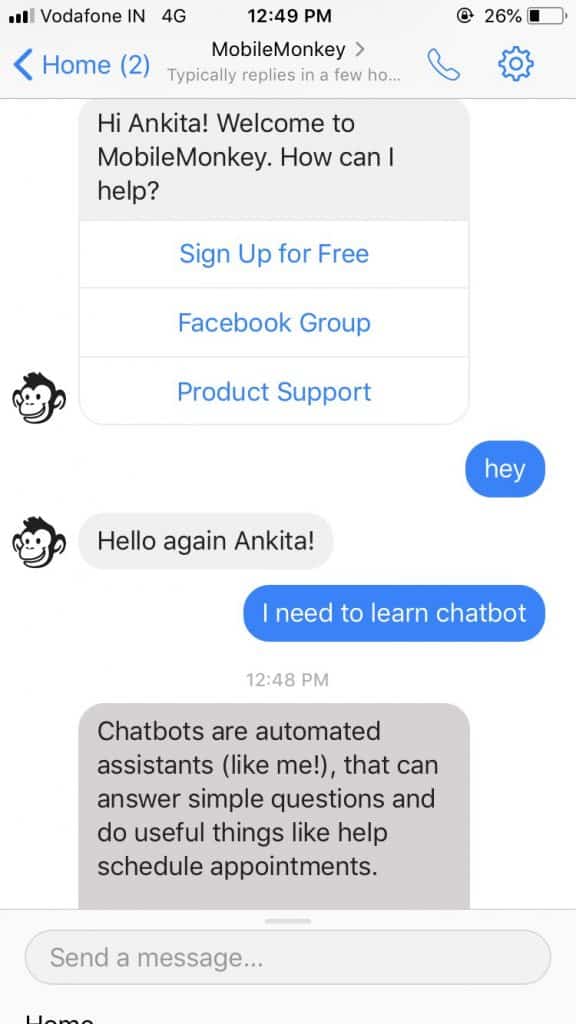 To start off, create a welcome message. You can add images here, as well as give options for the users to click.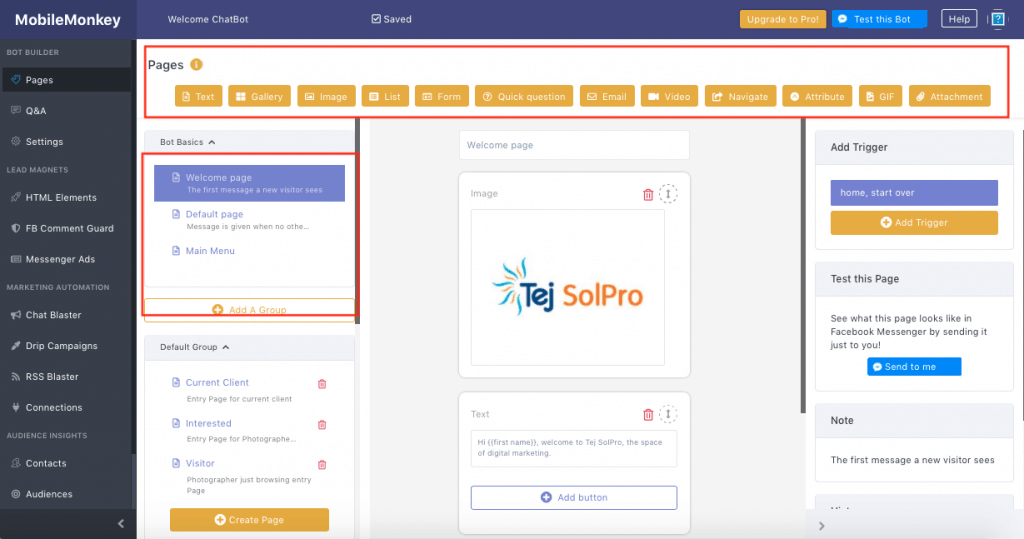 Next create pages to redirect the viewers to different pages.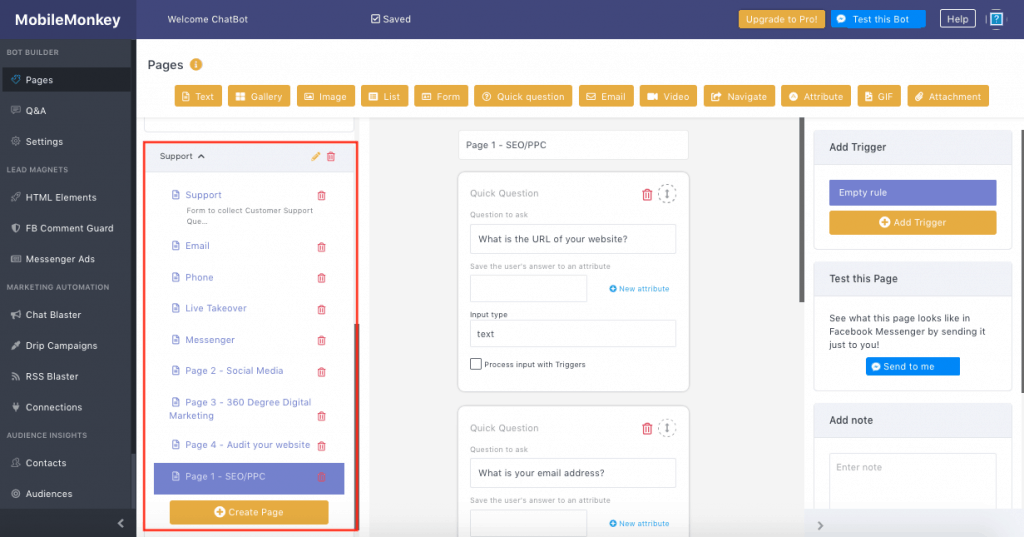 Identify phrases: In the "Q&A" section you can also add words or phrases for the bot to identify and replies accordingly. For example, save in a smiley when someone says "Thank you" and boom, your robot can act like a human.
Test, Repeat, Test, Make it Live!
Apart from making your life simple and generating leads at ease, Mobile Monkey gives immense options to perform different tasks. The feature "Chat Blast" can help an agency blast an information or an offer in their subscribers messenger directly. The platform also offers webinar courses for an agency to learn and implement chatbots in the most effective way.
Our take!
Great! So now when we have implemented our bots, lets see how we all do in future.
The chatbots, according to us, are still evolving. Many features are being added everyday. It runs on various trial and error before a bot can act like a human. Many problems are still arising with chatbots.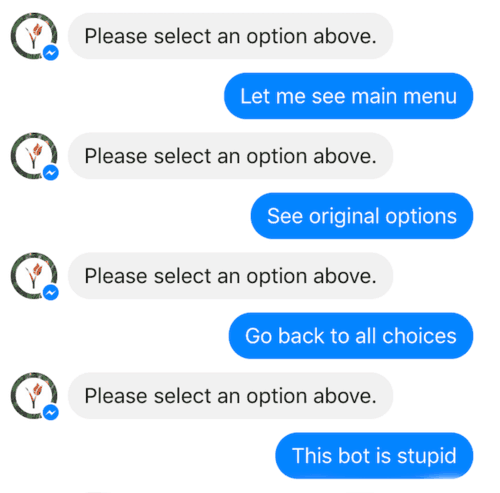 But once set up in the best way, we think the bots are UNBEATABLE. From generating leads to sales to awareness, there is nothing that a bot can't do.
They are the future and we can't wait to see what happens by 2020.