In 2017, retail eCommerce sales across the world reached $2.304 trillion, which was a 24.8 percent increase than the previous year, finds a report by eMarketer. Total retail sales were up 5.8 percent compared to 2016, reaching $22.640 trillion. The report also found that mobile was a key factor in driving eCommerce sales and m-commerce accounted for 58.9 percent of all digital sales, reaching around $1.357 trillion in 2017.
Now, probably you know that eCommerce is on the rise and rise, and probably you have already got your online store up and running, designed it well, implemented an intuitive UX, taken care of the SEO fundamentals, but let me warn you – you might still be lacking the most important ingredient – targeted traffic.
Given the hordes of choices available to eCommerce customers, driving targeted traffic and revenue is easier said than done. Fortunately, there are ways to increase your online traffic without a huge advertising budget. In this post, we will address some of the most effective and clever ways to drive eCommerce traffic.
1. Work with the Right Influencers
Influencer marketing has become an integral part of today's sales strategy, thanks to social platforms like Facebook, Instagram, Snapchat, Twitter, and YouTube. Influencers are thought leaders or industry experts who have a strong following in one or more online platforms, and also capture people's attention, motivate or influence them, start conversations, and build strong engagement. In short, when they speak, people listen. People look out for their posts for reviews, recommendations, trends, and suggestions.
Reach out to your industry influencers and motivate them to introduce your products to their network. Tools like BuzzSumo to help you search for these people.
However, before you reach out to them, you need to identify the right kind of influencers whose followers can become your target customers. For example,
Verify that they share content that is relevant to your industry or niche.
Ask your customers who they follow for new ideas and inspirations.
Search on social platforms – especially Instagram and Twitter – with hashtags relevant to your niche.
Create a list of potential influencers and start reaching out to them. Here is how you can get them to talk about your products on their social channels:
Send them some free samples and ask them for reviews on their timelines.
Create an exclusive offer or discount code for their followers.
Offer them a share of the revenue, when their followers buy your products using the code.
Remember, you must have an active social media account where influencers can tag you every time they review your products or speak about you. You can even engage with the leads actively by replying to their comments and messaging those showing interest in your products.
2. Use Digital PR Strategies around Unique Products
Your brand is largely defined by your unique products; it is therefore a good idea to get them more into the public domain. What I mean is, that you should use more PR-like promotion strategies around your products to drive traffic and sales.
Use reviews and giveaways to make people more aware of what you are selling. This is a great way to generate some buzz around your brand. Don't worry about the cost of giving away one or two items for free. You can factor in the advertising costs that you'd save.
You can also collaborate with another brand or partner. For example, you can do a competition where participants must share your posts on a particular product line and give some feedback or comments. The post with the highest numbers of "likes" and "shares" can win a product hamper.
Here's how the Australian brand Lady Luxe Boutique is using giveaways to promote their products.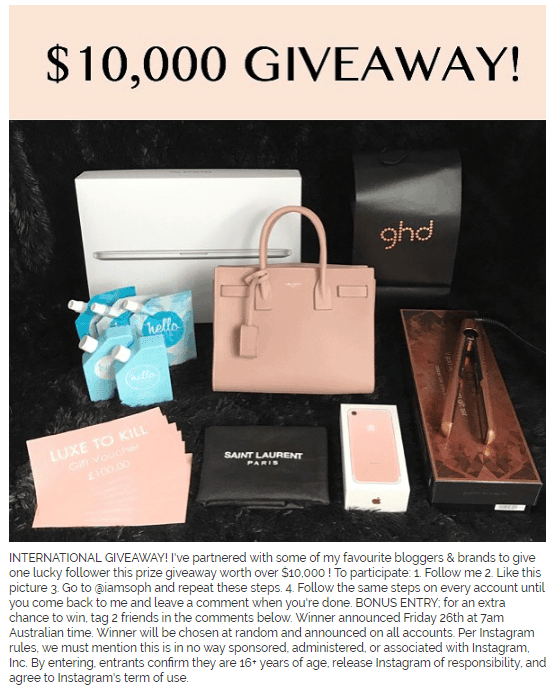 UGC and guerrilla marketing are also a couple of very good options to get some PR online.
The best part of these digital PR campaigns is that you can get creative and make it as fun as possible. The idea is to engage people not only during the competition but also after it. The same goes for reviews and ratings, in which case, you can again work with influencers.
3. Run Targeted Ad Campaigns on Facebook and Instagram
Instagram is not just a platform to target influencers. It is quickly becoming one of the best marketing channels for eCommerce stores. A study by Shopify found that "80% of users follow at least one brand on Instagram" and "60% of these users saying they've discovered a product or service through the platform." It also found that around 30 percent of users have purchased products that they've discovered on Instagram.
Similarly, Facebook also impacts eCommerce stores heavily. Facebook marketing is still the biggest source of social traffic and sales as Facebook has a larger user base (as of June 2018, Facebook has around 2.19 billion monthly active users whereas Instagram has around 1 billion).
Further, Facebook has a fairly good conversion rate for social media eCommerce traffic at 1.08 percent.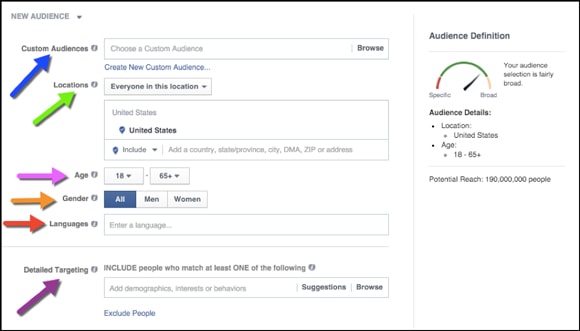 So what's best platform to run targeted ad campaigns? The answer is to try both these networks, depending on the nature of your campaign (for more visuals, choose Instagram).
In terms of reach, both have a huge user base and there is no way you can risk missing out on one in favor of the other. And while Facebook has a ton of ad targeting options, Instagram has a stronger organic reach. The latter also has a lead when it comes to engagement. In fact, Instagram posts with locations have 79 percent more engagement.
But when it comes to demographics, both the social channels have their own set of advantages, as they're popular among audiences of different but overlapping age groups. It is therefore best to optimize your ad campaigns for both platforms. If you aren't convinced yet, a 2017 study by Facebook found that "content that does well on Facebook also works well with Instagram.
4. Constantly Refine your Email Marketing
To have a profitable business process, you need to have not only conversions but also repeat customers. However, your eCommerce conversion funnel will show you that the difference between the total number of sessions and transactions is really huge.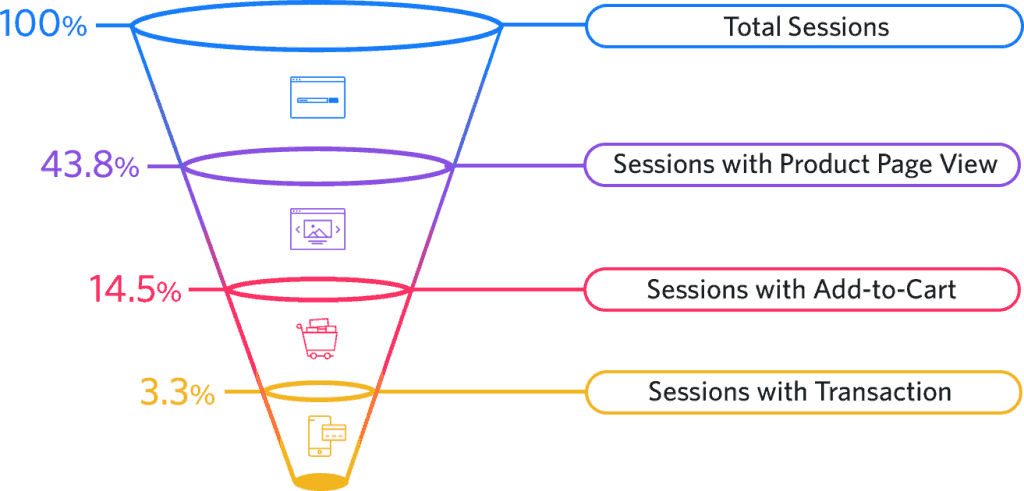 The good news is your eCommerce email marketing can save the day. But for that, you must constantly refine your strategy. The following are some different types of emails you must be sending out to maximize your revenue.
Abandoned Cart
Recommended products
Product review or rating requests
Touch base with premium customers
Deals and coupons
Onboarding for new customers
In addition, target them with a regular newsletter (and DON'T make it boring). You can also send win-back emails to customers who haven't had made any purchase for a long time to bring them back to your conversion funnel.
When it comes to email campaigns,
remember timing is essential
get your subject line right
use your regular website theme
get your copy spot on
use a proper call to action
Parting Thoughts
When it is about driving targeted traffic to your eCommerce store, the key is to keep an open mind to new ideas and experiments. There is no one-size-fits-all strategy; you need to try things before you find the one that perfectly suits your business. Understanding your customers is equally essential in order to ensure that your strategies resonate with them. Only then will you be able to successfully move them through the conversion funnel.
How are you driving traffic to your website? Which channels are working best for you – search, social, email, or something else? Discuss it with me in the comments!