Over the last few years, the rate with which the marketing trends change has intensified. At the same time, it's hard to stay abreast of all the changes at all times. But not when you are around the best people from the industry. One interesting event to catch up with is being hosted by SEMrush in India, this year. The event will feature key speakers from the marketing industry, who will share their experiences and strategies to rank up and high. I am also honoured to announce that I am on their esteemed guest speakers list.
SEMrush is one of the leading competitive research service providers for online marketing, in the world. What makes them special, is that they have had humble beginnings, and know the nuances of each stage and size of digital marketing business. Today, their team is spread across four countries, yet their spirit for experimenting is still young and striving. So the upcoming SEMrush event can open many doors, or smoothen your awareness of what you might be lacking at the moment.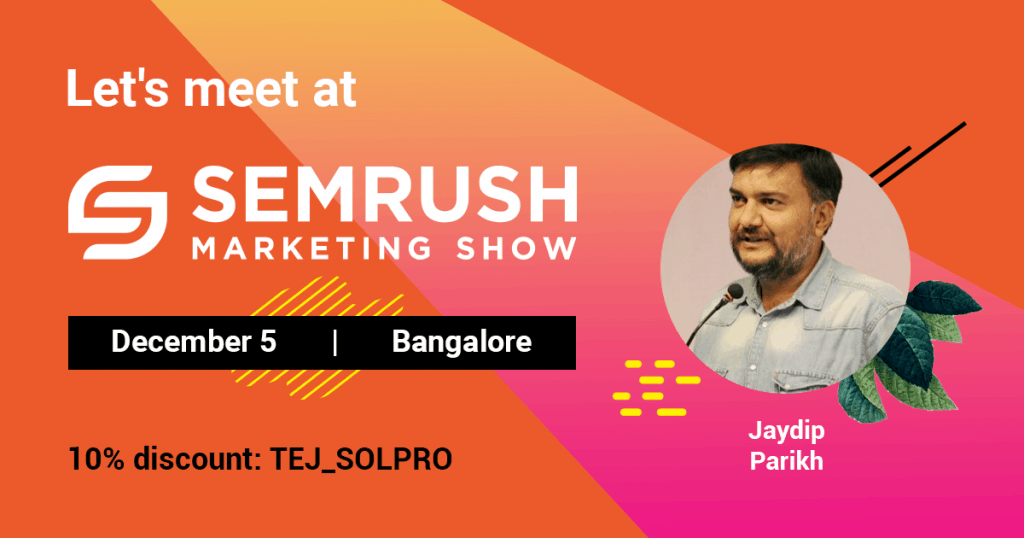 Purpose of the SEMrush Marketing Show
SEMrush is coming all the way to India to share a treasure trove of knowledge via speakers from different digital marketing domains. Here are some key reasons to attend this event.
It's a great chance to hear industry experts, and discover more about their insights and experiences. You can ask them questions, and get the best advice for your own business marketing woes.
Exposure to the latest trends
The event will shell out knowledge on the latest trends that are worth exploring. You can also know about how the marketing masters delivered effective results and all that went into it.
Marketing is all about connecting, so how could this event miss on that. So chat and mingle with the best marketers, in the backdrop of gourmet food, fine beverages, live music and more.
Constant learning means constant growth, besides, there's always scope for more. So you can sizzle up your marketing skills with workshops by the likes of Facebook and LinkedIn.
What to expect at the SEMrush Marketing Show?
SEMrush Conference is slated for December 5 in India's silicon valley, Bangalore. The speakers, which are from among different brands and industry experts will share their insights, knowledge and practical tips. The speakers are organized into four-tracks which will all go parallelly. These are:
This stage is ideal for startups and established brands who are equally growth-hungry, as listening to the success stories of keynote speakers and their insights on Growth Hacking could be the key to your brands ascend. Besides, you can brush up with the top marketing strategies and get answers to your queries directly from the experts. The Growth stage is what you must buy tickets to if you seek ways to scale your marketing.
The speakers in this stage will provide actionable workflows that will work as amazing tips to level up your SEO game. The speakers come from big brands and are known for their expertise, so here's a good chance to receive some actionable tips, workflows and hacks.
Online ads consistently face the fury of constantly changing Google policies. The speakers here will share top strategies that'll help you convert more customers in less time and effort. In the words of SEMrush – 'Saving millions of dollars, serving world-known brands, implementing the latest technologies in automating online ads' are the focal points of this stage.
The event also entails workshops by industry leaders, including none other than SEMrush, Google and LinkedIn. These 7-hour sessions could also win you a chance of live website audit, and infinite knowledge on ads and analytics.
Some of the key speakers at the event:
SEMrush Marketing Show will have 40 speakers reaching out to the attendance of 2000 marketing enthusiasts. Here are five of the speakers to look out for.
Larry Kim (Mobile Monkey)
The MobileMonkey CEO and WordStream founder is worth listening to, as he is expected to share the top three growth marketing takeaways from his decade of experience of transforming a millennial company to a $55 million brand. His point of focus will be 'Growth Marketing Principles for Creating Your Unicorn'. You will find him at the Growth Stage.
Deepa Kedoor from LinkedIn is a content marketing evangelist. With years of experience dealing with clients like HCL Technologies, IBM, Lenovo, etc, and running award-winning campaigns she's a marketing specialist worth listening to. At SEMrush event, she will highlight how today's marketers have a sidelined customer-centric approach. She will also guide the audience towards the right metrics to measure success by delving into the customer's mindset.
Aleyda Solis has multiple feathers in her cap. She's an international SEO Consultant, founder (of Orainti), blogger, speaker, author and much more. At the SEMrush event, she will throw light on the common SEO errors during a web migration and redesigning, and how to avoid them. Being featured on Forbes, Hubspot and Huffington Post, she is not the speaker you can afford to miss at any cost.
Luis Rodriguez (Uber and Uber Eats)
Uber is a big brand today, thanks to its marketing efforts, and of course quality services. Luis is working as SEO & Web Lead LATAM for the big brand I just mentioned. Luis will let the audience into the marketing strategies that Uber adopted to reach its height. You'll know more about applying agile marketing to SEO along with its best practices. Besides, implementing SCRUMBAN in SEO will also be on the cards.
Notified by PPC Hero as the number one Most Influential Expert in the world, Purna Virji from Microsoft is another great speaker at the event. Purna Virji will touch an interesting topic, as to what led to the ads which once gave us crisp taglines that were famous in every household, into being blocked and dreaded by today's consumer. She is a regular keynote speaker at multiple global events, so her tips might be super essential for creating relevant ads.
The hosting venue
The venue for this event is the Sheraton Grand Bengaluru Whitefield Hotel & Convention Center. It's one of the best meeting destinations that's located at Prestige Shantiniketan, Hoodi, in Bangalore's Whitefield. As mentioned before, the SEMrush Marketing Show is on 5 December, starting at 10 AM, till 5 PM. Plus, the passes are already available for booking!
Go forth and book your pass (with discount)
The passes to the event are available in multiple formats. For instance, you may choose among pass for the conference, workshop, after party or the entire event, etc. Besides, discounted team passes are also available.
For an additional discount on your pass(es) use my personal discount (10% off) promo code, 'TEJ_SOLPRO'. So grab your chance at receiving exclusive advice from the marketing champions, by booking your pass here, and let's meet at the conference!